PM L.Oyun-Erdene: 2022 state budget will focus on subcenter development
Politics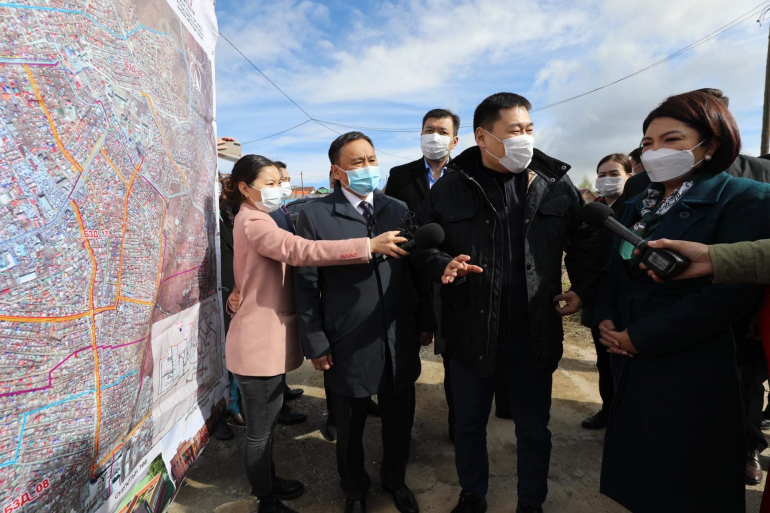 Ulaanbaatar /MONTSAME/. On May 31, Prime Minister L.Oyun-Erdene became acquainted with the works being carried out in Bayanzurkh district of the capital city.

More specifically, he became acquainted with the plans of underpass and roundabouts as well as the re-planning of ger areas in the capital city, 'Shar Khad' subcenter, and the project implementation for affordable, green apartments. As of currently, construction is taking place for an underpass connecting the roads of Dunjingarav and Narny Zam, while another underpass is also planned to the southwest of Narantuul Market.

By constructing underpasses and new roads as well as making appropriate changes in areas that often have heavy traffic, a study has found that the amount of traffic will be reduced by 27 percent.
Re-planning of ger areas: Of 1,694 hectares of land to be re-planned in the capital city, apartments are being constructed by 14 entities on 598 hectares of land at 24 locations in Bayanzurkh district. In the project framework, apartments for 4,247 households have been completed so far.

'Shar Khad' subcenter: Prime Minister L.Oyun-Erdene also became acquainted with the planning for Shar Khad subcenter. With the subcenter extending across the territory of 5 khoroos in the district, a 300-bed hospital and a kindergarten with a capacity of 240 children are planned to be built alongside apartments and other facilities. "The necessary financing for the hospital construction will be allocated from the 2022 state budget," said the Prime Minister.
Affordable apartments: With financing of the Government of Mongolia and the Asian Development Bank, a project is currently being implemented on developing ger areas in six subcenters in Ulaanbaatar city. Green apartments will be built on 5 hectares of land in 5 phases, with 55 percent of the apartments to be rent-to-own, 15 percent to be rented through welfare, and 30 percent to be sold at the market price. For instance, 0.16 hectares of land have been acquired to build a model apartment building with a capacity of housing 20 households in Khoroo 19 of Bayanzurkh district. With four households having previously lived at the location, the land and real estate owned by each of the households were valued at an average of MNT 40 million, with 1 sq.m being MNT 100 thousand. The apartment building is planned to be completed alongside parking space and green area this year.
"In order to support decentralization, the Government has to support the Municipality of Ulaanbaatar. In its framework, six subcenters will be developed which will later be increased to 10, supporting private sector investment and the relocation of government organizations.
The 2022 state budget will be focused on financing the development of subcenters by constructing apartments, schools, kindergartens, hospitals, and green areas and creating more job opportunities. Through this, it will become possible to decentralize and reduce traffic congestion in the capital city," said Prime Minister L.Oyun-Erdene.