International Day of Yoga marked
Society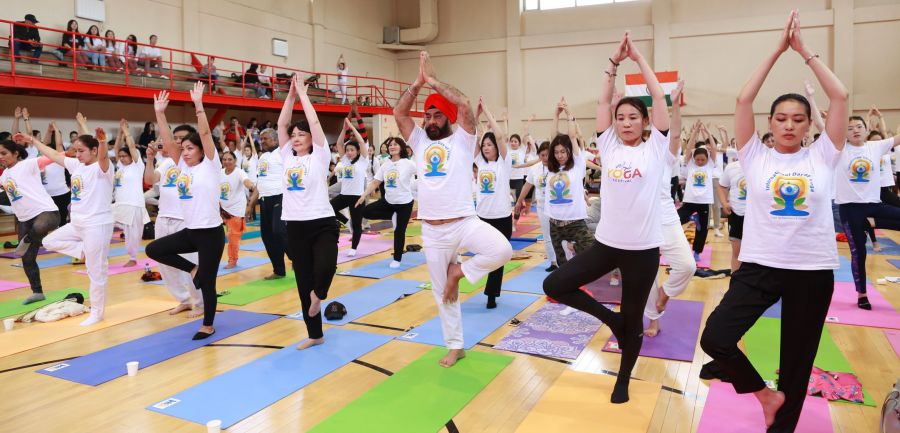 Ulaanbaatar /MONTSAME/ At the initiative of Prime Minister of the Republic of India Narendra Modi, June 21 was declared as the International Day of Yoga by the United Nations General Assembly. On June 17, the Embassy of India to Mongolia marked the Yoga Day for the fifth time at the City University with involvement of over 300 people.
The celebratory event began with traditional lighting of lamp by the Ambassador of India to Mongolia Mohinder Pratap Singh, MPs B.Undarmaa and B.Saranchimeg, Head of the Health Department of the capital city T.Enkhzaya, and Rector of City University Ts.Baigalmaa.
Afterward, greetings of Prime Minister of India Narendra Modi were delivered on display. "Offering an opportunity to live a stress-free and peaceful lifestyle in today's hectic society, yoga has become a big culture uniting the world," the Indian PM highlighted, while urging to spread yoga among the public. A video of the PM's animated version teaching yoga exercise was also shown.
Ambassador M.P.Singh said, "Yoga, a heritage of ancient India, soothes the body and soul like sunrays by creating physical, mental and spiritual balance. Regardless of the weather, yoga can be practiced anywhere one prefers such as home, work etc. Yoga practice costs nothing, it is suitable for people of all ages. You can practice it alone or with others. I urge everyone to make yoga a part of your life."
During the celebration, Mongolian yoga practitioners performed yoga exercises and an Indian vegetarian cuisine event took place. Those who practiced yoga have to eat lightly, noted the organizers.
"Mongolia proved itself to be a part of this big culture with 15,000 citizens practicing yoga in 2015. The term 'yoga' is derived from the Sanskrit word 'yuj' meaning to unite. A yoga practitioner free themselves from negative things by connecting to the nature with their mind and soul. Mongolian people have been suffering great stress since the country's transition. Everyone has to be energetic for the development of Mongolia. So, let's make everyone around you engaged in yoga, yoga practitioners!" said MP B.Undarmaa.
Fashion model and yoga instructor D.Purevsuren has been practicing yoga for six years and teaching for three years. She said, "Yoga benefits are limitless. Yoga practice gives healthy lifestyle and networking opportunities. People usually ask "I have never practiced yoga before, can I do now?" Every yogi starts from zero. So I suggest starting your practice with no worries. There is a great deal of difference between life before and after yoga practice. Those who practiced yoga for a short while spoke of positive changes they made such as getting over their illness and stopping to take medicine. I wish there is a yoga practitioner in every household."