Mongolian Brands
Mongolian Lamb to become name card of Mongolia
"Annual profitability from sheep flock in Mongolia could reach USD 1 billion, which equals to ¼ of the government budget and will definitely help promote the economic growth of the country. Each herder household will become able to directly earn MNT 300 million in a year only with less than 1,000 livestock animals, helping the country's economy to flourish and triggering market benefits. Mongolians have ample opportunities to become billionaires with its great wealth of growing population of livestock," noted the team of the Chineeleg Malchin Boijuulakh Tuv NGO, intending to address challenges in the animal husbandry and herders, pastureland degradation, etc. The non-government organization is willing to divert public attention to this area.
Mongolia has been seeking to export meat abroad in the past three decades. The only obstacle is diseases in grazing animals, because of which, foreign quarantine services usually became hesitant to buy meat from Mongolia, leading the problem to persist until now. The problem is often aggravated by Mongolians' traditional practice in animal husbandry. Particularly, herders spend 4-5 years of hard work and labor to raise their animals which causes overgrazing and wasting their precious time. As an alternative, herders have the opportunity of meat processing of young livestock animals to sell on the market.

Foreigners arriving in Mongolia prefer to eat meat from pasture-raised animals, which perhaps can be found in Mongolia only. Unfortunately, we do not pay much attention or understand this valuable healthy and organic food we have. Some countries misjudge that Mongolian livestock animals are 'ill' and it is worth mentioning that there is excessive use of Ivomec injection. Young livestock animals under the age of one are less prone to diseases and their meat is properly considered a healthy and clean product.

The Chineeleg Malchin Boijuulakh Tuv NGO has very well understood the situation and has introduced the 'Mongolian Lamb' lamb brand, naming it as one of the solutions to problems in the industry. The brand project – 'Mongolian Lamb' has been launched by the Chineeleg Malchin Boijuulakh Tuv NGO within the framework of its 'Wealthy Herder' program in cooperation with Mon Ecolamb LLC.

About this, L. Odser, head of Chineeleg Malchin Boijuulakh Tuv NGO told, "We have started to make improvements in the livestock flock structures and ensure supply of animal meat to the market within a short period to make herders businesspeople and producers."

The 'Wealthy Herder' project was carried out to make Gobisumber aimag a model region, with tasks to change herders' mindset and approach and to breed livestock population with animals with extra vertebrae and with breeds of Barga and Uzemchin for meat production. As a result, the breed quality in Gobisumber's livestock population has been improved and the live weight of six to seven-month-old lambs averaged more than 35 kilograms. The same works are in full swing in other aimags, such as Umnugobi, Khentii, Khuvsgul, Khovd and Bulgan. Herders in the regions started selling lamb meat through the Chineeleg Malchin Boijuulakh Tuv NGO, followed by Dornod, Sukhbaatar, and Khovd aimags which implemented the program to provide their lamb meat.
Under a tripartite agreement of Chineeleg Malchin Boijuulakh Tuv NGO, Mon Ecolamb LLC and Tsaluut Impex LLC – meat factory, pasture-grazed lamb meat branded as 'Mongolian lamb' which are produced to satisfy international quality and health standards with proper packaging are offered on the market. These measures are designed for preventing pastureland degradation that is associated with overgrazing, as well as excessive use of Ivomec, and are aimed at providing residents with organic lamb meat and allow them to build healthy eating habits with domestic food products. Furthermore, herders are given chances to reduce their burden by tending to fewer animals with increased benefits and to enjoy regular income from their livestock flocks. Taking all these into consideration, it is undisputed that the Mongolian Lamb brand is a comprehensive project to bring reform to Mongolia's agricultural system.

To give an instance, a livestock census for 2020 by the National Statistics Office of Mongolia shows that Mongolia had 67 million livestock animals in 2020 after reaching an all-time high of 70.9 million in 2019. Among them, 4.1 million heads of horses, 4.7 million heads of cattle, 472.9 thousand heads of camel, 30.0 million heads of sheep, 27.7 million heads of goats were counted. Out of the 30 million heads of sheep, there are 14-15 million dams and the remaining 15 million sheep are grazing through pasturelands without yielding any significant benefits and adding work burden on around 230,000 herder households.

"I do not understand why people object to consuming lamb. They never think about millions of livestock animals dying every year," said Mr.Odser. "In reality, it has been thousands of years since the world first introduced into their diet meat from young sheep in their young or adolescents ages when the meat is the richest in nutrition and minerals. I believe that Mongolia has the potential to make the lamb a global brand and supply to the world countries by way of keeping its basic and traditional animal husbandry production knowledge and making management reforms since the type of pasture-grazed lamb is found only in Mongolia. The world knows that this is a valuable product."
Translated into Mongolia, 'lamb' means the meat of young sheep. From this, Mongolian people imagine a baby animal feeding from her mother when they hear this word. However, in this case, meat from lambs who reached 8-12 months already has the highest nutritional value and contains many vitamins and minerals, and becomes an excellent component of a healthy diet.

About the 'Wealthy Herder' program, Mr. Odser said "Each whole meat of sheep provided to us by our partner - meat producers within the program weights up to 17-23 kilograms. This shows our project's economic viability and capability to provide healthy foods to the population. With around 20 million heads of good quality lambs, we could use 5-6 million of them for domestic meat consumption and export the remaining 14-15 million to foreign countries at an average retail price of USD 10-15. That way 230,000 herder households in Mongolia could earn an annual income of USD 1.5-2 billion per annum and businesses will grow thanks to the value chain created by the lamb exports. Five to ten times of increase in income of Ulaanbaatar city and other larger residential regions will lead to the promotion of small and medium-sized businesses and manufacturers, helping the country to achieve economic growth."
"Why 'Mongolian Lamb' brand cannot be like a global franchise such as KFC and McDonalds with presence in New York, Tokyo, Moscow, and Beijing. That is our motive – to become a chain that covers the whole world. For example, we are aiming to create brand products that meet every customer's need for pasture-grown eco and clean products, such as Mon Eco Lamb, Mongolian Lamb, Paster, Eco and Premium that are available in every corner of the world. We are ready to overcome all challenges to arise on our way ahead."
"Arab countries are buying lamb meat from us in recent years. We, ourselves, need to learn to adopt habits of eating clean and healthy foods and give the cleanest food to our loved ones. We need to produce and eat the tender and healthy lamb meats and sell them abroad, this is our ultimate aim."

N.Saranchimeg
New Juulchin Tours: Promoting Mongolian Tradition to the World
New Juulchin Tours is a leading tourism company of Mongolia, which has over 10 domestic and foreign subsidiaries. Presently, New Juulchin Tours cooperates with more than 100 foreign companies and annually hosts about 10 thousand tourists from over 30 countries. In addition, the company is constantly participating in large international tourism fairs such as ITB Berlin, WTM London, Top Resa Paris, ITE Hong Kong, MITT Moscow and ITF Taipei for marketing Mongolia in the global tourism market. New Juulchin Tours is also operating representative offices in Washington, Berlin, Tokyo, Beijing, Madrid and Taipei.
New Juulchin Tours is also a leading organiser of international forums and conferences, currently hosting three large annual events. For instance, the company provided its services for the 37th World Congress of Poets, the 11
th
International Congress of Mongolists, the East Asian Judo Championships, the 5
th
North East Asian Tourism Forum, the 8th Global Agenda Meeting for Sustainable Livestock, a branch launching ceremony of Louis Vuitton in Mongolia, and the 54
th
Conference of Directors General of Civil Aviation, Asia and Pacific Regions. In 2017, it hosted an incentive tour for CEOs and Chief Financial Officers by JP Morgan for the first time in Mongolia. According to sources, the tourists returned home with good impressions of Mongolia.
New Juulchin Tours also focuses on developing special interest tours. The company traditionally organises an international 100 km marathon in different regions of Mongolia each year. So far, the races have been organised in the Mungunmorit Soum (district) of the Tuv Aimag (province), Baga Gazryn Chuluu of Dundgobi Aimag, Tsagaan Suvarga, and Rashaant Soum of Bulgan Aimag. On the occasion of the 100
th
anniversary of Roy Chapman Andrews' historic discovery of dinosaur egg fossils in Mongolia, New Juulchin Tours successfully organised an expedition for 50 tourists of the Explorers Club - a New York-based international multidisciplinary professional society with the goal of promoting scientific exploration and field study.
New Juulchin Tours satisfies many requirements such as adhering to the sector's policy and directions, ensuring the safety of travels and safe environments for tourists, contributing to development of tourism industry, transportation and infrastructure, and gaining experiences.
As one of the first tourism companies in Mongolia, New Juulchin Tours has been insured against risks. The company also insures tourists before the journey begins. In addition, the company has its own service network and some of the best sports tour guides. It also offers more than 40 travel destinations - that is why tourists choose New Juulchin Tours.
The company is operating under the motto '
Cherishing Mother Earth, respecting humans and creating outstanding memories through travel'
. New Juulchin Tours does not only focus on its present activities, but also works with the vision of becoming a model tour company by 2020 that is eco-friendly, respects national culture and tradition, meets international quality standards, as well as implementing corporate social responsibility.
New Juulchin Tours contributes to supporting locals, preserving nature and implementing sustainable development goals. For this reason, it established a local community based eco complex at the Guru Camp in the Terelj National Park, where various projects are realized such as planting trees, making traditional dairy products, providing livestock to herders, promoting Mongolian traditions and making handcrafts. Moreover, it is also implementing these kind of projects in the Khoyor Zagal tourist camp.
New Juulchin Tours successfully organizes fan tours to the Olympic Games, we can list: Athens 2004, Turin 2006, Beijing 2008, Vancouver 2010, London 2012, Sochi 2014, as well as the Asian Games such as Doha 2006, Guanzhou 2010 and Football Confederation and World Cups including South Africa 2010 and Brazil 2014.
It also allowed Mongolians to travel to Jeju-Island off South Korea in 2009, Hong Kong, Hainan in 2011-2017, Singapore, Dubai, Thailand, Vietnam and Japan.
In addition, New Juulchin Tours is one of the companies with the best corporate social responsibility. In particular, the company has established 'Mazaalai Foundation' with the aim to protect a few remaining Mazaalai bears living in the Gobi, increasing their population and increase the engagement of tourists.
Regarding the achievements and awards of New Juulchin Tours: it has received numerous prizes and awards such as the 'National Tourism Brand' prize of the Mongolian National Chamber of Commerce and Industry (MNCCI) and the General Authority for Intellectual Property and State Registration in 2004; Best Entrepreneur Award of the MNCCI for 2005 and 2006, 'Best Tour Operator Company' by the Mongolian Tourism Association for 2005, 2006 and 2008, TOP-10 Organization in 2008, 'Business Excellence Award' in 2012, 'Golden Prize' of Asia-Pacific Association of Commerce and Industry in 2012, 'Best Inbound Tour Operator' for 2015, 2016 and 2017 and National Quality Prize in 2017.
Introducing international standards for service….
Since 2015, New Juulchin Tours has been working with the aim of introducing international quality standards for its service. So far, the company has received the ISO9001, OHSAS18001 and ISO14001 international standard quality certificates. This achievement is a first for a Mongolian tourism company. By so doing, they are making accurate decisions regarding the fast changing needs of customers and provide high-quality, reliable and safe services in compliance with international standards.
Training tourism professionals
As one of the first tourism organisations in Mongolia, New Juulchin Tours in cooperation with the Mongolian National Chamber of Commerce and Industry, the Dutch Senior Expert Association (PUM) and Edelweiss Hotel is conducting a 'Professional Training Course for Building Tourism Skills'.
The main aim of the course is to train professional tour guides, drivers, camp managers and service workers in acquiring service technology and etiquette skills for work in all areas of activity including ger camps and hotels.
New Juulchin Tours will make your dreams come true
So far, New Juulchin Tours has the biggest tour bus fleet in Mongolia. In particular, it has five buses with 45 seats, four buses with 30-34 seats, four buses with 19-25 seats, five minibuses with 8-14 seats, Japanese Jeeps and seven other vehicles for their tour services as well as using them for intercity transportation services. New Juulchin Tours constantly conducts intercity bus travel between Ulaanbaatar and Russia's Ulan Ude. The company strictly adheres to service and work safety standards by involving their drivers in work and safety training, as well as constantly conducting technical inspections of their vehicles which are all fully insured. All this, is to minimize the risk of problems arising on a far-distant tour.
According to the World Travel & Tourism Council, the Mongolian tourism product is considered as 'expensive' compared to other Asia-Pacific countries. The reason is since ancient times, Mongolians have kept their unique nomadic lifestyle and tradition of herding livestock in a vast territory of Mongolia.
So, New Juulchin Tours Director Sh.Nergui said, "The nomadic lifestyle of Mongolians is a real magnet for tourists. In this connection, our company is focusing on introducing the Mongolian lifestyle, traditions and culture in depth and helping tourists to immerse themselves into Mongolia instead of showing it to them superficially. These special cultural features help Mongolia to distinguish itself from neighbouring countries, which also becomes a good basis for developing travel and tourism in Mongolia".
Director Sh.Nergui said that the company will diligently work on implementing the idea and formulating new projects to open new doors to promoting Mongolian values to foreign tourists.
Most importantly, New Juulchin Tours is competing in a tourism industry by its service quality instead of price. The company has already started promoting Mongolian traditions to the world.
Tourists' Impressions
State-Honoured Cultural Figure and Recipient of the Order of Chinggis Khaan G.Mend-Ooyoo
With the support of New Juulchin Tours Company, cultural, educational and scientific 'Pearl Bead' tour was organised in the Dariganga region. In addition, a new tourism event 'Ganga Lake Festival' was also organised. Preserving history and culture and reviving forgotten tradition are the goals of sustainable tourism. So, I would like to express gratitude to New Juulchin Tours for successfully promoting Mongolian traditions to the world.
State Honored Cultural Figure and UBS Television Director L.Balkhjav said: "Before, people had to plan, book and organise their own travel. Recently, New Juulchin Tours has provided service four our family tour. It was a memorable tour. Consequently, I realised that there are many benefits and less risks when a professional tour operator organises a trip".
Tours that satisfy tourists
As an authorised ticket reseller for the Olympic Games and one its global partners, New Juulchin Tours successfully organised fan tours to both the Summer and Winter Olympic Games starting with the 2004 Athens Summer Olympic Games. Over the past years, numerous tours were organised for Turin 2006 Winter Olympic Games, Beijing 2008, Vancouver 2010, London 2012 and Sochi 2014.
After initiating the 'Sport Tour', the company also organised other fan tours to the Asian Championships and the FIFA World Cup; for instance, fan tours to the World Cup in 2010 with 30 fans and in 2014 with 60 fans. The increasing number of tourists proves that New Juulchin Tour has already met the international standards and requirements in terms of service, safety policy and quality standard.
Moreover, it offers a wide range of tours with many options. For instance, New Juulchin Tour allows tourists to choose their desired trip from many options such as sports tours or holidays for children, for religious pilgrimages, and to select from a range of destinations ranging from Asia, Europe to tropical countries; whoever you are and wherever you plan to go New Juulchin Tour will guarantee unforgettable memories!
Goo brand revolutionizing the world of cosmetics
Is beauty the reflection of God?
The main question of aesthetics starts with the concept of beauty. Famous philosophers, scientists and inventors tried to answer this in every generation. We understand beauty from our everyday lives as something we love and want. Elegant clothes, pretty faces and textile brands have described beauty for centuries. In the 21st century, the idea behind a healthy body and healthy mind changed the definition of beauty altogether. The main question of aesthetics starts with the concept of beauty. Famous philosophers, scientists and inventors tried to answer this in every generation. We understand beauty from our everyday lives as something we love and want. Elegant clothes, pretty faces and textile brands have described beauty for centuries. In the 21st century, the idea behind a healthy body and healthy mind changed the definition of beauty altogether.
Romanian photographer Mihaela Noroc traveled around the world for two years in order to find true beauty. Mihaela had no intention of making it a certain theory. But she hoped her photographs would help humanity to describe what beauty really means. Surely, her hard work wasn't all for naught. When people exclaimed excitedly at the photographs of Mongolian nomadic people and rosycheeked vigorous women in the snowy lands of Tibet, the true beauty of women was proven to Mihaela Noroc.
Then how do the women of Asian highlands keep such alluring beauty? It can be explained from their appearance that was maintained by using natural products, a perspective that was seen through stress-less healthy eyes and trusting nature that comes from their child-like innocence. The comparison of a natural flower and fodder first brought up this view. Realizing this nature, a young Mongolian girl in her early twenties created natural cosmetics for modern urbanized society. 'Burkhanlig goo saikhan' company's 'Goo' cosmetics brand is already known to many in Japan and the U.S.
'GOO' brand produces 35 types of organic cosmetic products on the market. The first Mongolian cosmetic franchise is not only blooming in Mongolia, but also opened up branches in Japan and China as well. The internationally accepted Mongolian medical cosmetic brand distinguishes itself from other modern day brands as it uses organic materials such as fat from a sheep tail, sea buckthorn, rock salt, thistles and thyme as a base. Also, the company does not mix chemicals to increase the product's age and regularly introduces new products to consumers. With a name card of organic products certificate of Mongolian National Chamber of Commerce and Industry, the company uses Japanese, Chinese and Korean equipment and imports related materials from America.
'Burkhanlig goo saikhan' company has definitely created game-changing products in Mongolian cosmetic world. Such as: - Exfoliation for skin disintegration - Anti-cellulite scrub - 10 types of cellulite burning and replenishing bath bombs - Cleanser with sea buckthorn - Moisturizer with sea buckthorn - Body cream with sheep tail fat - 4 types of 'Khoniko' soap with sheep tail fat - Mud mask - Hair tonic - Face toner.
The company is producing over 20 different kinds of handmade organic products using traditional materials just for Mongolians. For dry and sensitive skin, the company produces 20 kinds of new products for export such as resin drops, resin body lotions, lip nutrition, face scrub with sea buckthorn and coffee, masks with sea buckthorn, ointments with lemon, collagen and honey, bath bomb for feet and bath salts with milk and rose.
One of their main ingredients, 'rock salt' in brief: Solidified salts from the ancient lakes are called rock salts (Jamts salt). Scientists have proven that rock salts were formed on earth in the Devonian period about 400 million years ago. Rock salt contains minerals that are essential for the human body such as calcium, potassium, sulfur, sodium, iron and iodine. Therefore, using rock salt is good for improving blood circulation and replenishing strength. The company also uses fats of sheep tails because it is well suited to the human body and has fast absorption as it contains high unsaturated fat acids, nutrients, calcium and proteins. Vitamins D, C, A and K moisturize and soften the skin, regenerate cells after absorbed through the skin, improve flexibility of the skin by providing nutrient acids, strengthen the artery walls especially the capillary, prevent cholesterol from accumulating and blood vessels from being hardened. As for milk, it contains essential substances such as protein, mineral, vitamin, calcium, magnesium, iodine and phosphorous.
In the late 18th century, Europeans were dazzled by Mongolian mutton during a trade fair that took place in Marseilles, France. None equaled Mongolian mutton at the time and the meals that were made from Mongolian mutton were considered the most delicious in every restaurant. Also, for- mer leader of Russia Leonid Brezhnev regularly used Mongolian mutton in his meals. Russian honored Mongolian Doctor Professor G.Luvsan, who was an authorized doctor of Brezhnev, once mentioned that Mongolian mutton helped him live longer and kept him healthy both mentally and physically. Sheep eat 80 percent more vegetation than other animals and almost 30 percent of them are medicinal herbs. For having quality taste, mutton is used as the main ingredient in many restaurants and resorts. Therefore, mutton soup is prepared for pregnant women and the infants are bathed in sheep bones and fed sheep tail by Mongolian traditions that have been kept from ancient times. Children that were raised eating sheep tail tend to grow up strong and resistant to sickness. Vitamin D, C, A and K that contained in sheep tails prevent exhaustion, all kinds of poisonings, allergies and anemia while improving eye sight. But because of the decreasing use of fats, senility and memory loss are becoming more common in the U.S and Europe. Mongolia has 20 times more livestock in total, and around 20 million of them are consist of sheep. This is why, various types of product can be made out of beneficial elements of sheep tail and manufactured for domestic use or export. M.Gongorsuren, founder of Goo brand first saw this opportunity ahead of everyone else.
'Khoniko' soap, one of their main products, is made from sheep tail. The product attracted the Mongolian market as soon as it was released and it now has five different types of soap with sea buckthorn, mint, green tea and lemon. This sheep-shaped soap only used to be manufactured in 110 gram units, but a complex product for children's skin packed with single-use soaps having shapes of cartoon heroes, received lots of compliments from customers.
When visiting the company's factory, the place was filled with the enchanting scent of flowers, fruits and natural oils. No pieces of machinery or chemical tubes were in sight. What could be seen was a team of hardworking people who were hand processing materials such as sheep tail, thistles, thyme plants and sea buckthorn. The team is proud of their product as they admittedly say 'When people buy our product once, they always come back for more'. Workers at Goo brand dry every single pedals of roses by themselves and hand process rock salt, sea buckthorn and sheep tail, producing high quality products for Mongolians. The finished products were lined up on a shelf. Such gorgeous soaps and bubble-like bath bombs with spectacular shapes and color would charm anyone. Cosmetic products with bright-colors and elegant packages were also on display as they were waiting to be delivered to the stores.
Goo brand produces body lotions and soaps that treat skin dryness, disintegration and eczema using processed sheep tail and coconuts. They produce cleansers and liquid soaps using sea buckthorn oils they made themselves.
Every product of Goo brand has detailed labels. For example, on the label of a product called 'Busgui' (Lady), it reads 'Sea buckthorn is a biological product that helps prevent vaginitis, colpitis, vaginal inflammation and muscosal injury. This liquid soap is a medical cosmetic product that is handmade from natural sea buckthorn oil that contains no chemical substances'. They explained the usage as "May use two to three times a week to prevent and treat women's vulnerable diseases". The skin care products also have various assortments. One of the unique products is a 'resin' skin care series. The product is for women with dry, mixed and sensitive skin. M.Gongorsuren, founder of Goo brand recommended the product saying "If your skin is sensitive, dry and wrinkled or shows signs of allergies, try this product once". When opening the cap, the scent of trees and resin provide the nostalgic feeling of how summer would smell. Also they have skin products such as body lotions with 'lavender' extract and a 'Borgoljin' nourishing mask. She then described the Borgoljin mask as "- like feeding your skin with sweets. It is made from natural honey of the Khalkh River and has moisturizing and replenishing effects on the skin and dim dark spots. The honey has have vitamin C which has a whitening effect. It is considered the most effective substance for dryness and skin spots. Chocolates are called 'Borgol' in Mongolia, so we named the product Borgoljin' explained M.Gongorsuren. I was briefly introduced to over thirty products such as hair sprinkle with thyme, face scrub with honey, cleanser with sea buckthorn, face spray with sea buckthorn, liquid soap with sea buckthorn, hair tonic and face tonic.
One of their most appreciated products is their bath bomb. These bombs soften and exfoliate the skin while relieving stress and burn cellulites. The blue ones have mint while the greens have tree extract, pinks have rose extract, yellows have lemon, oranges have sea buckthorn and greys have mud which has an anti-allergy effect. The bombs give out charming scents when mixed with water. These were made by mixing rock salt with thousands of mineral muds such as chlorine, carbonate, hydrogen, sodium and hydrogen sulfide that were formed in the exotic natural environments of Mongolia. By using these bath bombs, home-made medical baths can be created.
Also, one aspect can't go unmentioned. Goo brand established Mongolia's first organic SPA center. They only use their own products in over 10 medical services such as 'Queen', children's and maternal set services.
What did the famous Russian author Fyodor Mikhailovich Dostoyevsky mean when he once said 'Beauty will save the world'? The ancient Greek philosopher Aristotle viewed the beauty of the world as God's reflection. With that thought, maybe beauty leads people to the holy light. 'Burkhanlig goo saikhan' (Godly beauty) company's Goo brand will treat your body as well as your mind. German philosopher Friedrich Schelling once said 'Beauty is a definition of infinite defined by a finite'. The infinite describes an infinite being, God. In other words, everything from a tiny little lily to a mighty giant galaxy contains a cell of god that we call beauty. Therefore, the term 'ungodly beauty' should not exist. Goo brand reminds us that beauty must stay godly.
A cup of water may drain out when shared, but stirring from the endless stream of beauty is limited only to your desire. We wanted to let you know that 'Goo' brand has been added to the world of cosmetics. Surely, beauty will save the world.
Mongol Costumes: Contemporary designs inspired by tradition
MONTSAME's correspondent B.Zandankhuu sit with the Director of the Mongol Costumes B.Suvd, who is also the initiator of Mongolia's most popular annual fashion show "Goyol" and the Mongolian Designers Association.

One of the most worshipped figures in the fashion industry, the Editor-in-Chief of Vogue Anna Wintour took everyone by surprised by wearing Mongolian Deel (traditional costume) at the 26th annual Glamour Women of the Year Awards last November.

The global media has been reporting that Anna Wintour's choice might be telling us Mongolian traditional clothing will take over the world of fashion by storm. Our agency had a pleasant opportunity to interview the founder of a traditional clothing line in Mongolia.

The parade of young people in traditional costumes walking the lanes of the Central Stadium during the grand opening ceremony of Naadam Festival and the 800th Anniversary of the Great Mongol Empire was the major concert staged by the Mongol Costumes Company. Soon after the grand appearance at Naadam 2006, the company began putting unique performances to advertise Mongolian clothes to the global audience, performing even in the headquarters of the United Nations and the fancy palace of the UNESCO. The Mongol Costumes had gotten everyone realize the importance of wearing own culture and showing own identities. Young people then initiated "Deeltei Mongol" events, (literal translation: "Mongolians in Deel")where people have chance to wear traditional costumes and uniquely customized national clothes only for recognition of the traditional culture. The 'Deeltei Mongol' event has become more regular and popular in urban areas. This is the history of how the priceless cultural heritages had inspired a fashion brand.

Owning only a couple of sewing machines, Director B.Suvd launched her business in 2003 with a bigger picture in her head. Her dream was materialized into a business project comprising of sewing factory, fashion saloon, library and museum. As the saying goes, "little strokes fell great oaks", and the brand has soon begun flourishing with fame. Ms. Suvd avoids using words, such as "number of designs" and "clothes manufacturing", because the trademark is cultural creativity, as she considers. Indeed, the trademark can be backed up by the pile of books for research on the anthology of ethnic clothes and the extraordinary designs shown in exhibition. Each piece was marked with the Mongol Costumes logo.

During historic anniversaries and celebrations, national museums give orders to Mongol Costumes to have them design and re-make traditional clothes from distinct periods of the Mongolian history of over 2,000 years ago from all the way to the founding of the first nomadic kingdom, the Hun Empire to the modern democratic Mongolia. For this reason, the Mongol Costumes occasionally tries hand in scientific manufacturing.
B.Suvd graduated from the Kiev Institute of Light Industry, contemporarily the Kiev National University of Technologies and Design during the 1980s, majoring in fashion apparel design. Right upon her arrival to her home country, she received an important mission from the thenChairman of the State Committee on Prices and Standards, who later became the Prime Minister of Mongolia, to study the measurements and special features of bodies of Mongolian people. Thus, her career as a designer has begun from the homes of ordinary herdsmen. B.Suvd earned a doctorate degree with dissertation named "Sophisticating the designs of contemporary clothing incorporating Mongolian traditional elements".

To the sound of the word "oriental costumes", people usually imagine Japanese kimono, Indian sari, Korean hanbok, as well as the Manchurian-style Deel. The Mongol Costumes has been striving to seal the image of Mongolian traditional costumes, creation of which dates back to the Hun Empire era, to the people's imagination of oriental culture and Mongolia.

The first ladies of Mongolia have played special roles in advertising the Mongol Costumes overseas. It is common for the spouses of the heads of state to wear designs by the Mongol Costumes to official events and visits. They not only choose to wear the Mongol Costumes pieces, but also gift honored guests of the high-profile events the design catalogues of the Mongol Costumes.

Number of the Mongol Costumes' customers at home and abroad has been increasing day by day. The reason for such flourishing of this traditional fashion line might be the people's desire to stand out in the world that is being rapidly globalized.

On what makes the Mongolian clothes so special, B.Suvd said "It is backed by science that the nomadic wears have become the roots of many pieces of clothing of the humanity. The most important feature of the Mongolian traditional clothes is the comfort, as well as the many healthy advantages from the scientific point of view. Traditional clothes are both fancy and beneficial".

The Mongol Costumes director has a collection of about 150 traditional pieces inspired by each period of history from the Hun Empire to the 1921 People's Revolution of Mongolia. Their designers imagined how the archaeological findings would have looked in the first place and created replicas of them.

"I cannot mark anything as 'perfect'. Even the god's creations are not perfect. Especially for that reason, humans create and design while attaining perfection. Therefore, we, too try to create our pieces as close to perfection as we can", said B.Suvd.
Timeline of the Mongol Costumes major events:
2004 - "The Mongolian Clothes" exhibition at a gallery in Ulaanbaatar
2005 - Participation in the Silk Road International Festival in Russia
2006 - Parade of traditional designs at the opening of Naadam Festival and the celebration of the 800th anniversary of the founding of the Great Mongol Empire
2006 - present–Initiating and organizing "Mongolians with Deel"traditional costume events
2007 - Opening of exhibitions in Berlin and Stuttgart, Germany -Participation in the Art Expo International Exhibition in New York -Grand Prize of Ethno-Erato international competition in Moscow-Fashion shows in Paris, Nagoya and Taipei
2008 - Representing Mongolia to the Washington Fashion Week -Fashion tour through Austria and Germany within the Days of Mongolian Culture event
2010 - Representing Mongolia in the International Symposium of Oriental Clothing Design in Shanghai
2011 - Fashion performances at the "Miss Mongolia in USA" contest in Chicago and "Days of Mongolian Culture" in Los Angeles
B.Zandankhuu
Mongolian milk from herder's farm to your home
Mongolians use over seventy types of traditionally made dairy products generally named 'Tsagaan Idee' in Mongolia. The main raw material for Mongolian dairy products is milk which contains unusual and inimitable qualities. Livestock animals in Mongolia are breed and adapt to the country's extreme weather four seasons a year. The milk of Mongolian livestock animals, which graze on wild and organic pastures and drink fresh water, is natural and chemical-free.

Mongolians have an ancient tradition to benefit from products originating from their livestock animals and pay attention to the quality of the livestock output products instead of the quantity. For that, herders move to various fresh pasture lands frequently for grazing their livestock.

Since the beginning of time, Mongolians have been making dairy products and history shows that two thousand years ago, the Huns enjoyed an extensive range of dairy products, such as airag and aaruul. The first Mongolian dairy producing factory was established in 1958, which is today's 'Suu' JSC has a capacity to produce 30 tons of milk and was equipped with techniques from Russia and Europe. The first factory marked the beginning a new era of the milk processing industry in Mongolia. The new milk and butter factories fulfill domestic consumption and it was reported that they even exported 300 tons of butter to abroad in 1946.

In this series of the 'Mongolian Brand' column, we are introducing one of the biggest domestic milk producers in Mongolia–the Suu Company, which is engaged in environmentally friendly production of milk and milk products using the latest technology and innovation to meet the demands of consumers. As noted previously, making milk and milk products is a long-standing tradition we inherited from our ancestors.

They created the largest milk processing network by working collaboratively with over 2500 herders and farmers to meet the constantly increasing demand of consumers. The company has consistently brought in world-class modern technologies and formed a fully-automated modern factory with an ISO 9001:2008 quality management system.

As for 'Suu' JSC, its products are packed in eco-friendly cardboards and spoil within three days. Under the slogan 'From herder's farm to your home', the company has a daily capacity of processing 200 tons of milk and manufactures about 70 types of products as of now. The demand for milk, yogurt, juice, drink, ice-cream, curds from sour milk or aarts, dried curd or aaruul and butter are increasing day to day.

In 2011, the 'Suu' company opened its branch factory in Erdenet city, Orkhon Aimag of Mongolia to provide high quality milk products to consumers in the western provinces of Mongolia. With its fully automatic and latest technologies, the factory produces 40 tons of milk and over 30 types of products a day. In particular, the Company named Erdenet Suu Eco, collects milk from over 600 herder families in 10 different areas of Orkhon, Selenge and Bulgan provinces throughout the whole year to produce ecologically fresh and organic products.

Moreover, the 'Suu' Company brought another factory with the daily capacity to produce 10 tons of milk in Batshireet soum, Khentii aimag in 2009. The factory makes organic Mongolian products, aarts or curds from sour milk and butter using milk taken from over 200 herder families in Batshireet soum during the summertime.
It is one of the perfect natural products that incorporate vitamins and nutritive minerals valuable for human bodies. According to studies, a person can take all the essential substances human body needs, such as calcium, vitamin D, colostrum and phosphorus Mongolian milk from herder's farm to your home and other nutrients that improve blood circulation from daily usage of 200g. Milk has advantages to improve the appearance and boost physical energy. Milk's lactoprotein is synthesized and absorbed easily and improves the balance of amino acids of daily food consumption.

It is calculated that the total milk consumption of Mongolia should be around 204.4 million liters a year. However in 2012, milk use of Mongolia was 41.8 million liters and daily milk consumption per capita was about 40 grams which is an inadequate number for the population's health. This low milk intake is the primary reason for osteoporosis, dental disease and calcium deficiency which are considered a 'silent epidemic'. For that reason, realizing its social responsibilities, the 'Suu' Company carries-out nationwide campaigns under the theme 'Get well with milk', 'Let's spread the warmth' and 'Let's give life'. The campaigns call for people to drink more milk and eat more milk products every day to improve their health.

Milk and dairy products are an important part of Mongolian traditional foods. Generally, daily products are divided into two categories; solid or liquid. In particular; solid food products include aaruul, khuruud or dried curd, cheese, clotted cream, clarified butter, sour cream and curds cheese. The liquid products are composed of protein, milk, boiled milk diluted with water, curds, fermented milk of mares, yogurt, aarts or curds from sour milk, drink made by thinning and alcoholic beverages made from fermented milk. In this regard, Food Law of Mongolia names meat and milk of Mongolia's livestock animals, seeds, wheat, flour and fresh drinking water as strategic foods.

What's more, milk is not only food to Mongolia; it is widely used in traditional and cultural practices. There are no farewell or welcome parties and weddings and ceremonies that do not involve milk. The Mongolian people compare milk with mother's kind heart and its white color represents good things happen in life.

Instead of certain products it makes, the name of the company (Suu means milk in Mongolian) has itself become a brand in Mongolia. Their products are distinctive with their natural taste compared to the imported milks with 'mixtures' or other milk products that are manufactured in various technologies. Every country runs tests and experiments using various chemicals or use Tetra Pak packaging solutions to extend the shelf-life of milk products.



'Aduu' brand calcium supplement entering world markets
Infants have approximately 300 bones in their body when they are born and it reduces to 206 when they hit adulthood. Osteoporosis is a medical condition in which the bones become brittle and fragile from loss of organic substance. According to the World Health Organization, osteoporosis is not infectious but is usually caused by heart disease, cancer or diabetes. Scientists explain the spread of osteoporosis in the 21st century due to nutritional and environmental changes. Mongolian scientist and chemist D.Demberelnyambuu's 'Aduu' calcium preparation is making a valuable contribution to curing osteoporosis.

Of all the living beings on earth, horses have the strongest bones. Horse bones are scientifically proven to have the most organic substance than other animals, such as protein, collagen, growth hormone, micro elements and minerals which are beneficial to the human body. Although a horse is 3-4 times heavier than a human, its calcium intake is 30 times higher which means that horse bones have a high capacity to restore human bone cells. Also, horses are immune to hoof-and-mouth disease and rabies. Mongolian horses live in prairie pastures with fresh air and clear water. Therefore, their meat and milk can be treated as a remedy for the human body. Just like how the composition of maternal milk resembles a mare's milk, horse bones have also a similar structure as human bones. Chemistry scholar D.Demberelnyambuu's product, 'Aduu' brand' calcium preparation is manufactured by the scientific research company 'Monchemo' LLC. The calcium preparation is produced in a similar composition as food. Therefore, the product has high digestibility with no side-effects.

Most imported calcium preparations in Mongolia have cheap mineral components such as lime calcium, shells of various sea animals and snails. Also, synthesized organic acids such as lemon and gluconate calcium have foreign components for human bones. These are less absorbent, have slow digestibility, are gas ducting, produce countervailing stomach acid, and increase blood pressure which ultimately causes heart disease. Because of the minerals' components, these products are instructed to be used only once a day. However, under the World Health Center's standard, D.Demberelnyambuu set his goal to solve these side-effects by monitoring the healing process of bone density and osteoporosis with modern technology and instructing consumers to use 'Aduu' brand calcium preparation if required. Calcium preparation varies by carbonate, citrate and biological. 'Aduu' brand's biological calcium preparation of 'calcium hydroxyapatite' has more liquid solubility than the other types. With an experiment, 97 percent of the calcium was dissolved in 30 minutes in a saline solution similar to stomach acid.

D.Demberelnyambuu created artificial menopause in collaboration with Korean Scientists by taking the ovary of an experimental mouse and experimentally proved a rapid decline in osteoporosis by feeding horse bone calcium to the test subject in a comparative experiment.
Thousands of people have used the calcium preparation made from Mongolian horse bones and 90 percent of them have shown good results in a short period of time. From these results, the supplement shows no side-effects on the human body and its high assimilation has been proven. Most importantly, the supplement is unique with its biological components.

'Aduu' brand calcium increases the density of thinned bones. Also, the supplement is enriched with glucosamine, collagen and necessary vitamins (C, D3, K vitamins, folic acid and minerals such as copper, zinc, manganese and boron) to improve the durability of a bone. Calcium, magnesium, collagen, growth hormones, micro and macro elements in human bones are lost as a whole during arthritis and osteoporosis. Therefore, biological bone nutrition was created in order to provide the lost substances of proteins, vitamins, minerals and microelements as a whole.

The product received honorable awards such as 'Mongolia's Best Exporting Product of intellectual Capacity' in 2009, international 'National Industrialization-Ecological Product', 'Best Product of Mongolian Engineer's First Session' in 2010, 'Best Product of Science and Technology Research' in 2012, 'Best Product of Mongolian Trade and Industrial Sector' in 2013, 'Best Science Product' in 2015 and 'National Key Product' award in 2015.

In recognition of his valuable contribution to Mongolian science, Dr. D.Demberelnyambuu was awarded Tgs 100 million by the Government of Mongolia for the 'Best Science Product' with his creation in 2015. 'Monchemo' LLC has started exporting 'Aduu' brand calcium preparation to the Republic of Korea and Japan. Also, the demand for the company's sanitary products such as 'Tamyedin', 'Chimodin' and 'Sanitol' is steadily increasing.

The company's pharmaceutical industry and the research laboratory that was established in 1998 are operating in the Baganuur district. The industry manufactures around 20 kinds of medicines and biological supplements. When visiting the industry and the laboratory, D.Demberelnyambuu shared his research and industrial projects.

For instance, he designed a new process for making clean coal to reduce air pollution in Ulaanbaatar. Using this production would provide high quality cheap fuel to Ger district households and reduce toxic fumes from automobiles. Considering the current economic potential and slow construction process, he expects his design would make a valuable contribution to reducing air pollution.

D.Demberelnyambuu also developed technology to use Erdenet mine's white dust waste to manufacture construction materials. Furthermore, he created a substance that solidifies dust particles which causes respiratory disease. By spraying the substance, the dust particles will cease to rise in a wind. As such, scientist D.Demberelnyambuu shared quite a few plans and ideas that could help develop the country.

The chemical scientist explains the balance of acid and alkali "If a fire were to break out in a human body, the extinguishing substance would be alkali". Most of the spring diseases are caused by the imbalance of acid. Therefore, healthy food consumption became a global issue. Children's food supplements are being tested and ready to be manufactured in Monchemo's laboratory.
B.Zandankhuu
'MR' brand's unique quality of Mongolian leather
In recent years, the growing Mongolian national producers, engaged in manufacturing products made from Mongolian livestock animal skins and hides have been exporting their products to world markets. In this series of the 'Mongolian Brand' column, the MONTSAME Agency is introducing one of the domestic leather brands, 'MR' to our readers.
Even though it has been only 5 years since MR leather bags brand of Mongolian 'SRB' LLC was founded, its products are already popular among consumers from Mongolia, Japan, South Korea and Taiwan.
The brand produces more than 70 types of leather bags including men's, women's and kids leather bags with different styles as well as 30 types of accessories such as purses and key chains.
The uniqueness of the brand lies in the raw materials it uses for its products – the hides of cattle and yak and the way they are processed to turn them into high quality leather. The outstanding technology the company uses to process the raw materials is what gives its brand products perfect quality.
The excellency of their products can be shown from the fact that Japanese people only buy leather from Mongolia for book covers because of its great quality. Also, the scraps of the materials are given to orphanage centers in Mongolia for training purposes.
Mongolia has over 60 million livestock animals and 83.2 percent of the territory is land for agricultural use. The long-standing nomadic culture of Mongolia has been benefitting Mongolian leather producers. Hides of livestock animals that are fed on natural grass in the wild pasture land of Mongolia, not contaminated by the polluted urban environment are the freshest and healthiest. It is remarkable that manufacturers are utilizing traditional nomadic herders' technology without losing the basic quality of leather.
Mongolian leather producers are divided into two categories, users of Mongolian leather and leather importers. 'MR' brand products are made with pure Mongolian leather and created by Mongolian designers. The truly Mongolian MR brand was awarded the 'Product with Best Design' for 2015.
B.Enkh-Oyun, Director of 'SRB' said, "The period of experimenting and introducing our 'MR' brand is finished and the next stage of improvement starts this year. At first, we started with a small manufacturing workshop with 2-3 employees. Our first customers were Japanese people, who had played a main role in the improvement and growth of 'MR' brand. We have made a conscious effort during the first three years of our operation, aiming to attract Japanese customers who naturally demand high quality and standards.
'MR' brand products cost approximately USD 20-500. The main purpose of the 'MR' brand is to promote the high quality of Mongolian leather materials to consumers. About 3-4 bags can be made using imported leather materials, whereas just one bag is made with the same-size Mongolian leather. As there is not adequate meat production technology in Mongolia, herders slaughter their livestock animals manually outside of their homes which results in pricking and bruising animal hides. Due to that, Mongolian leather product makers are not always able to use their leather in the manufacturing process.
A leading player in the Mongolian leather production industry, 'Mongol Shevro' and 'Darkhan Nekhii' companies provide leather materials which are the primary goods of leather products. They professionally prepare the materials according to our requirements in color, design and types which certainly gives us an opportunity to produce as many products as we want.
'Among the outstanding handmade products in different colors the MR brand offers, people from tropical countries are more interested in bright colored bags but Mongolian users usually buy bags with beige and natural colors'. Each year, the Mongolian leather industry prepares raw materials worth Tgs 150-160 billion from which national producers purchase raw materials of over Tgs 30 billion. The remaining Tgs 120 billion in raw materials are exported abroad.
'MR' brand well-liked in China
Tenger, famous singer from the Inner Mongolia Autonomous Region of China said ' I was recently invited as a guest of the popular Mongolian TV show 'Hundred distinguished figures of Mongolia'. The show's team gifted me with a leather bag of 'MR' brand. In China, the bag always catches people's eyes and they often ask things like 'Where is it made?', 'Is it expensive?', or 'the leather is beautiful'. I respond to them, 'I do not focus on mundane things like material wealth and possessions' I usually tell them 'It is a product of my Mongolia'. It fills my soul.
Lifelong products of MR brand
B.Amarkhuu, Mongolian famous singer said 'I am glad that was in an advertisement for 'MR' brand leather bags. It is said that quality does not need advertisement, but, we need to promote real quality to the public. I would like to say that customers do not need to waste their time looking for real quality, instead just go for 'MR' brand'.
B.Zandankhuu
"Exclusive" looks to compete on global market
In recent years, the clothing industry is becoming more globalized with no limits and barriers. Thousands of international manufacturers are making clothing and apparels and hundreds of clothing brands have already strengthened their position on the world market and had their own regular customers.
It is not a piece of cake to achieve success in the fast movements of fashion and clothing industry. However, achieving success in the garment manufacturing business is not an impossible thing thanks to effective goal setting and unique qualities of each business.

Mongolia is well-known for its mining industry and mineral resources in the world. But, there is an obvious demand for creating a national Mongolian clothing brand that could distribute the "Made in Mongolia" label to the world consumers. A domestic producer that can substitute imports and make apparels suitable for body proportion of the Mongolian people and their need is still missing. There is a chance to have such thing if we can take advantage of the geographical location and climate conditions as well as an abundance of agricultural raw material.

In this connection, the MONTSAME News Agency launches a new column "Mongolian brand" on its publications and is presenting the Mongolian clothing "Exclusive" brand as the first of the series. The Exclusive brand is striving to make a global market debut with an aim to introduce Mongolia to the world and develop the domestic industry for import substitution.

We were thankfully welcomed by Maitsetseg Gansukh, Founder of the Exclusive brand at the factory of her company. This hardworking woman, who had lived in Poland for a long time and gained education there, has opened her own company eight years ago. After graduated from the Maria Curie-Skłodowska University-UMCS of Poland, Maitsetseg has a great experience in garment making business as she had found a rag trade company named "EMA" in Poland and worked as a subcontractor of world famous brands "Demi Cler" and "Hugo Boss". Besides Poland, she has a company "Maya Shenghua" in China.

"Despite the comparably smaller size of its factory, her business had introduced the European standard of clothing production for the first time in Mongolia" proudly said Maitsetseg. Started with only three people, the Exclusive brand has now grown into a company that has over 100 employees and three workshops and a factory with a capacity of producing 3 thousand pieces of clothing a day. Most notably, the Exclusive brand is tirelessly working to introduce the most advanced recent technologies to its factory. The brand spearheads in Mongolia through its production of body heat-keeping pants and shirts with "Heattech" technology of Japan and silk down coat with a Canadian technology.

As every person searches for the warmest coats during Mongolia's extreme cold winter, imports of winter coats and jackets surges. Therefore, it is indispensable to support the domestic clothing manufacturers. Covering this necessity, the Exclusive brand has been making high quality silk down coats which has several advantages of keeping warm since it was established 8 years ago. The brand has introduced a modern down coat making technology with a loan taken from the Chinggis government bonds and after 5 years of studies, Maitsetseg has found a method of lining the inside of a coat with camel wool, which is great at holding the body heat and is as light as other synthetic materials.

"On the basis of our plan of technological reforms of the factory and expansion of the capacity, we are planning to manufacture more high quality and inexpensive warm coats and jackets that could replace imported products" says Maitsetseg, founder of the Exclusive. She further underlines that "best quality and excellent prices" is the main principle that represents her brand. Users always asks from her that "Why is the Exclusive brand very cheap? Can you guarantee the high quality?" Responding to them, she briefly says "I can promise hundred percent guarantee on the quality of our products". Furthermore, she said the company has a talented fashion designer who used to work for H&M and C&A international retail clothing brands.

-Mongolian brand has a potential to compete on the world market. What are the closest gateway to enter to the global markets?

-In terms of its geographical locations, Mongolia has big opportunities and we need to export our products to the markets of our neighbors China and Russia by having partnership agreements with them. However, it is usually understood that entering to the global market means opening a retail store in foreign countries. More important than that, it is necessary to supply the domestic made products to foreign chain stores in the first place. A part of my dreams lays on to make products that make foreign people want to visit Mongolia in order to purchase our products. Offering the highest quality and best price is the most proper way in this regard.

-Processing the raw materials is vital for the comprehensive development of the light industry. Before Mongolia made a transition to market economy in the 1990's, total production of fabric materials had reached 1.5 million meters. But today, this type of production is halted. Can fabric be popular on the market if textile manufacturing grows?

-Of course, we can. In particular, we need to produce stretch fabric, which is commonly used in our manufacturing process and usually for making sportswear. The majority of clothing imports to Mongolia is sportswear. If we make this type of fabric domestically, our products would be able to beat imported clothing with same price by its quality.

-During our conversation, you have mentioned the development of light industry many times? Why it is important for you?

-I believe our mission is to contribute to the development of the light industry. As the EXCLUSIVE brand is not Maitsetseg's brand only, it's a Mongolian national brand. That is why we aim at making clothes, such as down and feather coats and camel wool vests with affordable price to all people. I see that more and more Mongolian national brands be born to enhance the quality of domestic-made clothing.

-Throughout the interview I cannot take my eyes off from the knitted shirt you are wearing? Is it Exclusive?

-Yes. This is from our new collection that will be launched soon. This year, we have planned several works and thinking of new business ideas apart from our daily operations of making 4-5 different styles of clothing. Moreover, this year, we are planning to open branches in three provinces and to have sales representative in each province nationwide. Also, the Exclusive brand will be importing its products to China, Russia and Japan.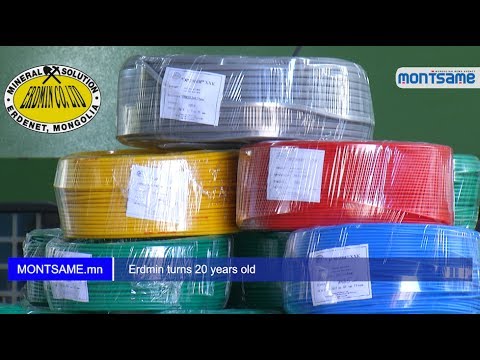 Erdmin turns 20 years old
'Erdmin' LLC, the first copper cathode factory in Mongolia, manufactures more than 40 types of the copper wire for electrical use and began manufacturing extension leads with its copper wire which became a product of high demand in the local market.
A well-known company in many countries, ''Alex Steward Assayers'' of England confirmed the quality of its manufactured cathode copper. The cathode copper's quality is +99,999% pure meeting the grade "A" quality requirements of the London Metal Exchange. Twenty-three years ago, Mongolia's Erdenet Mining Corporation (EMC), Asia' leading producer of copper and molybdenum concentrate, with its then director-general Sh.Otgonbileg had performed an experiment to remove copper from mining waste and the event became the initial inception of establishing Erdmin LLC.

The aforementioned experiment to separate copper cathode from low-grade piles of "mining waste", using a weakened solution of sulfuric acid, turned out to be a success. Later in 1994, at the initiative of former General Director Sh.Otgonbileg of EMC, ''Erdenet Concern'' LLC of Mongolia and ''RMC'' of the USA signed an agreement to build an experimental plant to manufacture pure copper cathode by using weakened solution of sulfur acid from low-grade ore piles of EMC. The official launching ceremony of the plant was held on February 13, 1997, establishing Erdenet Mineral Solution or Erdmin Co. Ltd.

One of the best 50 businesses of Mongolia, Erdmin is welcoming the year of its 20th anniversary with new products and new brand.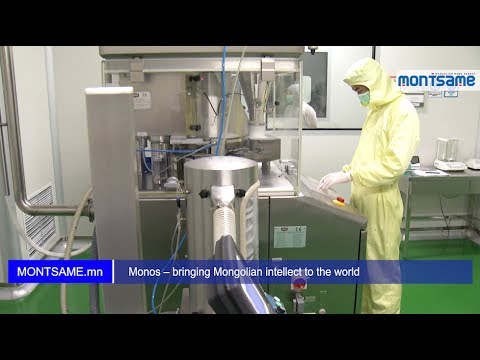 Monos – bringing Mongolian intellect to the world
With annual capacity of producing 350 million pills, 100 million capsules and 2.5 million liquid and powder drugs, Monos Pharmaceuticals company has released a total of more than 90 types of medicines in forms of compressed pills, capsules, powder, liquid, ointment, spray, liquid and gel. There are now over 30 ranges of goods carrying Monos's brand name. Salimon, the substance for boosting immune system, and Dentamon, the substance for dental care and inflammation, have been awarded the State Prize of Mongolia.
Monos company, already satisfied the ISO 9001 quality management system standards and ISO 17025 laboratory standards, has recently met the GMP standards. Mongolia has been keeping up with other countries in terms of extracting pharmaceutical products from organic sources. It is a long-time vision for Monos to start processing medicines through chemical synthesizing approaches.
Practitioners of Mongolian traditional medicine have a wealthy reserve of intellect that has been enriched with many years of development of medical substances made from roughly 500 kinds of herbs and 2,000 minerals, and of 400 types of medicine originated from animals.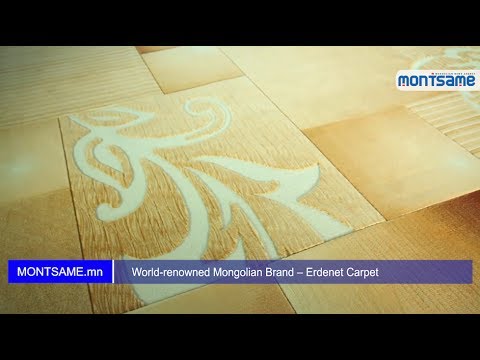 World-renowned Mongolian Brand – Erdenet Carpet
Nowadays, when people are becoming more eager to use organic products, Mongolia has started to supply unique carpets made of 100 percent wool from grazing sheep and with designs keeping up with modern fashion.
Erdenet Carpet has achieved the Woolmark and Woolmark Blend quality marks. With the commissioning of latest technology knitting machines manufactured in Belgium installed in the carpet factory during the technological renovation in 2014-2015, Erdenet Carpet has been producing brand new lines of carpets called Attila and Unicarpet, which meet all international standards and has been supplying them to domestic and world markets.
Density of the Attila carpet is 1.0 million fibers per squaremeter, and these are the densest carpets ever produced in Mongolia. The most important advantage of the Erdenet Carpet factory over other carpet-makers is the fact that the company procures its materials straight from herders and conducts every step of production in its home country, thus, is a hundred-percent national brand.
Aside from carpets, the company also makes wool threads and felt products. Erdenet Carpet supplies 96 percent of the domestic carpet demand and exports 30 percent of its total production to more than 20 countries.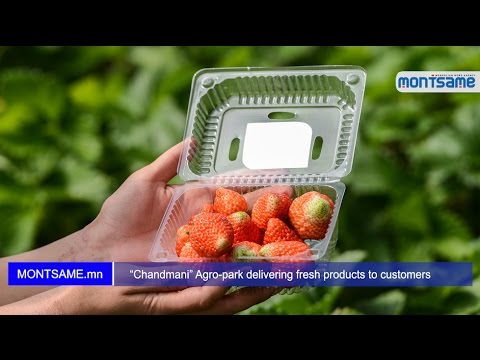 "Chandmani" Agro-park delivering fresh products to customers
"Chandmani" Agro-park, one of the leaders of Mongolia's industrial technology, has launched a "Greenhouse complex" project in Bayanchandmani soum of Tuv aimag to deliver to domestic customers the organic products grown in the soil of Mongolia.

The customers who used to head to greenhouses in the rural areas to get fresh vegetables and fruits in different varieties, are now able to buy these products with a tag 'locally-made' in supermarkets and grocery stores of Ulaanbaatar.

"Chandmani" Agro-park, with an aim to provide fresh and organic products to the population of Ulaanbaatar, is planning to supply its products to military units in the future.

Mongolia is aiming to establish domestic factories interconnected with each other as an Industrial Technological Park following the example of countries with highly developed industry.

The agricultural and technological "Chandmani" Agro-park is working to establish shopping centers and factories to manufacture final products of milk, meat, fruits and berries and vegetables on its 80 hectares of land in Bayanchandmani soum within the framework of "Food Production" project. The Agro-park owns a total of 1900 hectares of land.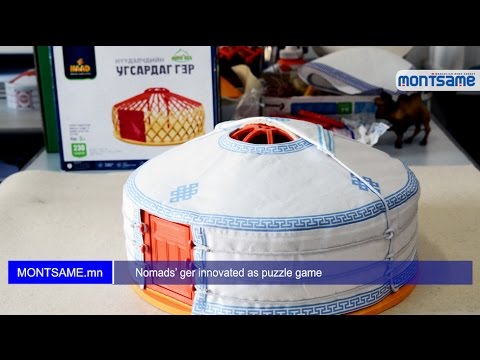 Nomads' ger innovated as puzzle game
Mongolian puzzle game manufacturer 'Taliin ezen' LLC created a puzzle version of Mongolian ger (Yurt).
Anyone who's been to Mongolia or is interested in the country can visit https://www.indiegogo.com and get this ger in support of the project.
This innovative product allows a journey of mysterious nomadic culture. The product can make you feel the fondness of Mongolian blue sky, the vast steppe, the mountain range, the pristine nature, the wild wind, the charming smile and the hospitality of its people. The 11 times smaller version of Mongolian ger will not only introduce you to nomadic culture, but it will also benefit children's intellectual development as a form of puzzle game.
Holding centuries of nomadic legacy, this ger can be built and moved whenever and wherever you are in the world.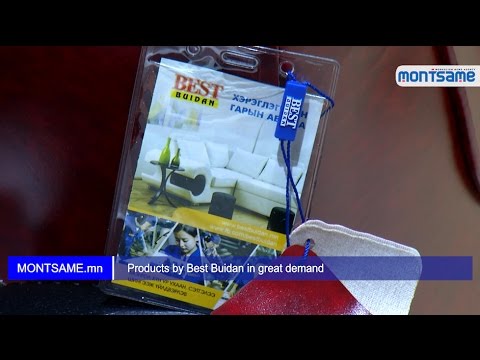 Products by Best Buidan in great demand
Mongolian national manufacturer "Best Buidan" Company is producing more than 15,000 sofas and 2,000 other furnitures per year, while partnering with China's "Hebei Chang An Plastics", "Hong Yan Leather" and "OuNuoYa Textile" and Russia's Viniltex and Lumitex companies.
In 2013, Best Buidan expanded its operations by establishing subsidiaries named "Best Style" in field of commerce, "Best House" in construction assembling and "Best Service" in maintenance of coaches and furniture. Best Buidan's special set for living rooms is one of the factory's most demanded product, which is distinguished from other brand of furniture by its unique designs inspired by Mongolian traditional style.
In Mongolia, where children and youth constitute over 60 percent of the population, living room coaches are children's playing area and the favorite place to sit back and watch TV. Therefore, "Best Buidan" has always been trying to make the cushions, covers and wooden parts of coaches out of the best materials there are, and constantly tries to improve quality. The company, as a caregiver to the society, launched a much appreciated humanitarian project named "Call of Compassion", through which 10 families in-need have been granted housing apartments of "Best House".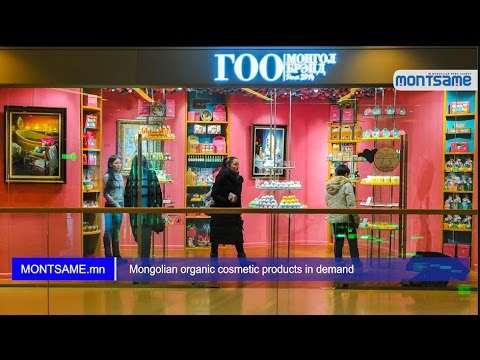 Mongolian organic cosmetic products in demand
A young mongolian girl in her early twenties created natural cosmetics brand for modern urbanized society. "Goo" (Beauty) brand of "Burkhanlig goo saikhan" (Godly beauty) company is already well known in Japan and the US.
The company produces 35 types of handmade organic cosmetic products for mongolians. The first Mongolian cosmetic franchise is not only blooming in Mongolia, but also has opened up branches in Japan and China as well. The internationally acclaimed Mongolian medical cosmetic brand distinguishes itself from other modern day brands as it uses organic materials such as fat from a sheep tail, seabuckthorn, rock salt, thistles and thyme as a base.
Also, the company does not mix chemicals to increase the product's age. For dry and sensitive skin, the company produces 20 kinds of new products for export, such as resin drops, resin body lotions, lip nutrition, face scrub with seabuckthorn and coffee, masks with seabuckthorn, ointments with lemon, collagen and honey, bath bomb for foot and bath salts with milk and rose.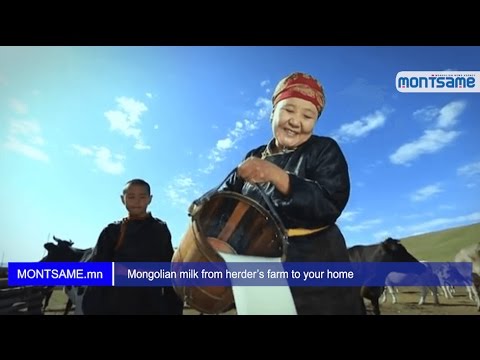 Mongolian milk from herder's farm to your home
Mongolians use over seventy types of traditionally made dairy products generally named as "Tsagaan Idee" in Mongolia. Since the time immemorial, Mongolians have been making dairy products and history shows that two thousand years ago, the Huns enjoyed an extensive range of dairy products, such as airag and aaruul.
The first Mongolian dairy producing factory was established in 1958, which is today's Suu JSC. It has created the largest milk processing network by working collaboratively with over 2500 herders and farmers to meet the constantly increasing demand of the consumers. The company has consistently brought in the world-class modern technologies and formed a fully automated modern factory with ISO 9001:2008 quality management system.
Instead of its certain products, the name 'Suu' JSC (Suu means milk in Mongolian) itself became a brand in Mongolia. Their products are distinctive with their natural taste compared to the imported milks with 'mixtures' or other milk products that are manufactured in various technologies. Every country runs tests and experiments using various chemicals or use Tetra Pak packaging solutions to extend the shelf-life of milk products.
As for Suu JSC, the milks are packed in eco-friendly cardboards and spoils within three days. Under the slogan "From herder's farm to your home", the company has a daily capacity of processing 200 tons of milk and manufactures about 70 types of products as of now.
'Mongol Costumes' - Brand maker from national costume Deel
'Mongol Costumes' company, modern fashion brand maker from Mongolian traditional dress is working to design and produce some garments to be displayed at the National History museum. Mongol Deel is an important component of Eastern culture like Japanese kimono, Indian sari or Korean hanbok. The company strives to make Mongolian modern Deel a world brand.
The company has become famous with its unique professionally-designed national dress made of texture and silk brought from India, South Korea, Vietnam, Thailand, Japan and China. The company also had presented the Mongolian national costumes on the world arena by organizing its exclusive fashion shows at the UN Headquarters in the U.S. and at the UNESCO Headquarters building in France.
'Mongol Costumes' has a tailoring factory, fashion salon, library, research center, fashion show hall and folk craft museum and its complex business project named "Mongol Costumes" is expanding year by year. Having organized fashion shows in some 20 countries all over the world, the company also has participated in international festivals and big events.
Their first success abroad was the Grand Prix of 'Silk Road' international festival in Russia in 2005. Thereon 'Mongol costumes' organized an exhibition 'Fashion world-Mongolia' in Berlin and Stuttgart, Germany in 2006, displayed its fashion collection in 'Art Expo' international fair in New-York, USA. The Grand Prix at the 'Ethno Erato' international competition held in Moscow, Russia is their achievement.
'Mongol Costumes' company also organizes various fashion events among Mongol origin countries, including Inner Mongolia of China and Buryatia, Kalmykia and Tuva of Russia.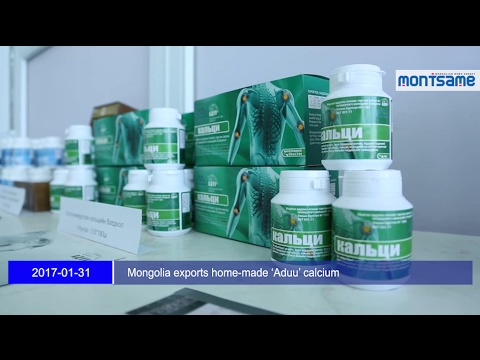 Mongolia exports home-made 'Aduu' calcium
Mongolia has started exporting a home-made calcium preparation named 'Aduu' (literal meaning: horse) to the Republic of Korea and Japan. This is a brainchild of chemist D.Demberelnyambuu and product of 'Monchemo' LLC.
Commonly used by domestic consumers as well, the calcium preparation is made of same ingredients and components for nutrition, a feature that ensures no side-effects for long-term take.
An experiment conducted on a mouse in collaboration with scientists from the Republic of Korea proved that the 'Aduu' preparation, composed of horse bone subdues osteoporosis. In order to strengthen bone hardness, the preparation is enriched with components including collagen, glucosamine, vitamins C, D3 and K, folic acid, copper, zinc and boron.
In recognition of his valuable contribution to Mongolian science, Dr. D.Demberelnyambuu was rewarded MNT 100 million by the Government of Mongolia.
Scientists found that horse has the strongest bone which is rich in organic substances, protein, collagen, growth hormones, micro elements and minerals. Though horse is 3-4 times heavier than human, its calcium intake is 30 times higher which means that horse bone has a high capacity to redevelop human bone cells.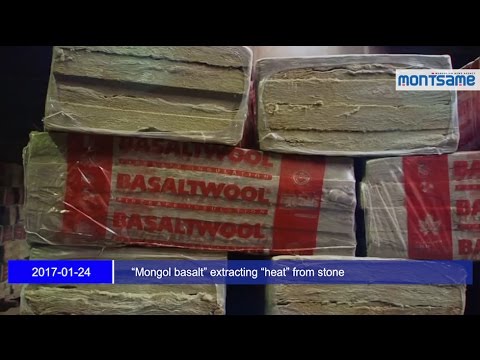 "Mongol basalt" extracting "heat" from stone
Buildings with non-flammable, waterproof and fiber-alike sound and heat resistant 'magical' walls have become ubiquitous in Ulaanbaatar, the capital of Mongolia. It's because Mongolians have been extracting stone wool from basalt stones comprised of magmatic crusts of a volcano and manufacturing building materials from it.
After studying from the experiences of Denmark, Russia, China and other European countries, Mongolian engineer L.Ariunbold has started stone wool manufacturing project in Mongolia by founding the "Mongol Basalt" Company in 2005.
By introducing the energy-saving and heat-loss preventing stone wool to consumers, "Mongol Basalt" is trying to reduce global warming by reducing the emission of carbon dioxide in the air, giving significant contribution to curb the air pollution in Ulaanbaatar. To do this, the company has started working on various major construction and investment projects. For instance, the company has collaborated with the "Jenko Tour Bureau" on the construction of ChingisKhaan Equestrian Statue, using their first sample for the interior lining of the monument.
Also, the company has participated in the latest major construction works in the capital, such as, "Ulaanbaatar Department Store", "Shangri La", "Ramada" hotel, "JiguurGrand" buildings and the new international airport, demonstrating the quality of its product.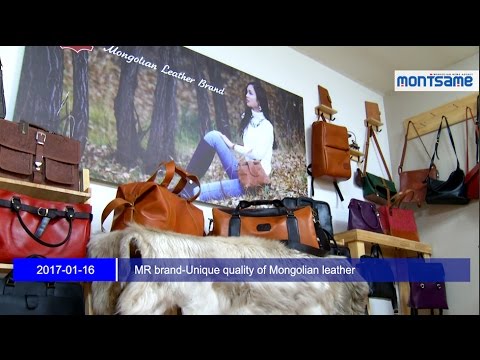 MR brand-Unique quality of Mongolian leather
Even though it has been only 5 years since the MR leather bags brand of the Mongolian "SRB" was founded, its products have been already popular among the consumers from Mongolia, Japan, South Korea and Taiwan.
The brand produces more than 70 types of leather bags, including men's, women's and kids leather bags with different styles as well as 30 types of accessories, such as purses and keychains.
The uniqueness of the brand lies in the raw materials it uses in its products – hides of cattle and yak and the way they are processed turn them into high quality leathers. The outstanding technology the company uses to process the raw materials is what makes its brand products a perfect quality.
The excellency of their products can be shown from the fact that Japanese people buy leather to use for book cover only from Mongolia because of its great quality.