Mongolia counts 67.1 million head of livestock
Economy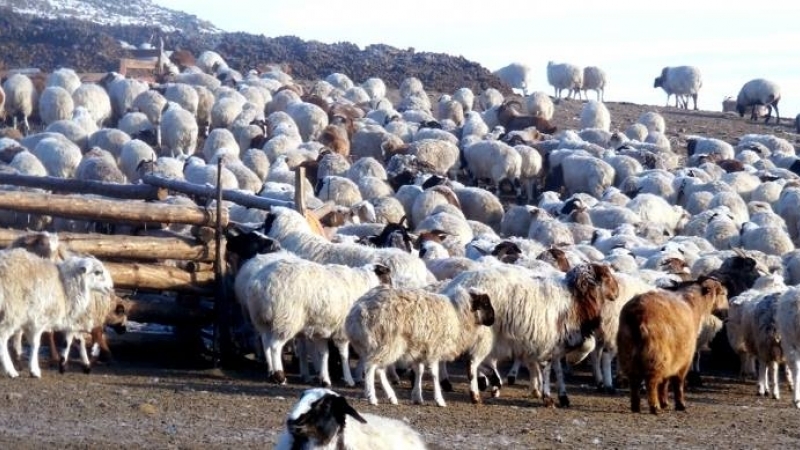 Ulaanbaatar /MONTSAME/. According to the preliminary result of the annual livestock census of 2020, head of livestock in Mongolia totaled 67.1 million, of which 4.1 million horses, 4.7 million cattle, 472.9 thousand camels, 30.0 million of sheep, and 27.7 million goats.
Compared to the previous year, the total number of livestock decreased by 3.9 million (5.5%), of which number of goats decreased by 1.5 million (5.3%), sheep by 2.2 million (6.9%), cattle by 21.8 thousand (0.5%), and horses by 122.1 thousand (2.9%), but the number of camels increased by 521 (0.1%).
In terms of flocks of livestock, sheep account for 45.5% of the total number of livestock, with goats for 41.3%, cattle for 7.1%, horses for 6.1% and camels for 0.7%. It shows that the proper ratio traditionally set at 75:25 between sheep and goat was still lost with the ratio 52:48 in 2020.
Khovd, Dornogobi, Selenge, Uvs, Dornod, Sukhaatar, Bayan-Ulgii, Darkhan-Uul, Orkhon aimags, and Ulaanbaatar city showed an increase of livestock by 10.0-208.2 thousand respectively, compared to the previous year.
The reduction in the livestock amount was mainly due to the decrease in Uvurkhangai aimag by 1146.4 thousand (20.4%) head of livestock, Bayankhongor aimag by 805.0 thousand (17.3%), Arkhangai aimag by 768.3 thousand (12.5%), Khuvsgul aimag by 539.9 thousand (8.9%), Dundgobi aimag by 352.0 thousand (8.6%) and Gobi-Altai aimag by 286.9 thousand (8.0%) respectively.
In summer of 2020, most territories of the country were affected by drought. Also, a high risk of dzud, increased demand for hay and fodder, and overgrazing led to the increased meat production and livestock supply to the market, which caused a reduction in the herd size.
It was also influenced by the decrease in dams (206.9 thousand) and survived offspring (809.9 thousand) and the rise in natural losses of adult animals (944.5 thousand) as compared to previous year.
According to the 2020 preliminary result, the number of total households with livestock was 242.0 thousand, with an increase of 8.7 thousand (3.7%). By the number of animals, households with up to 50 animals increased by 7.4%, families with 51-200 animals and with 201-500 increased by 13.1% and 0.6% respectively, while families with 501-999 and over 1000 animals decreased by 8.2% and 17.4% respectively.