Foreign Affairs Minister pays visit to the Czech Republic
Politics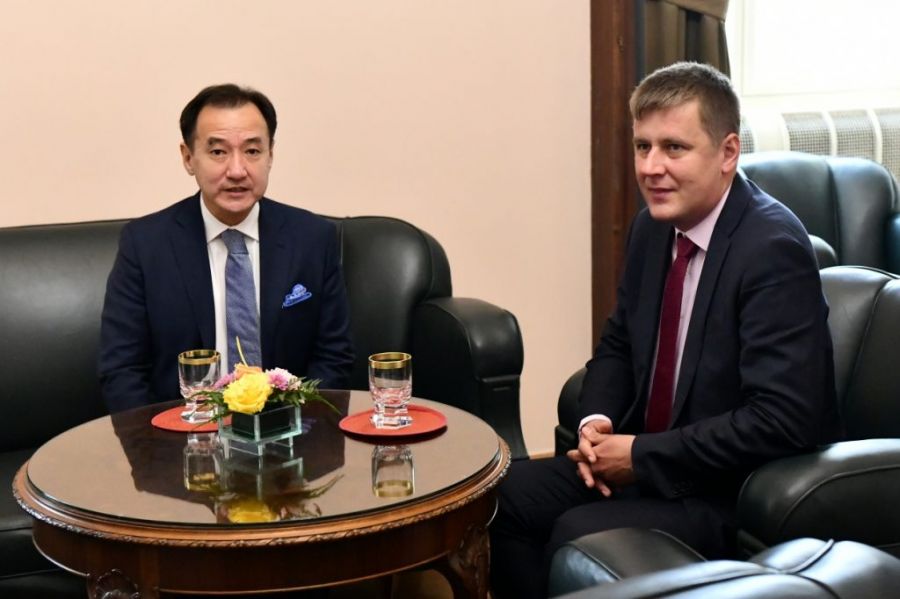 Ulaanbaatar /MONTSAME/ Minister of Foreign Affairs of Mongolia D.Tsogtbaatar is paying an official visit to the Czech Republic at the invitation of the Czech Foreign Minister Tomas Petricek during May 20-21. It is the first visit of Mongolian Foreign Minister to the Czech Republic since the dissolution of Czechoslovakia in 1993.

On the first day of the visit, Minister D.Tsogtbaatar held official talks with his Czech counterpart Tomas Petricek, exchanging views on expansion of bilateral cooperation in trade, economy, agriculture, culture and education, addressing social protection issues of Mongolian citizens in the Czech Republic, facilitating travelling conditions and joint celebration of the 70th anniversary of bilateral diplomatic relations in 2020.
Foreign Minister D.Tsogtbaatar expressed gratitude for the Czech Republic's contribution to the development of Mongolia and training of specialists, emphasizing the opportunities in mutually beneficial cooperation and strengthening traditional friendly relations, specifically the connection between businesses of the two countries. Minister Tomas Petricek noted that despite geographical distance, the countries have successfully got through transition to democracy, market economy and open social system, preserving and evolving democratic values. He also highlighted that relations with Mongolia is one of the country's top foreign policy priorities.
During his visit, Minister D.Tsogtbaatar signed some documents including the Cooperation Agreement on Social Protection between Mongolia and the Czech Republic, Intergovernmental Agreement on the return of illegal residents, Cooperation Agreement between the Ministry of Education, Culture, Science and Sports of Mongolia and the Ministry of Education, Youth and Sports of the Czech Republic on education, science and youth issues and the Agreement on cultural cooperation between the Ministries as well.
By signing the cooperation agreement on social protection, it will be possible to address the social welfare issues of Mongolian expats in the Czech Republic. Mongolia has over 9000 residing expats in the country, the most number of expats in the European Union countries.
Foreign Minister visited the Charles University in Prague, the oldest university in central Europe, meeting with the university administration and sharing views with the professors and students of Mongolian studies, who are making valuable contribution to the development of Mongolian studies in Europe.
Within the framework of his visit, Minister D.Tsogtbaatar paid courtesy call on the President of the Senate Jaroslav Kubera, exchanging views on relations and cooperation between the legislative bodies of the two countries, and handed over the invitation from the Parliament Speaker G.Zandanshatar to visit Mongolia.