Pop Opera Live Concert to take place
Art & Culture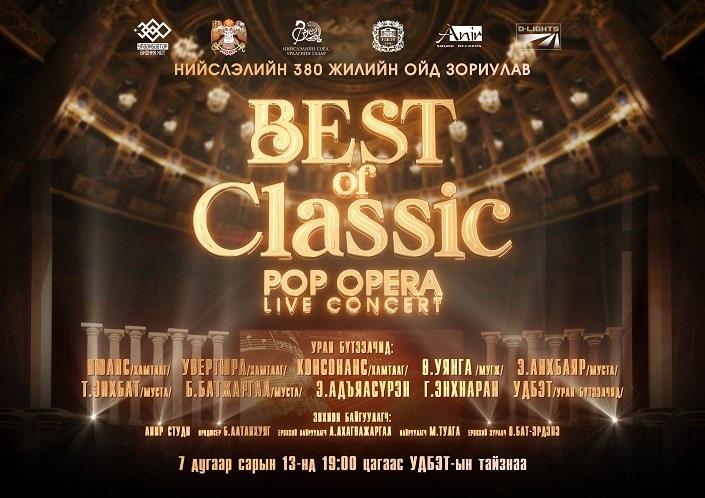 Ulaanbaatar /MONTSAME/. Mongolia's top opera and pop opera singers will give pop opera live concert named 'Best of Classic' at the State Academic Theatre of Opera and Ballet at 7 pm on July 13.
It is a part of events being annually organized by the Citizens' Representative Khural of the Capital City and the Governor's Office with a purpose to make Ulaanbaatar a center for business, culture, finance and tourism in Northeast Asia.
Popular artists such as the pop opera groups, 'Nuance', 'Uvertura', and 'Consonance' as well as talented singers such as State Honored Actress U.Uyanga, T.Enkhbat, B.Batjargal and E.Ankhbayar will be performing at the concert.
At the initiation of the Governor's Office of the Capital City and the Culture and Arts Authority, the concert is being organized by the State Academic Theatre of Opera and Ballet, 'Udirtgal Khugjim' NGO, Anir studio and D Lights LLC on the occasion of the 2228th anniversary of the Statehood, 813th anniversary of the Great Mongol Empire, 98th anniversary of the People's Revolution and the 380th anniversary of the capital city.
The Best of Classics concert has been annually organized under the auspices of the Governor of the Capital City and Mayor of Ulaanbaatar in the framework of the Classical Arts-III programme.