Strengthening Human Resources of the Civil Service
The Mongol Messenger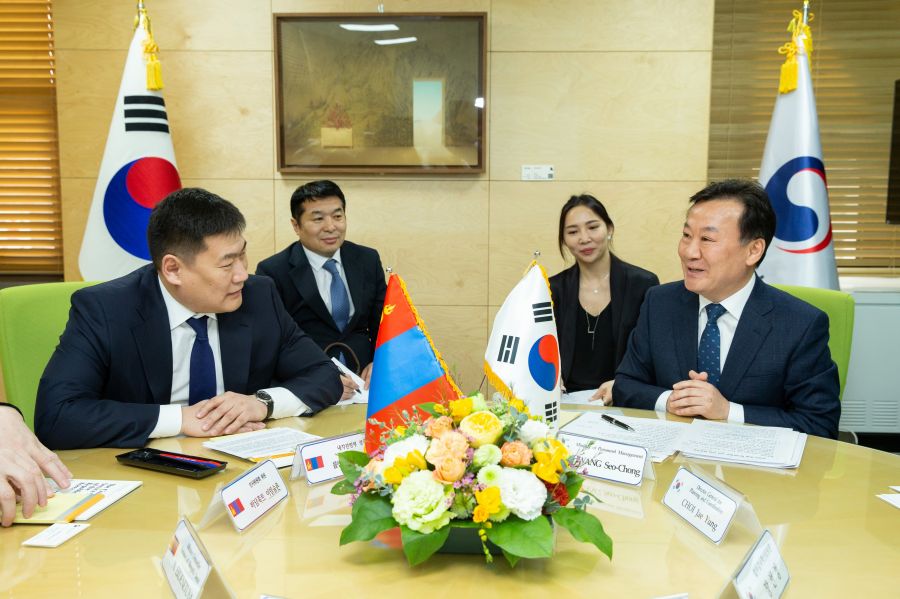 Mongolia is implementing Civil service law from the beginning of this year. Experiences of the other countries with advanced Civil service is exampling for us. The Cabinet Secretariat of Mongolia and the Ministry of Personnel Management of the Republic of Korea signed a Memorandum of Understanding on March 14, 2019. The parties will cooperate on policy planning and implementation of innovation in the field of public human resource management including recruitment, performance, and compensation; public policy on human resource development to strengthen meritocracy and professionalism of civil servants; promoting diversity in public service; information systems for public personnel administration; Senior Civil Service system; ethics and discipline in the civil service from 2019-2021. Some activities will be carried out and supported by the UNDP project "Towards a Professional and Citizen centered Civil Service in Mongolia".

Before the MoU signing ceremony, the Minister of Mongolia, Chief Cabinet Secretary Luvsannamsrai Oyun-Erdene and Minister of Personnel Management of the Republic of Korea Hwang Seo-chong exchanged their views on the human resource management in the civil service.
Luvsannamsrai Oyun-erdene: What challenges do you face in the personnel management of the civil service? What are the key issues to be addressed over the next 3 years?
Hwang Seo-chong: The most critical issue at stake for public personnel management in Korea is to promote civil servants to engage in 'proactive public service'.
The Korean society is challenged by ever-increasing global competition and demographic changes driven by aging population. In order for Korea to continue its growth and development under these unfavorable conditions, it is essential for the government to provide necessary regulatory reforms and proactive field response.
Hence, we seek to promote a public service culture in which civil servants will actively perform their duties and take self-initiatives to abolish unnecessary regulations and mundane practices. By punishing civil servants for non-initiating and low risk-taking behaviors that puts citizens at inconveniences, and by providing civil servants taking proactive and self-initiating behaviors with rewards and incentives, our government is committed to fostering a public service culture for 'proactive governance'.
Moreover, in order to adequately cope with changes in administrative environment, our Ministry is preparing a policy innovation which aims to reform human resource (HR) policies overarching the entire public service life-cycle from the entry into public service, employment period and to the retirement. This means that we will overhaul HR policies that are outdated and fall behind current policy and socioeconomic environment. We will create a virtuous cycle of public service HR management where high caliber talents 1) enter civil service through a fair recruitment system, 2) continue capacity building and accrue professional expertise and get rewarded for their skills and performance, and 3) contribute their know-hows and expertise attained from years of public service to the society after retirement.
Luvsannamsrai Oyun-erdene: How does Korean government deal with 'poor performance, non-initiating, low risk-taking, hanging around with low productivity but without any mistakes' civil servants? What kind of incentives do you provide for proactive public service?
Hwang Seo-chong: When civil servants due to lack of initiation or unwillingness to perform their duty cause violation of rights and interests of citizens and/or damage to national finances, we call it 'passive public service'. These passive (non-initiating, low risk-taking) behaviors of civil servants are considered barriers to citizen-centered public services by delaying administrative process. Passive behaviors may be a temporary solution for an official faced with a challenge, but in the long run, it can lead to public distrust towards government and widen the gap between the laws and the reality.
In order to deal with civil servants demonstrating passive behaviors in performing duty, our Ministry has devised a scheme to punish such behaviors via disciplinary actions or warnings depending on the severity of the issue and the manner in which it was handled. To stop passive behaviors and instead disseminate proactive public service practices, we are trying to come up with more fundamental solutions to improve public service culture through training and education and communications.
We also introduced an incentive system to provide tangible motivation for civil servants to engage in proactive public service. For example, each government ministry will be mandated to periodically select and reward outstanding civil servants demonstrating proactive public service. Rewards will be provided in various forms including, but not limited to, special promotions, overseas training opportunities, and transfers to desired department. With incentives that appropriately reward and recognize civil servants for proactive public service, we can reinstate and strengthen their commitment to public service and promote a public service culture for proactive behaviors.
Luvsannamsrai Oyun-erdene: The new Civil Service Law considers the person's ability to manage, analyze, problem-solving, leadership, and teamwork in recruitment. This is a change in the principle by discarding the previous system that examined one's ability to memorize – legal knowledge. However, we still lack the know-how of examining these skills. How has the Korean civil service examinations evolved over the years, and what insights can you provide to shed light to updating the civil service examinations in Mongolia?
Hwang Seo-chong: In 1963 when the State Public Officials Act was amended, the Korean government introduced a merit-principle for appointment of civil servants and selection through the open competitive recruitment examinations. The open competitive recruitment examinations are administered separately for grades 5, 7 and 9 (grade 5 is manager-level, grade 9 is lowest staff-level) every year and are open to every citizen regardless of age, gender, education or work experience. The exams consist of written tests and interviews. The written tests cover both general subjects and specialization subjects, and subjects have been continuously updated over the years. The interviews are intended to test candidate's knowledge, attitude and communication skills. With structured questions and trained interviewers, we ensure objectivity and fairness in the interviewing process.
Besides the open competitive recruitment examination which does not pose any restrictions on qualifications, we also administer competitive examinations for experienced professionals possessing certain academic backgrounds, certifications/licenses, and professional experiences.
As I understand the Mongolian government is making wide ranging initiatives to reform the recruitment system, I would like to stress the importance of 1) determining job descriptions at organization, division, job grade, and/or position-level, and 2) establishing a sound system for ensuring civil servants possess the professional capacity to perform their duties and for testing such capacities. The Korean government continues its work and research in this area to modernize our recruitment system.
Luvsannamsrai Oyun-erdene: What are some publicly-raised concerns when the government tries to reform the civil service recruitment system? How do you gain public trust on civil service recruitment system?
Hwang Seo-chong: The two-pillars of government recruitment are instilling merit-principle and ensuring fairness. Especially, in Korea, where competition for passing the recruitment examination is fierce, it is crucial for government to provide a fair recruitment process where everyone is given equal chance to compete with their aptitude. Our Ministry has adopted a 'background blind system' in which candidate background information (i.e. hometown, family relations, and educational background) is completely omitted in the recruitment process.
In order to attain public trust and acceptance towards changes being made to recruitment policies, when revising the test subjects of competitive examinations, we hold roundtables, surveys and public consultation meetings to seek comments from different stakeholders. Also, to minimize the burden on candidate preparing for the exams in dealing with any changes, we provide adequate time for changes to come into effect.
I hope our past experiences relating to improving the recruitment examinations will provide helpful insights to the Mongolian government's efforts to reform the recruitment system.
Luvsannamsrai Oyun-erdene: What kind measures are in place to prevent discrimination against certain social groups during recruitment?
Hwang Seo-chong: The merit-principle applies to civil service recruitment and evaluations as mandated by the State Public Officials Act. However, the government may adopt more proactive measures to ensure diversity and gender balance in public service by giving preferential treatment to certain socially disadvantage groups (i.e. disabled persons, low-income class) in recruitment, promotion and transfers.
For example, the Korean government has implemented a gender quota system since 2003 which ensures minimum percentage of either gender in open competitive examinations for grades 5, 7 and 9. For grades 7 and 9 exams, a quota is in place to recruit certain percentage of disabled persons. We also offer a competitive examination for experienced professionals in which only severely disabled persons may apply. In grade 9 exam, a quota for low-income class is applied so that certain percentage of recruits are from low-income families.
As a model employer, the government HR policies are quickly disseminated into private sector in Korea. Hence, the government has adopted these diversity and inclusion policies to prevent social discrimination and create an inclusive society at the country-level.
Luvsannamsrai Oyun-erdene: We are planning to develop the Civil Service Human Resource Management System. Therefore, could you please share us with your experience on E-Saram Electronic Personnel Management System?
Hwang Seo-chong: The Korean government introduced the e-Saram system (electronic HRM system) in 2000 to support scientific public personnel policies. The system has undergone phases of updates and upgrades since its inception. Currently, 69 central government ministries/agencies with over 300,000 civil servant users are utilizing the e-Saram which provides comprehensive public HRM features from initial employment all the way to retirement covering appointments, remuneration and work schedules. The accrued data and statistical information are used to inform individual ministries/agencies in their organization-level HR policies as well as our Ministry in our government-wide HR policies.
When the e-Saram was first introduced in 2000, there were indeed some obstacles and hesitations by government agencies as they were concerned about interventions and security breaches. In order to overcome the resistance, necessary legislations were enacted for government-wide dissemination of the standardized HRM system. Moreover, we maintained close communication with government organizations to inform them about the benefits of having a systematic and secure information system for managing personnel records. These efforts were made persistently, and eventually e-Saram was adopted across all central government organizations.
The e-Saram has been instrumental in building efficiency in public personnel management functions and supporting a fair and transparent public HRM practices. We are now at a stage of applying intelligent information technologies to e-Saram to further support scientific public HRM policies.
Luvsannamsrai Oyun-erdene: How does salary of civil servants compare to public sector? Do civil servants get enough to maintain savings? How many years does it take for civil servants to purchase an apartment?
Hwang Seo-chong: Our Ministry conducts a survey every year to compare the remuneration of civil servants to the private sector. As of 2018, when compared to the salary-level of administrative and managerial positions of establishments with 100 or more full-time employees with employee composition and nature of work that are similar to public service, the salaries of public servants are at about 85.2% of private sector (general service 77.6%, law enforcement 89.9% and teachers 87.3%). Whether civil servants can maintain savings accounts, or how long it takes to afford a home would largely depend on personal situation and consumption pattern. According to the Civil Service Census conducted in 2018, about 64.3% of civil servants were homeowners (employed less than 5 years 19.2%, between 5-10 years 47.5%, and 10-15 years 70.1%).
Luvsannamsrai Oyun-erdene: Are there legal grounds to protect the status of civil servants in the event of political power shifts? If yes, what kinds of measures and how are they observed?
Hwang Seo-chong: Except for political appointee positions, the civil servants in Korea are ensured job security even when political leadership changes. The Constitution of Korea provides that the career civil service in which civil servants are employed for lifetime are protected under a fair personnel system. In line with the Constitution, the State Public Officials Act stipulates on job security of civil servants and shields them from endangering their jobs. The appointment of civil servants shall be based on objective factors such as exam scores and job performance.
The job security of civil servants are ensured as civil servants must be apolitical and non-partisan, and must serve duty in benefit of all citizens. The legal framework guiding job security and political neutrality of civil servants allow them to provide high quality and consistent public service to the citizens.
Luvsannamsrai Oyun-erdene: Is fractionalization an issue in Korea? Do Korean civil servants tend to support political party activity, action plan and concepts by personal faith or belief?
Hwang Seo-chong: As mentioned above, the Constitution and laws of Korea provides job security and political neutrality of civil servants. Moreover, the State Public Officials Act stipulates that civil servants are forbidden from involvement in organization of or joining political parties or groups, publicly expressing support or opposition for a party or candidate in an election. These measures are in place to ensure public service does not intervene in political affairs and civil servants serve the entire body of citizens rather than in the interest of a political party, and ultimately protect professionalism, continuity and stability of public administration.
Luvsannamsrai Oyun-erdene: I have heard that a civil servant is prohibited from working in the same field for a certain period of time after retirement. Would you elaborate on the policy background and status of its implementation?
Hwang Seo-chong: In keeping with the public ethics and anti-corruption movement around 1960-70s among leading nations (i.e. Enactment of the Ethics in Government Act (1978) in the United States), the Public Service Ethics Act was enacted in Korea in 1981 to prevent corruption in public service and to ensure fairness in public administration process. The Act contains provisions on asset declaration and restrictions on employment and activities of retired public officials. With the inauguration of the Republic of Korean government in 1948, the government bureaucracy was at the backbone of rapid economic development of Korea. However, this also led to widespread private-to-public corruption. With the democratic movement of 1987, the public demands for transparency and integrity in government began to sprout, and the Public Service Ethics Act underwent repeated amendment for stronger ethics policy.
Currently, the Korean public officials who retire from grade 4 or higher positions are prohibited, in principle, from being employed by a private company, law firm or tax accounting firm that have affiliation to the nature of job carried out during the recent five years prior to retirement. The Public Ethics Committee conducts a thorough employment screening and over the past 5 years, 18% of applicants have been denied of post-retirement employment cases. Our Ministry continues to make improvements to the Public Service Ethics Act with firm belief that government can only succeed with strong public ethics.
Luvsannamsrai Oyun-erdene: Can you explain about the appeals and complaint resolution concerning government officials? Do you provide specific training in this area?
Hwang Seo-chong: The appeals system in Korea is a special administrative appeals system for civil servants who makes appeals to disciplinary actions and other appointment-related actions. It is a direct measure for ensuring the job security of civil servants and an indirect measure for self-controlling public administration system. As stipulated in the State Public Officials Act, the Appeals Commission is established under the Ministry of Personnel Management as an independent and consensual body in which its appeals process is protected from any intervention.
The grievance review system allows civil servants to file complaints regarding work conditions, personnel management and other HR affairs and seek resolutions. It protects the rights of civil servants in a wide range of aspects and effectively resolves cases in which civil servants are treated unfairly or require improved working conditions thereby enhancing efficacy of civil servants.
In order to enhance understanding of the appeals and grievance systems, the government offers workshops and training programs for individuals handling appeals grievances in each government ministry/agency. Business process manual and case studies are also distributed on a regular basis.
Luvsannamsrai Oyun-erdene: What is the Ministry of Personnel Management's involvement in the appointment and promotion of special duty officials (police, intelligence, military, etc.)? How are they regulated, which law regulates those matters?
Hwang Seo-chong: Our Ministry does not handle appointment and promotion of special service civil servants (i.e. police, fire service, teachers, military). There are designated laws that guide hiring rules for each category of these special service civil servants. As a central personnel management authority of the Korean government, our Ministry consults and reviews whether HR-related laws and regulations governing special civil servants follow the government HR policy and principle and ensure HR innovation is consistently implemented across both general and special services.
Moreover, to ensure balance in remuneration of civil servants across different occupational groups, our Ministry sets general salary guidelines for both the general and special services. We are continuing our contributions to keep the HR system of special service updated and competitive.
Luvsannamsrai Oyun-erdene: What kinds of international activities have your Ministry been engaged in? How can those experiences contribute to cooperation with Mongolia?
Hwang Seo-chong: In order to share experiences in public sector innovation and to provide necessary support in other government's efforts to improve civil service management, our Ministry has signed a Memorandum of Understanding (Cooperation) with 12 foreign government or international organizations including the Cabinet Secretariat of Mongolia and is pursuing various cooperation projects. Our affiliated training institute, the National Human Resources Development Institute (NHI), provides international training programs for foreign officials from many different countries including Japan, Russia, Vietnam and Colombia, to name a few. We also provide consultations on civil service reform based on the Korean public HR policies as well as our experiences to the foreign governments at their request, for example, to the Uzbekistani government.
Furthermore, as the global community emphasize the importance of public sector innovation and capacity building of civil servants, and forums and discussions on public employment continue to expand among international organizations (i.e. UN and OECD), our Ministry takes an active role in various international meetings including the OECD Public Governance Committee (PGC), Public Employment and Management Group (PEM), and Senior Public Integrity Officials (SPIO) for development of relevant recommendations and indicators.
I understand the revised Law of Mongolia on Civil Service was approved in December 2017, and the government of Mongolia is working on bylaws and procedures for effective implementation of the revised Law. Given our Ministry's experiences in providing consultations and training to other countries in SE Asia and Central Asia undergoing similar civil service reform as Mongolia, I look forward to jointly identifying and implementing cooperation projects between Korea and Mongolia that can provide fruitful outcomes for your civil service reform.
Luvsannamsrai Oyun-erdene: Do you have any advice for the Mongolian government based on Korea's experience with HR innovation in the public service?
Hwang Seo-chong: The unprecedented economic growth of Korea was contributed by high caliber government officials who designed and executed national policies aligned with the country's strategic objectives.
With our merit-based and fair recruitment system, the government was able to consistently bring in highly qualified talents into public service and through continuous strengthening of their capacity and professionalism. These elite cadre of government officials led the economic growth of the nation. The trust in excellence of bureaucrats both in- and outside- public service sets foundations for public support of government-initiated policies.
The capacity of civil servants are directly tied to the competitiveness of government. The innovation of public HR policy in Korea over the past years have been driven by fundamental goal of recruiting high quality talents and building their capacity and professionalism. We have diversified channels for highly qualified individuals with professional experience from the private sector to enter public service through competitive examination for experienced professionals and open position system (certain government positions are designated as open positions to non-career and/or career civil servants). Currently, about 43% of all open positions are filled by professionals with private sector experience.
We are also moving away from traditional job rotation practices which meant frequent job transfers for civil servants. To foster more specialists in the government, we also designated certain positions in the government to be specialized-track where officials stay in the position for long-term and build expertise in the field. Furthermore, we introduced an assessment program to ensure only those who have the necessary skills and capacity can be appointed to senior positions in the government.
I believe the Mongolian government, with the UNDP Project "Towards a professional and citizen-centered Mongolia" are making essential steps to modernize the civil service through reform of the civil service examination, merit-based HR management system, and establishing training requirements for HR development. With successful civil service reform, highly capable Mongolian civil servants will serve pivotal role in the national advancement.
Luvsannamsrai Oyun-erdene: In order for us to move forward in building a professional and citizen-centered civil service, training of Mongolian civil servants must precede. We hope our officials can receive training in Korea on various HR policy areas including recruitment, performance evaluation, and dispute resolution.
Hwang Seo-chong: I would like to emphasize that the success of a country's initiatives for innovation and change for national development largely depends on its civil servants who plan and execute those initiatives. Hence, it is critical for the civil servants to gain extensive knowledge on public HR policies and build their capacity.
Our Ministry and the training institute (NHI) have a long history and experiences of offering customized training to foreign officials. As of 2018, over 5,000 foreign officials from 147 different countries attended training at the NHI.
I sincerely hope that the Korean government's experiences and know-hows will be helpful to the Mongolia's development efforts, and look forward to collaborating with the Mongolian government and UNDP in the coming years.