UNICEF 2017-2021 Country Program mid-term review conducted
Society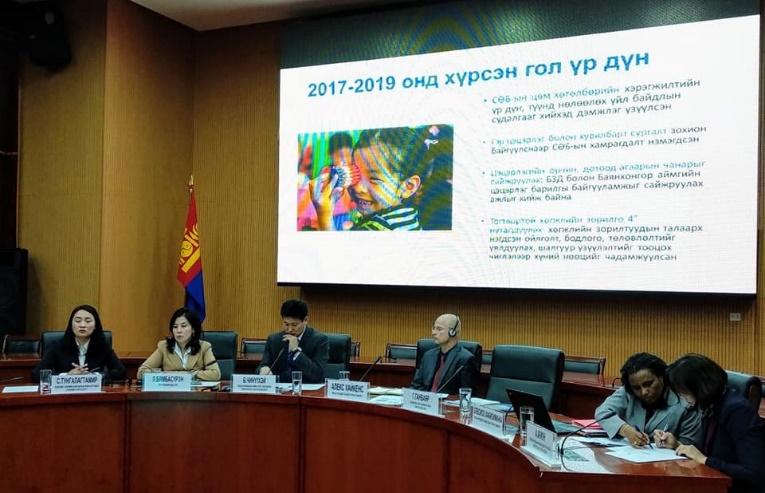 Ulaanbaatar /MONTSAME/ A meeting on mid-term review of the UNICEF's Mongolia Country Program for 2017-2021 being jointly implemented by the Government of Mongolia and United Nations Children's Fund (UNICEF) was held at the Ministry of Foreign Affairs (MFA) on October 15.
Mentioning that the goals put forth in the country program have been successfully reached and significant progress and results have been achieved in improving child development and protection, Deputy Director General of MFA Department of Multilateral Cooperation B.Chinuukhei and UNICEF Mongolia Representative Alex Heikens in their opening remarks emphasized that the meeting serves the main purpose of identifying the goals and issues need special attention in the remaining two years of project implementation.
At the mid-term review meeting, relevant Ministries reported and commented on each of the program goals: child survival and development; creation of inclusive, healthy, and quality learning environment; and development of equitable social policies and protection system. The participants then put forward proposals for reducing air pollution, one of the pressing issues in Mongolia, especially its impact on maternal and child health, adapting to climate change, improving energy efficiency, and including the issues concerning out-of-school children, witnesses and victims to crime, and children with disabilities in the program.
Taking into account the increased use of internet and changes in children's approaches to learning and communication, they also underlined the necessity of focusing on protecting children from offences in cyber space, establishing legal frameworks for controlling and regulating online contents posing adverse effects on children's development and upbringing, enhancing cross-sectoral coordination and coherence among projects and programs for the protection of children's rights and upskilling human resources to ensure sustainability.
The UNICEF representatives expressed their willingness to provide technical assistance and support in reflecting the proposals in the program and gaining and sharing good practices by trying out the new initiatives.
The meeting was attended by over 70 people including Deputy Minister of Health D.Byambasuren, Deputy Minister of Education, Culture, Science and Sports G.Ganbayar, Head of Population Development Department of the Ministry of Labor and Social Protection S.Tungalagtamir, and representatives from program partner organizations and Bayan-Khongor, Gobi-Altai, and Zavkhan aimags.