Jalkhanz Gegeen's Khuree in Khuvsgul aimag
Photos tell a history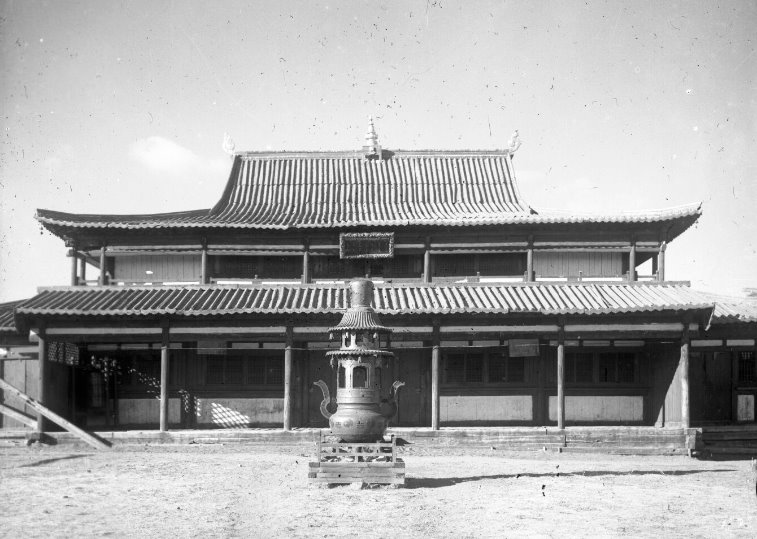 Jalkhanz Gegeen's Khuree in Erdene Duuregch Van Khoshuu /province/, where major religious councils used to convene, was located in a place named as Hollow of Three Trees (Gurvan Modnii Khuree), 13 km south from the territory of modern-day Tsagaan-Uul soum of Khuvsgul aimag.
As written in various historical documents or by word of mouth recounting the history, the foundation of the Jalkhanz Gegeen's Khuree's was laid down in 1872 and its Tsogchin temple was laid in 1873 to be consecrated in 1876, beginning the history of the Jalkhanz Gegeen's Khuree.
The place where the first cornerstone was laid is the current Khushuut Barchin and due to some issues of that time, it had to move to several different locations, such as Uzuurkhad of present-Arbulag soum, Sangiin Daldaa and Gandan lake of Tsgaaan-Uul soum and to finally settle in its current location of Hollow of Three Trees in the late 19th century.
During the 1930s, the Jalkhanz Gegeen's Khuree was a middle-sized Khuree of Gelug School of Buddhism with 20 temples, 12 prayer wheels surrounding its four sides, three large stupas in its north, where around 300 lamas used to reside. During the period of seventh Jalkhanz Gegeen, the Khuree was reinforced as a construction with white timber board fences outside of it and three green Temples with large Yampai or ''protective gate', which were a library of Chagdar, Red Deity or Jamsran and Jalkhanz Gegeen.
89 years old Bud, who started studying religious studies there in 1927, when he was 7 years old, and stayed there until 1932 for five years, told us about the Khuree. He remembers that the Jalkhanz Gegeen's Khuree had 22 temples as well as monasteries and datsan, such as Tsogchin, Choir, Duinkhor, Maidar, and Mamba having more than one thousand lamas. The last Khamba or the highest ranking lama of the Khuree was Choinyam agramba and lama titled unzad was Radnaa, according to Bud.
During the lamas' movement in four western aimags in the 1932, the Jalkhanz Gegeen's Khuree was closed down, however, after one year, it re-opened in 1934 to continue its operations. Right before, it resumed in 1934, the three main temples of Deity, Choir and Duinkhor and their main religious deities and scriptures that were kept there were burned down and a fire emergency unit arrived at the scene all the way from Khatgal soum, which was central to the Khuvsgul aimag, according to the oral information spread among people of different generations until today.
At that time, people used to talk that the fire undoubtedly was set on purpose. After the Khuree recommenced, it held religious activities between 1934-1937 with evidently lesser number of monks and some of religious rituals were missing to shut down in 1937 for good.
In the beginning of 1937, three people, including 'red' Gombosuren and Jugder were arrested, unfolding the repression of lamas, which prevented the Khuree to recover ever again in the future. Later in the 1940s, the remains of the abandoned Khuree temples were moved to Tsetserleg and Tagaan-Uul soums and some of them were used for building storage and local primary school.
Jalkhanz Gegeen's Khuree or Buren Khan's Khuree is registered in the Anthropology Atlas of the Mongolian People's Republic, which is published in 1970 and edited by B.Renchin, in its 115th side as 'Khuree'. Some of the remains are now in a place named 'Gurvan modtoi' (Place with Three trees) in 13 km south from the territory of modern-day Toson bag, Tsagaan-Uul soum of Khuvsgul aimag.
There is the spring Denjiin Bulag to the east of the remains, Ikh-Uul forest mountain to the south and Kets Khyar rocky mountain to its west side. As of now, remnants of 17 temples of the Khuree are visible and the largest one among them located in their central part is defined to be located in geographic coordinate at N 49028. 746, E 0980 50. 238".
In 300 meters east from the remnants, there is rock monument named pailuur with old Mongolian script on it, built in honor of Jalkhanz gegeen Damdinbazar in 1996. The name 'Hollow of Three trees' was given later by local people as three birches which are 80-100 years old now, were planted at the Khuree in the beginning of the 20th century with initiation of an unknown high-ranking lama. The Tsogchin temple of the Jalkhanz Gegeen's Khuree opened for religious activities in the capital of Tsagaan-Uul soum under the name Ravdanchoinkhorlin Monastery, origin and activities of which deserve separate mention.
Sources:
1. J.Banzragch and B.Sainkhuu. History of Mongolian Khuree Monasteries. Ulaanbaatar, 2004.
2. S.Lkhagva. History of Duuregch Van Khoshuu. Ulaanbaatar, 1997.
3. Encyclopedia of Khuvsgul aimag. Ulaanbaatar, 2004.
4. Interview with Bud, local from Tsagaan-Uul soum of Khuvsgul aimag. 2007.06.08.
5.Interview with Erdenebat, head of the Ravdanchoinkhorlin Monastery in Tsagaan-Uul soum Khuvsgul aimag. 2007. 06. 08.
Note about the location:
Located in 22 km southwest from Arbulag soum and 1 km northwest to the second 'bag' /administrative unit/, down the Ikh Uul Mountain. The Ikh Uul Mountain in the back and Tsurlagt Mountains 2km to its west side are worshiped by the locals.