Energy Minister pays visit to Austria
Society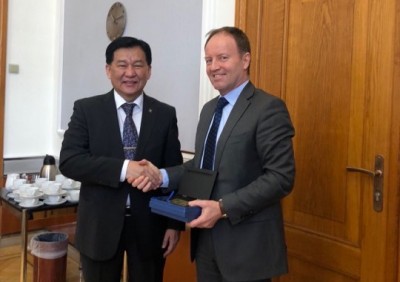 Ulaanbaatra /MONTSAME/ During his recent visit to the Republic of Austria, Minister of Energy Ts.Davaasuren met with Michael Losch, Director General for Energy and Mining at the Austrian Federal Ministry for Sustainability and Tourism to discuss bilateral energy cooperation.
The sides talked about collaborating in constructing small hydropower and biomass power based renewable energy sources in Mongolia. Noting that there has been difficulty in combining renewable energy with coal-fired power plants, Minister Ts.Davaasuren showed an interest in studying Austria's experience in that area and collaborating in capacity building of Mongolian energy professionals.
The sides also exchanged views on carrying out a project to build less air polluting, highly efficient small thermal power stations in rural towns of Mongolia using forest biomass.
While getting acquainted with the operation of an Austrian hydropower plant, the Energy Minister requested to involve Mongolia in the programs of the Austrian Development Agency and the Austrian side undertook to shortly respond to the request.