President Battulga works in Dornogobi aimag, awards Order of Maternal Glory
Society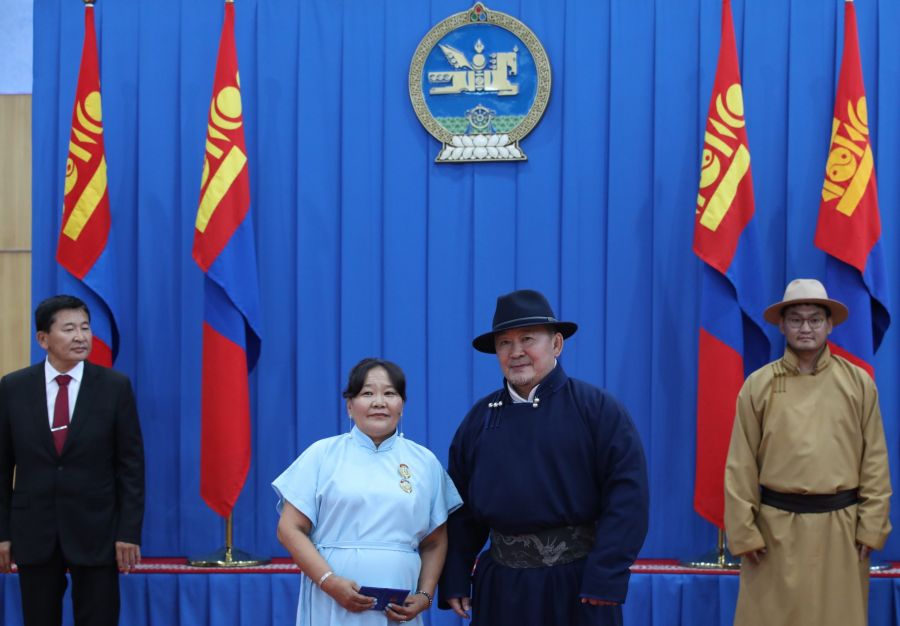 Ulaanbaatar /MONTSAME/. On August 8, President of Mongolia Kh.Battulga worked in Dornogobi aimag. While working there, he got acquainted with the ongoing development projects in the aimag.

According to Article 33.1.7 of the Constitution of Mongolia and Article 15.1 of the Law on the President of Mongolia, President Battulga issued a decree on May 29, 2020 to award the Order of Maternal Glory to mothers, who have given birth to and raised many children in 2020.
"The Order of Maternal Glory" is awarded on the International Children's Day, June 1, every year, however, the award ceremony was postponed this year due to the global pandemic COVID-19.
Last weekend, President of Mongolia Kh.Battulga, handed over the "Order of Maternal Glory" to the eligible mothers living in Dornogobi aimag.
This year, 203 mothers in Dornogobi aimag have been awarded the "Order of Maternal Glory", including 12 first-class Order and 191 second-class Order.
A total of 10,677 mothers will be awarded this order in 2020 nationwide, of which 720 will be awarded the first-class order and 9,957 the second-class order.
In connection with the current regime of heightened state of readiness amid COVID-19 pandemic, President of Mongolia Kh.Battulga will be handing over the awards in stages at the level of local administrative units.
B.Dolgormaa