PM works at gov't organizations in charge of administering minerals industry
Economy
|
Mining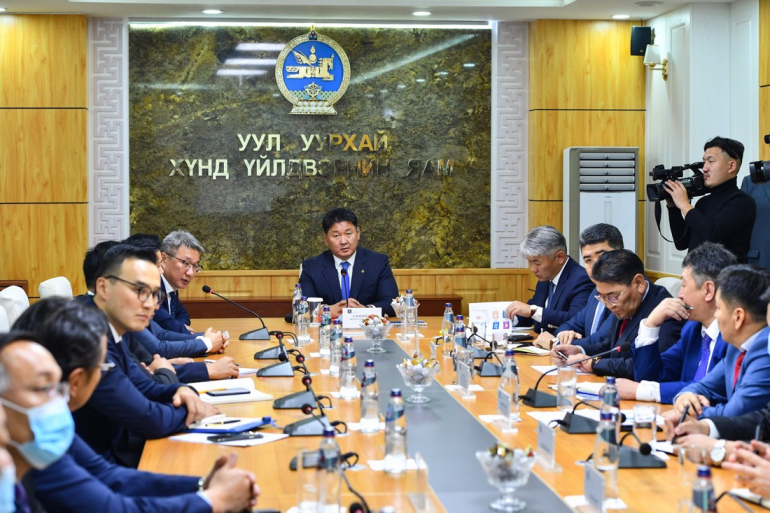 Ulaanbaatar /MONTSAME/. On October 20, Prime Minister of Mongolia U.Khurelsukh worked at the National Geology Office, Mineral Resources and Petroleum Authority and Ministry of Mining and Heavy Industry.

The National Geology Office, re-established in June 2020, is responsible for discovering mineral resources by conducting thorough geological researches of subsoil minerals, making mineral analysis, and building and enriching national geology and minerals database.
Some crucial issues faced by the National Geology Office are to make the Geological Research Center and Geological Central Laboratory affiliated organization of the Office, engraining an integrated policy approach for geology and minerals studies and launching much-needed research on soils in residential areas. Concerning these, Prime Minister U.Khurelsukh ordered Minister of Mining and Heavy Industry G.Yondon to resolve the issues and submit them for cabinet discussion, if necessary.
Ts.Erdenebayar, Deputy Head of the Mineral Resources and Petroleum Authority introduced to the head of the government the most significant works carried out by the authority in 2016-2022. In the past 4 years, the Mineral Resources and Petroleum Authority collected MNT 1.1 trillion for the state budget, and the oil export revenue equals to MNT 848.9 billion, accounting for 76.2 percent of the total revenue.
Moreover, Ts.Erdenebayar mentioned that the oil retail price has been gradually lowered by MNT 380-570 per liter since 2019 thanks to certain measures, an online database has been built, and special licenses in the mineral sector have started being granted through open and transparent selection procedure.
As of October 19, there were 2,645 special licenses registered, and 935 licenses were revoked between 2016 and 2020, withdrawing 185,651-hectare area of land under state ownership. The officials of the organization also told that local authorities, residents and NGOs often put unlawful demands over minerals exploration and mining activities with legal and valid permits. Also, it has been underscored that certain steps must be taken to directly transfer 30 percent of the payment for oil royalty to Local Development Fund, and make regulations on compensation for exploration activities carried out with government funding more elaborate.
After visiting the exhibition showcasing products manufactured by domestic heavy industry companies at the Ministry of Mining and Heavy Industry, Prime Minister met with the ministry's staff and gave following orders to all corresponding officials.
- Make legal reform to eliminate any conflicts and violations in the legal regulations of the geology, mining and petroleum industry, to develop a concept and bill for the transparency of the minerals industry,
- Intensify the development for the oil refinery, formulate technical assignment for a pipeline, and submit the issue regarding the announcement for an international tender to the cabinet meeting,
- Make all services for issuing and registering minerals licenses online,
- Study the issue on underground water supplies for mega development projects upcoming in the Gobi region, such as coal processing plant, copper concentrate and power plant, until the project for supply from surface water sources is launched, and submit the issue to the cabinet,
- Set excises taxes on gasoline and diesel fuels in harmony with standards and quality.
- Make evaluations on oil production sharing agreements and have the cabinet discussed about measures to take in the future.