Mongolia-EU Joint Committee meeting held virtually
Politics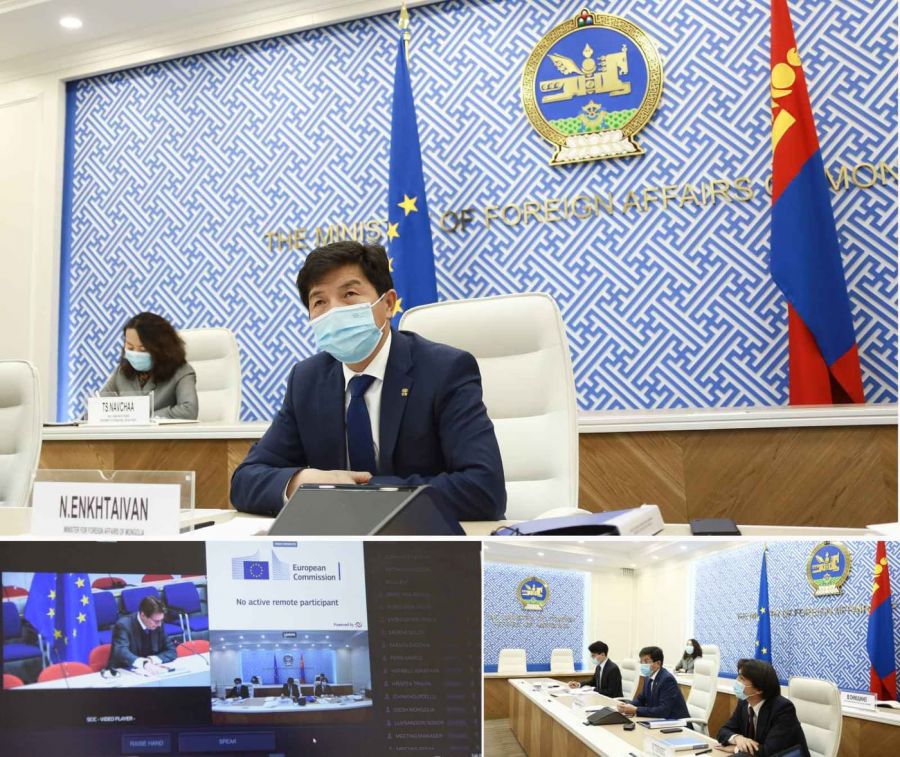 Ulaanbaatar /MONTSAME/ The 20th meeting of Mongolia-European Union Joint Committee was held in an online format on December 3. The meeting was co-chaired by N.Enkhtaivan, Minister of Foreign Affairs of Mongolia, and Gunnar Wiegand, Managing Director for Asia and the Pacific at the EU European External Action Service.
In the meeting, Mongolia and the EU discussed the current state and outlook of political, economic, human rights, environmental, and energy cooperation and other issues.
Underlining that the COVID-19 pandemic is adversely impacting not only Mongolian, but at large the global socio-economic development, Minister N.Enkhtaivan expressed gratitude to the EU for its cooperation in the challenging time. The Minister also asked the EU to look into the availability of vaccines and voiced his hope that the global pandemic will be successfully overcome through joint efforts.
Mongolia also noted that the first meeting of the informal Mongolia-EU Development Cooperation Working Group was of great significance in further receiving EU development assistance and aligning the assistance with the Vision 2050 development roadmap.
Highlighting that Mongolia has not been fully leveraging the EU's Generalised System of Preferences Plus (GSP+) that allows eligible countries duty-free exports to EU, both parties agreed to make joint efforts to strengthen Mongolia's export potential and diversify the country's export markets. In connection with this, the EU presented the sanitary and phytosanitary requirements for exporting to the EU in detail. Mongolia presented a finalized list of products in over 20 categories it plans to export to the EU and agreed to submit it in the near future.
Mongolia reaffirmed its interest in further expanding citizen exchange, especially in involving students, universities, and colleges in open EU education and science programs and facilitating travel.
Moreover, the EU noted that Mongolia enhanced its system for combating money laundering and terrorism and related legal frameworks in a short period of time and expressed great pleasure with the current level of bilateral cooperation, showing an interest in cooperating in raw material industry as part of the efforts to further expand bilateral cooperation.
During the Joint Committee session, meetings of Mongolia-EU subcommittee on trade and investment and Development Cooperation Working Group and a Human Rights Dialogue were held back-to-back on November 23-25.
The Committee adopted a joint protocol on the plans agreed upon during the meeting as well as its cooperation plan for 2021.