Mongolian Armed Forces awarded the Order of Chinggis Khaan
Society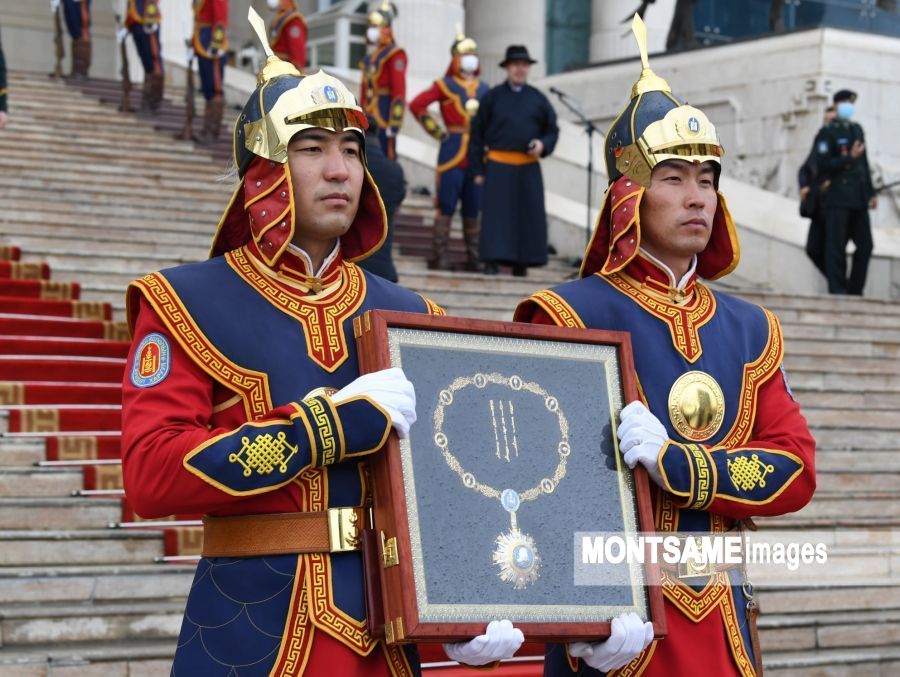 Ulaanbaatar /MONTSAME/. On the occasion of the 100th anniversary of the modern Mongolian Armed Forces, which is being commemorated this year, President of Mongolia and Commander-in-Chief of the Armed Forces Battulga Khaltmaa has issued a decree to award the Armed Forces of Mongolia with the Order of Chinggis Khaan - the highest state decoration of Mongolia.

The awarding ceremony of the Chinggis Khaan Order was organized at the central square in Ulaanbaatar on May 29, Saturday. The Order was accepted by the General Staff of the Armed Forces of Mongolia on behalf of the entire personnel of the Mongolian Armed Forces.
The presidential decree states that the Chinggis Khaan Order is awarded to the General Staff of the Mongolian Armed Forces in recognition of the merits and accomplishment by generations of personnel, staff, peacekeepers, soldiers, officers and majors of the Mongolian military to protect and maintain the independence, sovereignty and territorial integrity of the Mongolian state.
The Order of Chinggis Khaan, since 2005, has been presented every year to individuals, based on their merits, contribution to strengthening of the sovereignty and national integrity of Mongolia, achievements in promoting and inheriting Mongolian history and cultural values and for special service to the nation.
May 29 also marked the International Day of United Nations Peacekeepers and the award ceremony and at the central square was participated by the military units and squads in and around Ulaanbaatar city.
In 2020, the Order of Chinggis Khaan has not been granted due to the spread of COVID-19. Laureates of the Order of Chinggis Khaan are as follows:
• First President of Mongolia P. Ochirbat /2005/
• Late music composer B. Sharav /2006/
• Former Prime Minister D. Byambasuren /2009/
• Political figure R. Gonchigdorj /2010/
• Second President of Mongolia N. Bagabandi /2011/
• Former member of Parliament D. Demberel /2012/
• Former Prime Minister D. Sodnom /2013/
• Academician and physicist Kh. Namsrai /2014/
• Writer and poet G. Mend-Ooyo /2015/
• Opera singer G. Ariunbaatar /2016/
• Judoka, golden medalist of the 2008 Summer Olympics N. Tuvshinbaatar /2017/
• The HU band /2019/
• Mongolian Armed Forces /2021/.