Cooperation to be intensified to put oil refinery into operation on time
Politics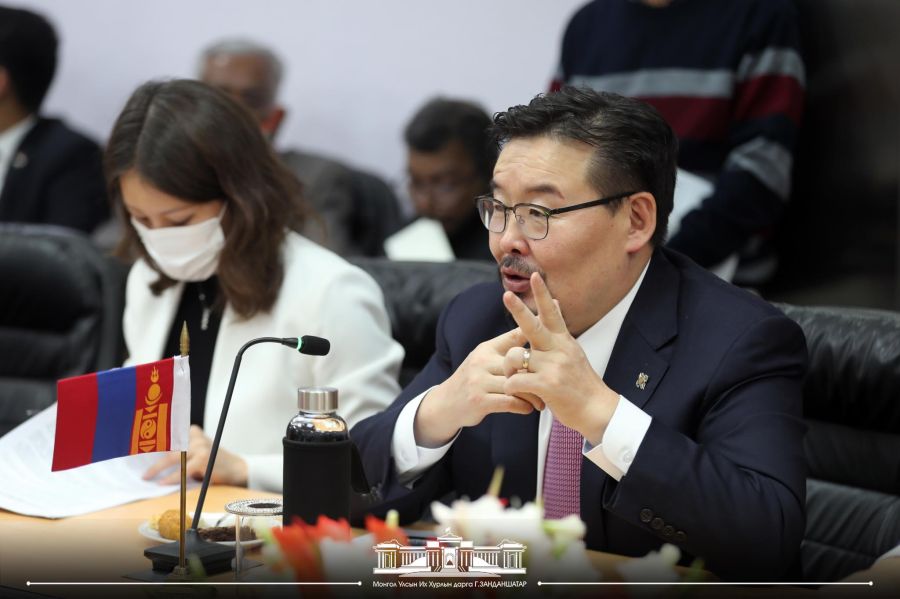 Ulaanbaatar /MONTSAME/. Within the framework of his official visit to the Republic of India, Speaker of the State Great Khural G.Zandanshatar met with the country's Minister of Steel Ram Chandra on December 2.

Minister Ram Chandra concurred with the view that some impacts of the pandemic have to be taken into account and that closer cooperation is needed to move the oil refinery project forward as planned.
Mongolia has been paying special attention to the realization of the project since the beginning. For instance, to intensify the project implementation and create the legal framework the State Great Khural approved the Bill on Supporting the Development of Oil Refinery in January 2021 and the Government of Mongolia approved Regulations on State Support to the Oil Refinery in August 2021.
The plant's engineering and design work has been completed, and the construction of non-technological facilities have begun in January, the Mongolian side introduced during the meeting. In addition, the project will focus on resolving logistics issues in phases and plans to complete the construction of a crude oil pipeline six months before the plant is commissioned.
The two sides expressed their commitments to achieve the desired results through mutual support and efforts as the project is of great importance to the further expansion of the strategic partnership between the two countries and will advance economic cooperation to a new level.
Mongolia imports oil products worth USD 1 billion a year. According to the preliminary estimation, as the money stays in the country, the exchange rate will stabilize, GDP will increase by more than 10 percent, and state and local budget revenues will be raised by USD 150 million. Moreover, 600 jobs will be created in addition to developing small and medium-sized businesses along with the establishment of the oil refinery.