Holy Relics of Buddha arrived in Mongolia for public exposition
Society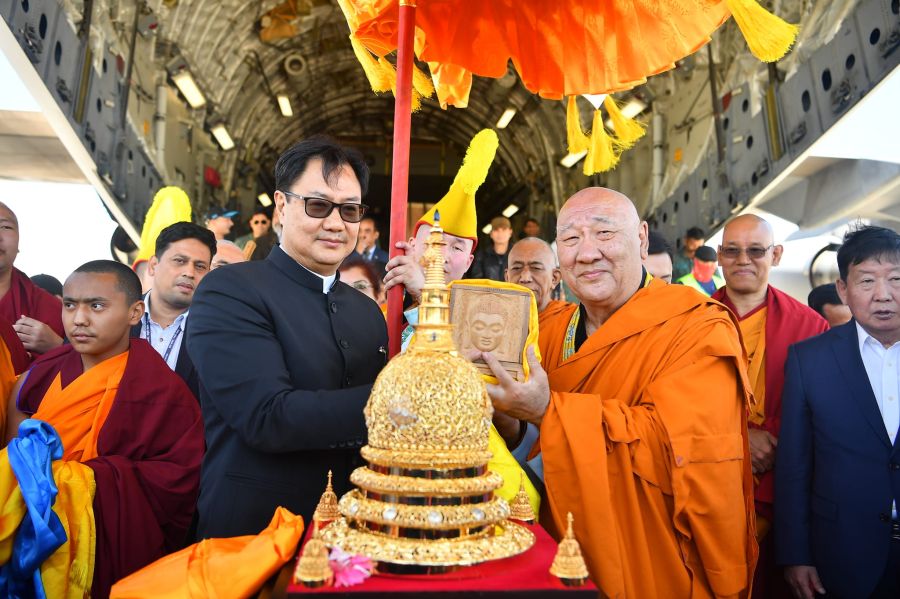 Ulaanbaatar /MONTSAME/. Four Holy Relics of Lord Buddha also known as 'Kapilvastu relics' arrived in Mongolia on June 13 as part of celebrations of Mongolia's Buddha Purnima, which falls on June 14.
The holy relics were brought from India by a delegation led by Indian Minister of Law and Justice Kiren Rijiju. The holy relics will be on display at the Batsagaan temple of Gandan Monastery in Ulaanbaatar until June 24.
"This will give a message of peace to the world. The friendship between Mongolia and India is very old. After Prime Minister Narendra Modi visited Mongolia in 2015, the bond between both countries has become very strong," said the Minister during the interview he gave to Aninews.
In 2015, the relics were placed under the 'AA' category of Antiques and Art Treasures which requires special permits to take the relics out of the country. However, the Government of India made a special exception and permitted the exposition of the holy relics in Mongolia upon the request put forth by the Government of Mongolia.

According to Buddhist belief, after the Buddha's 'Parinibbana' (passing away), the holy Relics taken from the cremation site were divided into eight portions, and handed over to separate groups for preservation. According to 'Mahaparinibbana Sutta', penned in the fifth century BC, one portion of the Buddha's bodily Relics was handed to the Sakyas of Kapilavastu. These came to be known as the Kapilavastu Relics.