'Mongolian Craftsmen-2022' exhibition displaying best works
Art & Culture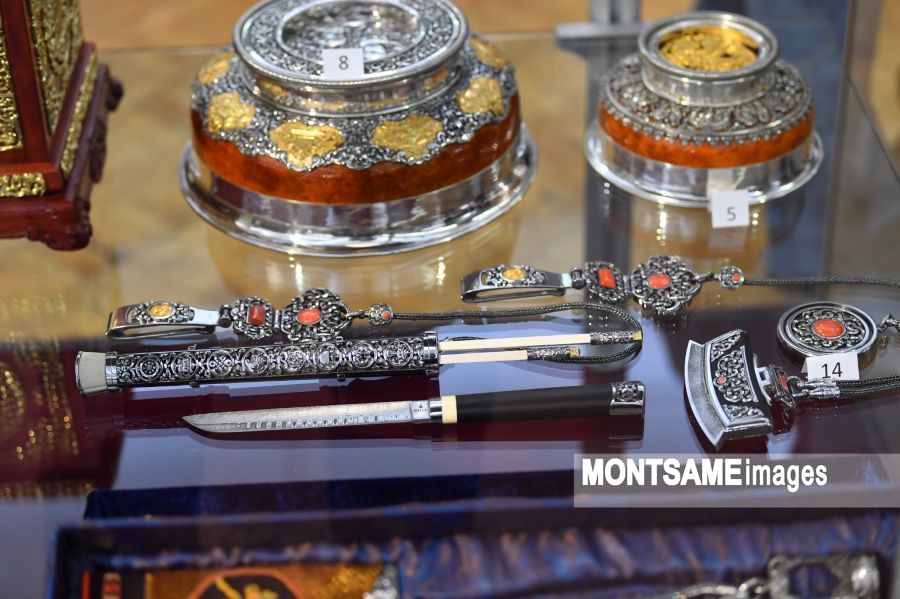 Ulaanbaatar /MONTSAME/. An exhibition titled 'Mongolian Craftsmen-2022' is running at the National Art Gallery of Mongolia, displaying the best pieces created by combining the meanings and symbols of Mongolian culture.
The exhibition, which is being co-organized by the President's Office of Mongolia and the 'Tumen Erdenes' Union of Mongolian Jewelers for the third year, aims at promoting the jewelry and accessories made of precious metals and gemstones that show the traditional heritage and modern development to locals and foreigners.
"It is difficult to imagine the nomadic civilization without the items created by Mongolian craftsmen, the Mongolian empire without weapons, the beliefs of the Mongolians without idols and deities, and today's Mongolia without the nomadic civilization, the Great Mongol Empire, and deep beliefs of Mongols," said President of Mongolia U.Khurelsukh at the opening of the exhibition.
"Finely crafted works of Mongolian craftsmen are admired in Eastern and Western countries, and are surely making a significant contribution to the promotion of Mongolian art to the world. In specific, works of the Undur Gegeen Zanabazar are highly valued by researchers and experts as a piece that can be equivalent to the world masterpieces. In order to promote Mongolian craftsmanship in the future, corresponding government organizations should work in preserving traditional craft technique to be recognized internationally," noted U.Khurelsukh.
Minister of Culture Ch.Nomin said, "Since its establishment, the Ministry of Culture has been working to preserve, study, promote, and disseminate the tangible and intangible cultural heritage of Mongolia. In its framework, we are pleased to say that we are working to improve the legal framework for the preservation, research, promotion, and dissemination of the heritage of 'Traditional Mongolian Craftsmanship'. Specifically, the Law on Protection of Intangible Cultural Heritage is being drafted to be submitted to the Great Khural of Mongolia in 2023 with an aim to support those who inherit the traditional craft technique."
At the exhibition, more than 150 works of more than 100 artisans are on display.
There are 778 monuments and memorials ranked as unique historical and cultural items of Mongolia, about 60 percent of which are coins, ethnic and religious pieces.