President meets European Commission's President
Politics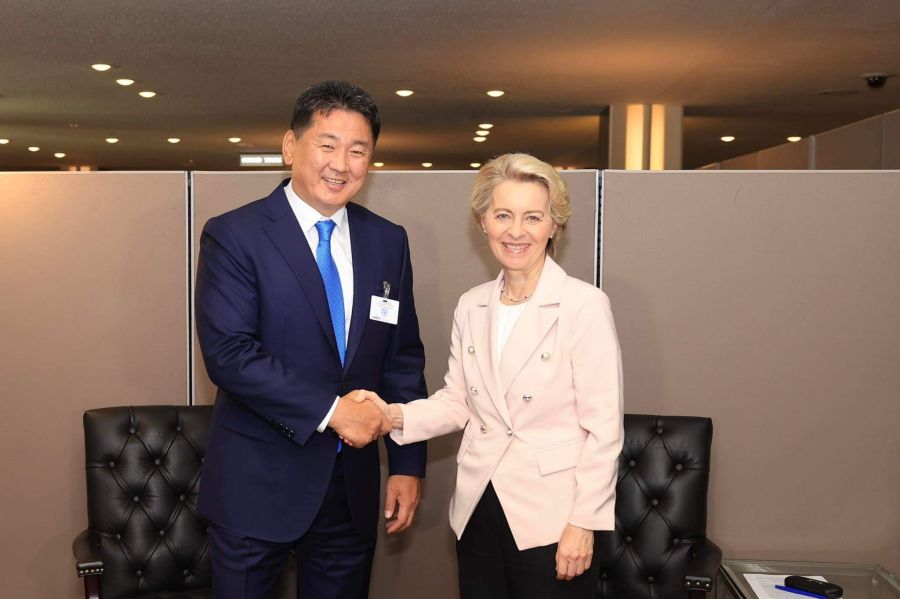 Ulaanbaatar/MONTSAME/. On the sidelines of his participation in the General Debate of the 77th Session of General Assembly, President U.Khurelsukh met with the President of the European Commission Ursula von der Leyen.

At the meeting, President U.Khurelsukh said that expanding relations and cooperation with the European Union and its member states- 'third neighbor' of Mongolia, is one of the priorities of foreign policy.
He mentioned the EU's consistent support to Mongolia's democracy and social transition, while underscoring its support and assistance in the past and during the pandemic.
He said that Mongolia is interested in expanding and developing cooperation in all aspects to reduce the impact of environmental degradation, desertification and climate change, and expressed gratitude for inviting Mongolia to be in the EU's 'Forest Partnership' program.
For her part, Ms. Ursula von der Leyen emphasized the broad possibility to intensify bilateral economic cooperation and to cooperate in the fields of energy and green development in the future.
In particular, she expressed support to the national movement 'One Billion Trees' initiated by the Mongolian president. Therefore, she expressed readiness to cooperate within the framework of the 'Forest Partnership' program, a part of the EU's green initiatives which aim to develop forest protection and restoration, forest use and sustainable forest management in an economically beneficial way. Mongolia will become the first country in Asia to participate in the 'Forest Partnership' program.