The envoy of 'Ulaanbaatar-2023' East Asian Youth Games appointed
Sports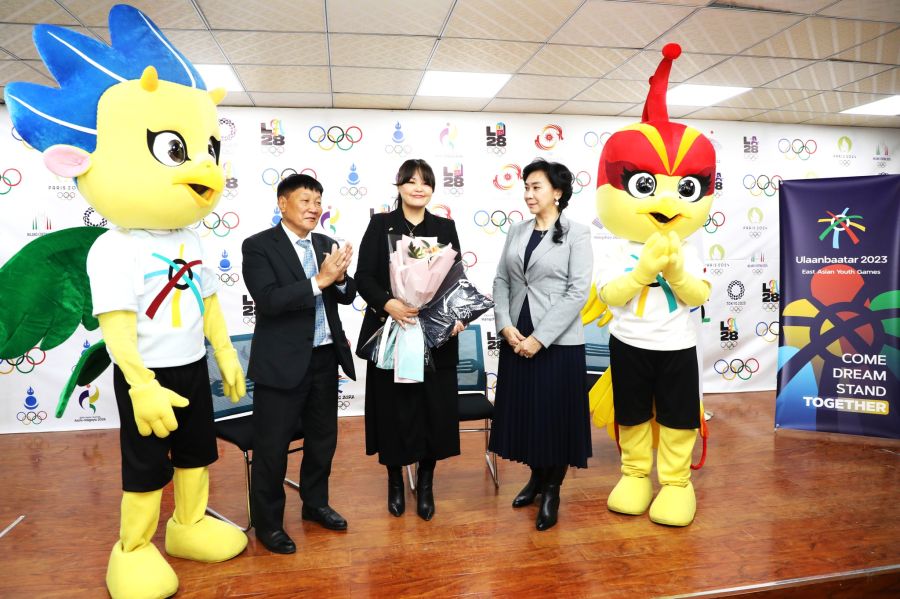 Ulaanbaatar /MONTSAME/. The organizing Committee of the 'Ulaanbaatar-2023' East Asian Youth Games has appointed the International volleyball referee Kh. Nominzul as an envoy of the East Asian Youth Games that will be organized in August 2023 in the capital city of Mongolia.
The Executive Director of the Organizing Committee of the Festival P. Buyandelger and the First Vice President of the National Olympic Committee of Mongolia Ch. Naranbaatar presented to Kh. Nominzul the certificate of the 'Envoy' of the 'Ulaanbaatar-2023' East Asian Youth Festival, which will be held in Mongolia for the first time.
Kh. Nominzul has been working exclusively in the field of organizing sports events and implementing projects in recent years. She worked and gained experiences in many events and competitions, such as the World Tour of the International Basketball Federation.
During the ceremony, Kh. Nominzul said, "It was an honor for me to be chosen as the festival's envoy. The East Asian Youth Games is a huge event and the biggest mega project to hasten sports development in Mongolia. I will work hard with all my resources and capabilities in organizing this festival."
'Ulaanbaatar-2023' East Asian Youth Games will be held on 16-23 August 2023, and over 1500 athletes from 9 countries will compete in 12 sports categories.