President Kh.Battulga and Prime Minister of Norway Erna Solberg hold media briefing
Politics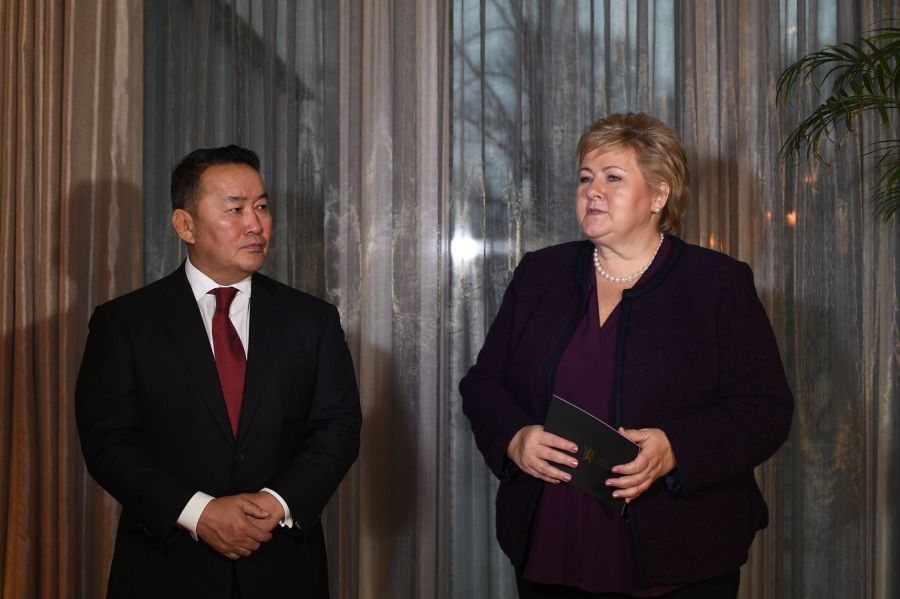 Ulaanbaatar /MONTSAME/ Following their meeting, President of Mongolia Kh.Battulga and Prime Minister of Norway Ms. Erna Solberg held a briefing for the press of the two countries.
Ms. Erna Solberg said, "Norway and Mongolia are geographically remote and have different economic structures. However, there is broad opportunity for the two countries to expand relations and cooperation. Both countries have rich natural resources. It was pleasant to hear how the Mongolian Government is paying attention on using its natural resources and raising its citizens' income with its profits. Norway has abundant resource of oil and gas. We are ready to share our experience on equitably distributing income gained from natural resources. By doing so, it is able to make income gained from natural resources accessible to the whole population."
In turn, President of Mongolia Kh.Battulga said "I agree with Ms. Erna Solberg. The two countries have many similar things. This time, we discussed and exchanged views broadly on Sovereign Wealth Fund issues and other matters. And we agreed to closely cooperate in the future to make the discussed issues actual work". Then the sides answered some questions from the reporters.
Mongolia has amended its Constitution in 2019, adding a new article to set up a Sovereign Wealth Fund. We conclude that the visit of the President of Mongolia has inseparable connection with this article inserted in the Constitution. Norway is implementing the most-successful Wealth Fund management in the world. What was the most challenging barrier to launch it? On what we should pay attention?
Ms. Erna Solberg: The biggest barrier we faced was the citizens' pressure. Every citizen wants to benefit equally from the natural wealth. The Parliament adopted a Financial Rule to set up the Sovereign Wealth Fund. It clearly set amount of income that would be allocated to the state budget from the Wealth Fund. As a result, its impact to the economy has been reduced and it brought an advantage not to hold development of other sectors back.
President Battulga, What are you expecting from the visit ?
President Kh.Battulga: We have an intent to bring the bilateral cooperation closer. I proposed a request to share experiences for equitably distributing wealth to the citizens through the Sovereign Wealth Fund and employ specialists and lawyers of Norway in Mongolia. The Prime Minister Ms. Erna Solberg accepted my proposal. This is an awaiting result of the visit.