Mongolian writers' works published in French journal
Art & Culture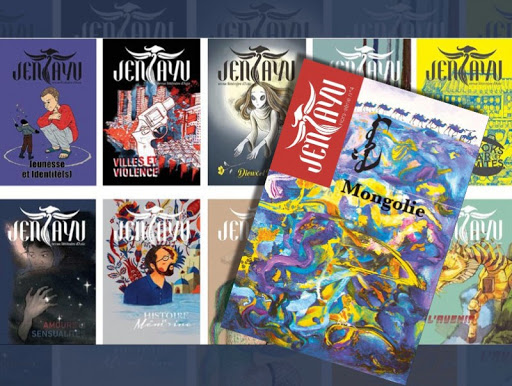 Ulaanbaatar /MONTSAME/ Every year, Editions Jentayu releases a special issue dedicated to the literature of a given Asian country. In January 2020, Editions Jentayu, in cooperation with the Mongolian Academy of Culture and Poetry, has released its first-ever special issue on Mongolia. The publications are available in bookstores around France and other French-speaking countries.
Published in Paris, this special issue of Edition Jentayu included the works of 20 contemporary Mongolian writers, namely S.Oyun, B.Dogmid, G.Mend-Ooyo, Ts.Tumenbayar, D.Batjargal, Kh.Baiyit, G.Byambajav, Ts.Bavuudorj, M.Uyansukh, G.Ayurzana, B.Erdenesolongo, P.Batkhuyag, B.Ichinkhorloo, Ts.Dorjsembe, B.Tsoojchuluuntsetseg, B.Zolbayar, O.Munkhnaran, D.Erdenezulai, and Ts.Ariuntuya.
This edition is unique in its exploration of Mongolian culture, customs, tradition and cultural shifts, evolution and revolution; everything that is unique about Mongolia is explored from multiple angles.
The task of translating the works from Mongolian to English was undertaken by a team of translators consisting of Raphaлl Blanchier, Altangul Bolat, Buyannemekh Galsanjamts, Khishig-Erdene Gonchig, Laurent Legrain, Chantsalnyam Luvsandorj, Munkh Namsrai, Uurtsaikh Nyamgotov-Ducruet, Pierre Palussiиre, Munkhzul Renchin, Bulgantamir Sangidkhorloo, Bouzhigmaa Santaro, Isaline Saunier, Nomindari Shagdarsuren and Okhinoo Tserendagva, with general editor Jerome Busho and consulting editor O. Munkhnaran. The foreword was written by Marco Alo and introduction by G.Mend-Ooyo, poet, writer and founder of Academy of Culture and Poetry in Mongolia.
The issue also featured illustrations for each of the works created by young artists B.Bayartsengel, J.Anunaran, B.Bilguun, B.Turmunkh and T.Soyol-Erdene. For the cover art, the painting "Gobi caravan" by Ts.Tsegmid a Mongolian National award winning artist, was selected.
Editions Jentayu is a publishing house based in France dedicated to the translation and promotion of Asian literature in the French language. Its focus is on contemporary literature in vernacular languages and its mission is to facilitate the circulation of literature from regions and countries with little exposure in the French-speaking world. This issue in particular was published in partnership with the Mongolian Academy of Culture and Poetry and with the support from the Centre national du livre-rencontres, lectures, actualités and the Région Auvergne-Rhône-Alpes.