Sixth coronavirus case reported, test result to be confirmed soon
Politics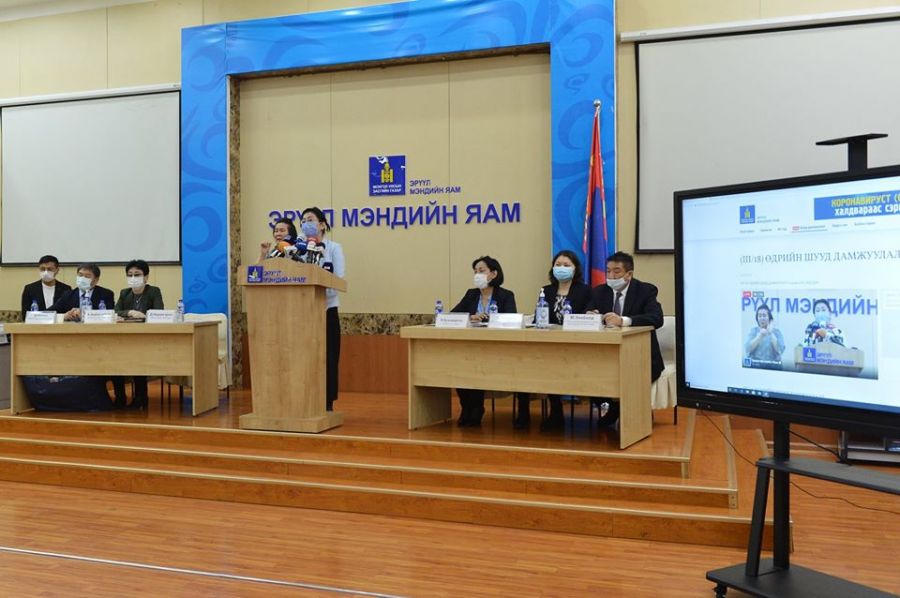 Ulaanbaatar /MONTSAME/. Not long after Mongolia confirmed its fifth coronavirus case late yesterday, March 17, the sixth case of coronavirus was reported by the Ministry of Health today, March 18 at its daily 11 AM press briefing on the situations around the coronavirus outbreak.

The fifth and sixth cases together with the previous one case of coronavirus all arrived in Ulaanbaatar on March 16 on the same evacuation flight from Berlin.
The sixth patient was tested for coronavirus using a rapid testing kit and the result will be confirmed today afternoon by the central laboratory of the National Research Center of Communicable Diseases (NRCD), reports D.Nyamkhuu, Director of the NRCD.
Medical professionals are currently conducting medical supervision and testing for all passengers, who came in close contacts with the confirmed cases on board and staying in quarantine upon their arrival in Mongolia.
Besides the capital city, one suspected person in Gobi-Altai aimag and four suspected cases in Selenge aimag are under isolation at this moment.
Confirmed coronavirus cases in Mongolia
March 10 - A 57-year old French national tested positive for coronavirus several days after arriving in the country from France, marking the first case in the country. He is being treated at the NRCD and is feeling well.
March 16 – Two people aboard the evacuation flight from Seoul and one person from France via Berlin on a March 16 evacuation flight were diagnosed with COVID-19 while staying under quarantine.
March 17 – Another person 30-year old woman who flew in on the same evacuation flight from Berlin was tested positive for the virus while being under quarantine. She reportedly came from Italy via Germany.
March 18 – A rapid testing kit detected that another person has coronavirus, however, the result is due to be confirmed at a laboratory today.
The government of Mongolia has been chartering flights to foreign countries, including South Korea, Japan and Germany to repatriate its nationals from coronavirus-affected countries as Mongolia has delayed flights and passenger trains in and out of the country until March 28.
Today morning, March 18, a charter flight operated by MIAT Mongolian Airlines departed to Istanbul, Turkey, carrying 102 passengers. The plane is expected to return around 1 AM, March 19, Thursday in Ulaanbaatar, repatriating 249 Mongolian nationals living abroad. Apart from the cabin crew with 4 pilots, two engineers and nine flight attendants, two inspection specialists, and a doctor from the NRCD on board the charter flight to Istanbul.
All people on board, including the passengers to come from Istanbul, cabin crew, two engineers and one doctor will be isolated for two weeks upon their arrival in Ulaanbaatar in accordance with existing regulations by the State Emergency Commission.
The Ministry of Health reported that one child to arrive from the Istanbul flight is not feeling well, but the symptoms are not of coronavirus disease, clarified the officials. He is returning from the USA after going under treatment there.
Mongolia is allowing Mongolian nationals living and studying in Russia to return home across only two of its borders checkpoints with Russia, the number of people to cross the border with its northern neighbor is expected to rise in coming days. Therefore, evacuation facilities are being arranged and prepared in Darkhan-Uul and Selenge aimags.
The Ministry of Health also informed that Mongolia has received a total of 3200 coronavirus test kits from Japan at their production price (each kits costs less than USD 1, according to the Health Ministry). As there is a need to buy more test kits from Japan, the Mongolian Embassy in Japan is working to procure more from Japan.

Also at today's press briefing, officials from the Ministry of Road and Transport Development informed that 16 thousand of 24 thousand employees of the road and transport industry are working under special regime at border crossing points of the country.
Moreover, inspection officers, traffic regulators, medical officers, service employees and airport and airline employees in the road and transport field are working under heightened state of readiness across the nation.