Book on historical development of Mongolian university sports released
Sports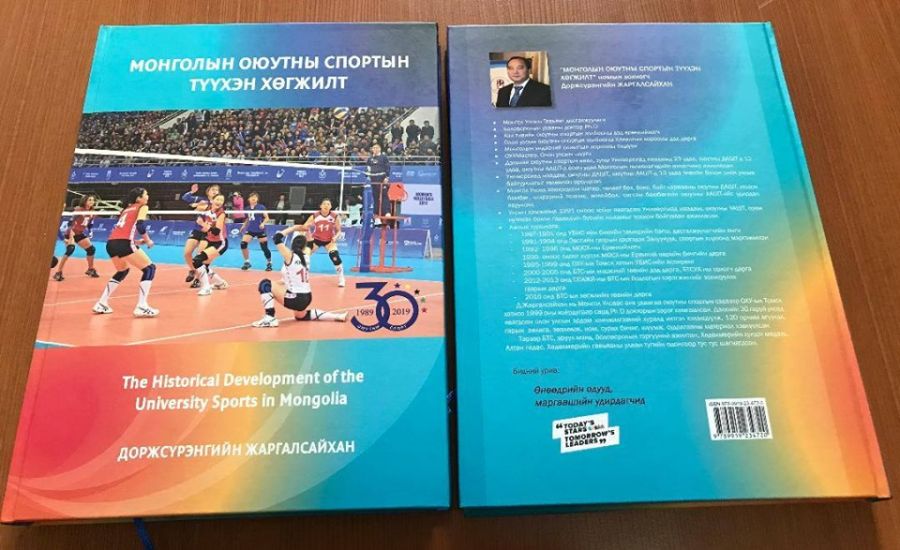 Ulaanbaatar/MONTSAME/. During the suspension of all sports events and training in Mongolia due to the COVID-19 pandemic, Secretary-General of Mongolian Student Sports Federation (MSSF) D.Jargalsaikhan (Ph.D.) compiled a new book 'The Historical Development of the University Sports in Mongolia.'

Edited by President of the MSSF, Treasurer of FISU D. Bayasgalan, and Board member of MSSF Kh. Batsaikhan, President of Mongolia Kh. Battulga, President of FISU and Minister of Sport of Russia Mr. Oleg Matytsin and President of AUSF Mr. XUE Yanqing, the book is dedicated to the celebrations of historical anniversaries of Mongolia's university sports, including the 98th anniversary of the University sports movement in Mongolia (1922–2020) and the 60th anniversary of the First National University Games of Mongolia (1959–2019).
To compile the book, Dr. Jargalsaikhan visited the archives of FISU Office in Brussels in 2008, and AUSF Office in Beijing to get information, photographs, documents, and other materials about Mongolian delegation. It took him more than six years to write this book.
The book includes materials on the history of Mongolian university sports only and has six chapters as follows: One. Early Historical Development of Mongolian University Sports (1922-1988), Two. Mongolian Student Sports Federation, Its Thirty-Year Operations and Events (1989-2019), Three. Mongolian Student-Athletes' Performance and Their Achievements for the World Universiade Games (1965-2019), Four. Mongolian Student-Athletes at the World University Championships (1988-2019), Five. Achievements of Mongolian Student-Athletes in the Asian University Championships (2005-2019) and Six. History of Asian and World University Championships held in Mongolia.
From the book, you can also find the historical photos, materials, and documents of the participation of Mongolian student-athletes in Universiade Games since 1965 in Budapest, Hungary, and in the 41 sports news of Universiade, World, and Asian university sports championships.
For more information, please call +976-311947, +976-88198123, or send an e-mail to mongolianssf@gmail.com.
Mongolian Student Sports Federation