Parliament reviews MNT 10 trillion economy recovery, health protection plan implementation
Economy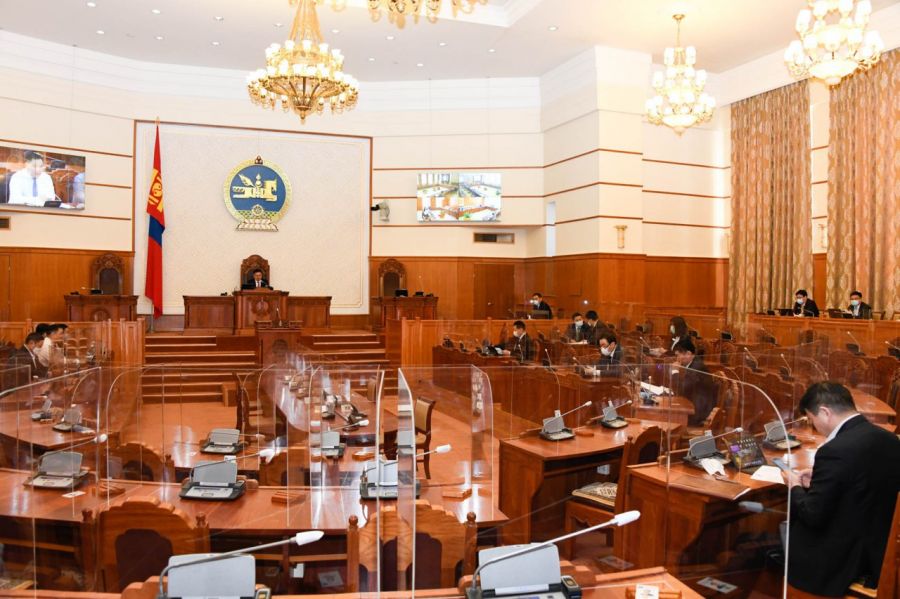 Ulaanbaatar /MONTSAME/. State Great Khural of Mongolia at its plenary session dated April 9 reviewed the ongoing implementation of the government comprehensive plan aimed at economic recovery and health protection amid the pandemic with total funding of MNT 10 trillion, as presented by Minister of Finance B.Javkhlan.
The government planned 56 sets of measures, such as promoting manufacturers and business industries, maintaining employment, provision of housing, supporting the agricultural production and income and livelihoods of livestock herders, developing non-mining export production, and increasing loan accessibility to individuals and companies.
The Finance Minister introduced that the comprehensive plan is designed not to pose an additional burden on the state budget and government's debts, and the measures of loans to support employment and agricultural sector will be carried out using the sources of commercial banks' funding with government-subsidized support for loan interests. In addition, the measures of repo financing and mortgage loans will be sourced from the central bank and commercial banks.
The MNT 10 trillion plan also lays out actions to increase economic activity through intensifying the projects underway with the international loans and grants money and to finance development projects of Erdenes Tavantolgoi LLC and other projects with benefits on the economy.
The sets of measures of the comprehensive plan with total financing of MNT 10 trillion include:
each MNT 2 trillion financing for loan program to support employment /2021/ mortgage loan program /2021-2022/ and repurchasing financing instruments /2021/,

MNT 500 billion for agricultural loans /2021/

MNT 1 trillion for infrastructure development of housing complexes /2021-2024/,

MNT 500 billion for youth employment training program /2021-2024/,

MNT 2 trillion for financing large-scale development projects /2021-2024/.
A total of 10 commercial banks are issuing 3-percent interest and 3-year term loans to support employment with subsided financing from the government and support from the Bank of Mongolia and the Ministry of Food, Agriculture and Light Industry and Credit Guarantee Fund. As of April 6, MNT 369 billion of loans were issued to 5,525 borrowers, including 814 companies and 4,711 individuals. The average size of the loans – for individuals MNT 37.4 percent and companies – MNT 237 million. The government is planning to provide loans to 3,500 companies and 20,000 individuals in total in order to support 120,000 job places.

In the scope of the plan, the central bank is working to provide repo financing to commercial banks with a term of up to 2 years to allow the banks to issue loans with 10.5 percent interest borrowers and re-finance the loans issued. As of April 6, MNT 221.3 billion were issued in loans to 1,467 borrowers (1103 companies and 364 individuals) and the average amount of loan - MNT 150.8 million.

With the ultimate aim to reduce air and environmental pollution, the government's housing mortgage program provides soft term mortgages to citizens with the loan and middle income and its annual interest rate has been reduced from 8 percent down to 6 percent since October 2020. The mortgage program funding is sourced by both the central bank and commercial banks. As of April 6, some 2,609 borrowers have received MNT 542.8 billion in mortgage loans and the average loan amount is MNT 75 million.

Within the framework of the youth employment training program for 2021-2024 with the total cost of MNT 500 billion, the government is planning to spend MNT 11.8 billion to select 5,000 youths for the employment training program only in 2021.

One of the development projects to be partially financed under the comprehensive plan is the 'Youth – I' apartment complex of 3,000 households located in Khan-Uul District of Ulaanbaatar city. Also, a total of MNT 300 million of financing will be earmarked for loans with the 1-year term and 3-percent annual interest, including MNT 100 billion of loan financing for spring crop farming, MNT 200 billion of loans for cashmere preparation loans, informs the Finance Minister.
During the plenary session, Minister Javkhlan introduced that thanks to the MNT 10 trillion comprehensive plan, business activities will be resumed from 2021 and the economic growth is projected to surpass 5.2 percent and reach 6 percent in 2022-2024. "The low-interest loans being granted to individual businesses and companies will help cut down on business expenses and the inflation rate is to be maintained at around 6 percent between 2022 and 2024."