YSC: It would be nice to have at least a coffee shop in the soum…
Society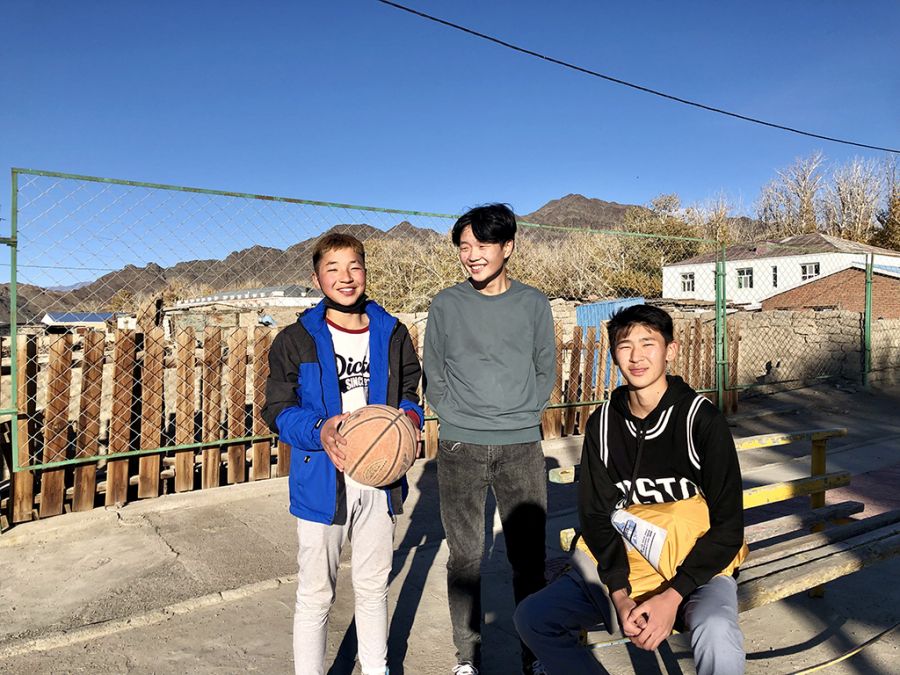 Ulaanbaatar /MONTSAME/. We interviewed high school students of Mankhan soum of Khovd aimag D.Tamir, B.Batmend and G.Temuulen. They are members of the 'Pioneers' team, one of the most active team participating in the Youth Sustainability Corps (YSC) program. The project is co-funded by the Mongol Ecology Center and the European Union.

YSC: What did you do during your summer vacation?

-Temuulen: My family planted vegetables and watermelons lat spring. I learned to grow watermelons last year. You lay the plastic paper on the ground, cover with dirt, and then you meticulously place the watermelon seeds one by one in holes. I harvested and sold about a ton of watermelons in summer and bought myself a new phone. I am planning to sell my next year's harvest in Ulaanbaatar city next year.
Batmend: In my opinion, children are different depending on where they live. The children in the rural regions are taught to work from an early age compared to their peers in the city. For instance, we prepare hay and plant vegetables in the autumn. I have been working in the city for two years in a row during my summer vacation. With the money I earn, I feed, clothe and take care of myself.
YSC: What do you like to do in the city?
-I like to go to the cinema. But when I go to the city, I was often made fun of for being a countryside kid. At first, I used to feel offended, but now it does not bother me. We speak the same language and live in the same world after all.
YSC: What makes Mankhan soum special?
-Batmend: In our soum, there is a cave called - 'Gurvan Senkher', which has petroglyphs from 40,000 years ago. Compared to the city, my homeland is beautiful in summer, smoke-free in winter and less noisy and stressful.
Tamir: It is difficult to just relax and rest in the city as there is too much noise. However, there is no such thing here.
Temuulen: The panoramic view from the top of the mountain 'Bayantumbe' is so spectacular that I see everything beautiful of my soum.
YSC: What do you do in your spare time?
-Just like every other children, we play basketball, volleyball and video games. But compared to the city, there are not many fun places we can hang out in our free time. So it can be really boring sometimes. It would be nice to have at least a coffee shop here. Member of the Parliament S.Byambatsogt promised to build a child development center several years ago. Unfortunately, he did not keep his promise.
YSC: What are some recurring issues in the soum that affect your life?
-Our soum doesn't have a public bath house. In summer, people wash themselves in the river. But it is absurd for us to wash ourselves in the river while living the 21st century and talking about protecting the environment. Also, the school doesn't have a proper toilet. Primary school children find it difficult to go outside to use open pit toilets in the winter.
In addition, there is no lighting in the basketball court of ​​our soum. With school and homework, we don't get to play during the day. But it's too dark in the evening.
YSC: If you had the power, what would you build in your soum?
-Temuulen: I would like create a place where children and youth can spend their free time in fun and productive ways. The places like that would allow us to be more creative and achieve more.
Also, some families the soum live quite far from the center where all the services are located. It's quite distressing to see old people with weak legs walking the distance. Therefore, it would be great if there are buses and taxis in the soum to serve them.

Batmend: I want to improve everything. A warm, indoor places coffee shop where young people can go. Also, our soum has street lighting only along the main road. I want all streets to be lighted and roads to be paved. Aside from building a physical space, we need someone to help, guide and advise young people who wish to study abroad. We want to be global thinkers. We know that there are opportunities, but we lack the knowledge and skills to use those opportunities.
Tamir: It would be great to have E-sports competitions and promote it in the soum. Actually, almost everyone in my school plays video games.
YSC: Has there been any development for the children in your area recently?
-A large sports palace was built. But now it is being used as an isolation facility due to the COVID-19 pandemic. It has a fitness center, shower, bathroom and gym. We used to go there to play basketball indoor in the cold season. A playground was built afterwards. However, it is incomplete and the equipment is insufficient as if the budget was not enough or something. Its trash can is always full, and often surrounded by garbage. We cleaned the area ourselves and posted about it on the Facebook group of the soum, urging people not to throw away the garbage. We do small things like this to make impact in our soum. But the authorities refuse to hear what we have to say. The adults ignore us just because we are young and unexperienced. It would actually be really nice if people paid some attention to what young people have to say. We, like adults, want to help development of our community.
YSC: Do you think being in rural region provides equal opportunity compared to being in the city?
-Yes, it does have opportunities. Children living in rural areas are now able to get same quality of education as children in urban areas thanks to the internet. But teachers' participation is important. For example, teachers need to expand their knowledge to the level of teachers in urban areas. They also have to be open and think outside the box. When students are on their path to find their dreams, they first seek advice and help from their teachers. Therefore, it is vital for teachers not to impose their views, but to understand and listen to their students. For us, we are pursuing our dreams of studying abroad. That's why we want our teachers to be the ones who can guide us to make our dreams come true.
I also wish parents would talk to their children sincerely. I want them to talk about what they really want and their dreams, not to scold them.
YSC: Did you learn anything new during the quarantine? What are the advantages and disadvantages of quarantine?
-Tamir, Batmend: We were very active when the quarantine was first started. Initially, teachers often demanded us to always attend TV and e-lessons. But the students became less active as time went on. So I don't think the quarantine has any advantage.
Temuulen: It gave me enough time to think seriously about my career choices. I made up my mind to become an IT engineer.
YSC: Would you like to share your immediate goals?
-Tamir: I wish to go abroad and experience different culture. My brother and sister are in South Korea, so I want to go there.
Batmend: Children want to live and work in Mongolia, but I don't. It's hard and stressful to live here in Mongolia. That's why I want to study and work abroad. I want to go to Japan or America, countries of technology. It is a dream come true if I am be able to study in some good university abroad.
Temuulen: I don't really want to go abroad. I want to graduate from university here, master my profession and work for a foreign company remotely from here in Mongolia. If you spend your time wisely and develop yourself, there are opportunities.
YSC: How do you feel about the YSC program?
-Batmend: When the YSC program was first introduced at our school, we were the first team to be involved. That is why we named our team – 'Pioneers'. This is the first time such a project is being implemented in a remote soum like ours. We are so lucky to have been chosen. I was thinking about moving to Ulaanbaatar city, but I decided to stay since the YSC program started. YSC program is the reason for me to stay in Manhan.
Temuulen: I was also about to move from here. Now I wonder how lucky I was not to move from Manhan. I see YSC a huge opportunity.
YSC: Which subprogram is your favorite?
-Temuulen: The program which sends the best participants to the European countries for a summer camp. I also like the e-lectures that help decide our career choices. For instance, after listening to a lecture, I learned that graphic design skills can be acquired without having to go to university.
Batmend: The advantage of the YSC program is that we compete with children not only in our soums and aimags, but all over Mongolia. We won the last YSC challenge. We are proud to be in this program, which is open for everyone accross of the country.