'A new revival policy to stimulate economy' approved
Politics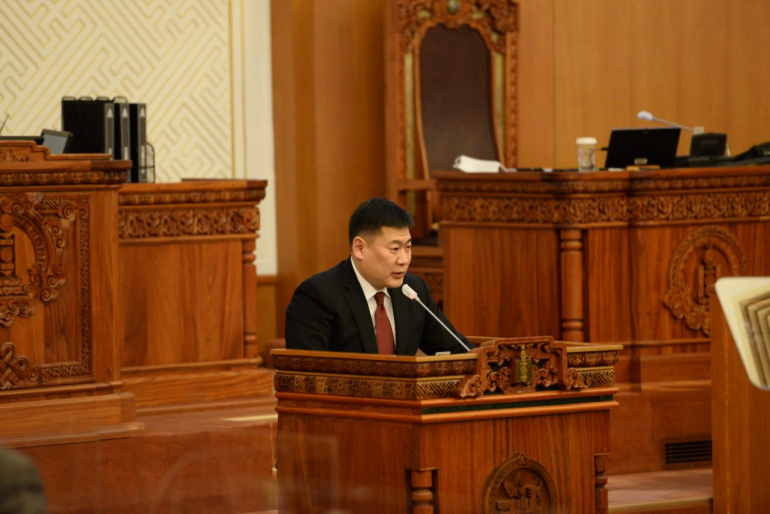 Ulaanbaatar /MONTSAME/. At the plenary meeting of the State Great Khural (Parliament) today, December 31, the draft resolution on 'Approval of New Revival policy' submitted by the Government has been approved.

The proposal to approve the draft resolution with its first discussion has been supported by the majority of MPs who attended the plenary session. Thereafter, the draft resolution on 'Approval of New Revival policy' has been approved with the support of 84 percent of the attended MPs.


A new revival policy to stimulate economy in a pandemic era aims at ensuring political and macroeconomic stability, accelerating public-private partnerships, creating a favorable business environment, improving the environment for foreign and domestic investment, as well as implementing fiscal reforms.
The policy document defines the SIX SET OF PROBLEMS that have been hindering the development of Mongolia, and its solutions. These are Border Checkpoint Recovery, Energy Recovery, Green Growth Recovery, and State Productivity Recovery.
Through the successful implementation of the new revival policy, the capacity of border points will be increased by three times, rising the products to be exported by two times. In addition, energy capacity will increase 2.5 times, and basic conditions will be created for the realization of mega projects for development, for example.

As a result of the implementation of the projects, job opportunity would increase by 285 thousand, decreasing the internal migration to Ulaanbaatar, creating more job opportunities with high salary in rural areas, ensuring the balance of the urban and rural area.
"A total of MNT 100-120 trillion is needed to implement the revival policy. It is clear that the government cannot raise the money alone. The main principle of realizing the new revival policy is establishing new economic structure based on active participation of citizen, entities, and investors. Basically, the government will play the role of supporter, and provide all-round support to the citizens, private sectors and investors to compete on the world stage," noted PM when he presented the policy.