Construction work of infrastructure to establish new city starts after 40 years
Society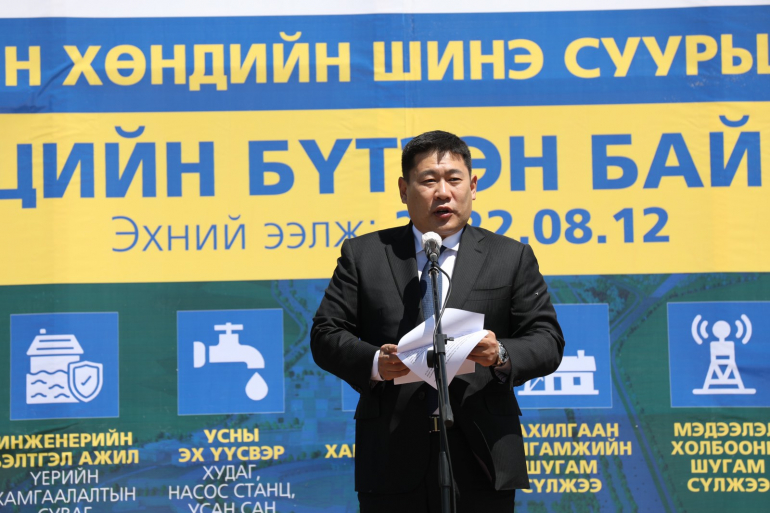 Ulaanbaatar/MONTSAME/. Within the framework of 'Vision-2050' long-term development policy and 'Urban and Rural Policy' of the government's New Revival Policy, an objective of decentralization of Ulaanbaatar and establishment of satellite cities and new residential areas has been set. In this context, the engineering infrastructure work of 'Khushigt Valley - New Settlement Zone' commenced last Friday, August 12. Prime Minister L. Oyun-Erdene and parliament members attended the opening ceremony.

The Prime Minister stated, "Today, we are starting the construction of a new city in the Khushigt Valley and a diversified economic zone within the framework of the 'New Revival Policy'. The government will further support new settlement areas in Darkhan-Uul, Orkhon, Umnugobi, Uvurkhangai aimags, and Baganuur and Nalaikh districts of the capital, solve the infrastructure problems and create a legal framework to attract private sectors and international investment. The Khushigt Valley development has the potential to be not only a new residential area, but also a special economic zone and an independent transportation and logistics hub. The Bogdkhan railway runs around the new settlement area, and the development projects are aligned."
Mongolia has not built a new city since 1980. After 40 years, the planning of a new city is in the process. As part of the infrastructure construction for the new residential area, the construction of water and electricity supply sources has started.
During the ceremony, Minister of Construction and Urban Development B. Munkhbaatar noted, "The plan of the new residential area was finalized and approved, with the issuance of technical solution, budget and investment. This year, due to the construction plan, more than MNT30 billion has been included in the state budget. Accordingly, the construction of an engineering network from five water wells in south to the airport is starting. Also, the construction of the 35 kW power transmission line has started today. To speed up the project implementation, the government is planning to allocate more than MNT200 billion in the next year's state budget in phases."
As a representative of the private sector, President of Tavan Bogd Group Ts. Baatarsaikhan said, "I am confident that enterprises will support and participate in the development of the new residential area. Our company plans to build a factory in this area and create 4,000 jobs."
It is planned that, in the first turn, 35 thousand people will be settled in the new settlement area of ​​the Khushigt Valley. By 2040, it will be the region, where 150,000 people have settled, and business, tourism, transportation, logistics, production and services have developed along with highly active administrative, culture, education, health, and economic activities.
At the cabinet meeting dated August 10, 2022, as part of the decentralization of Ulaanbaatar, a decision was made to move some government institutions to Khushigt Valley.