'Climate Change and Youth' international forum taking place
Environment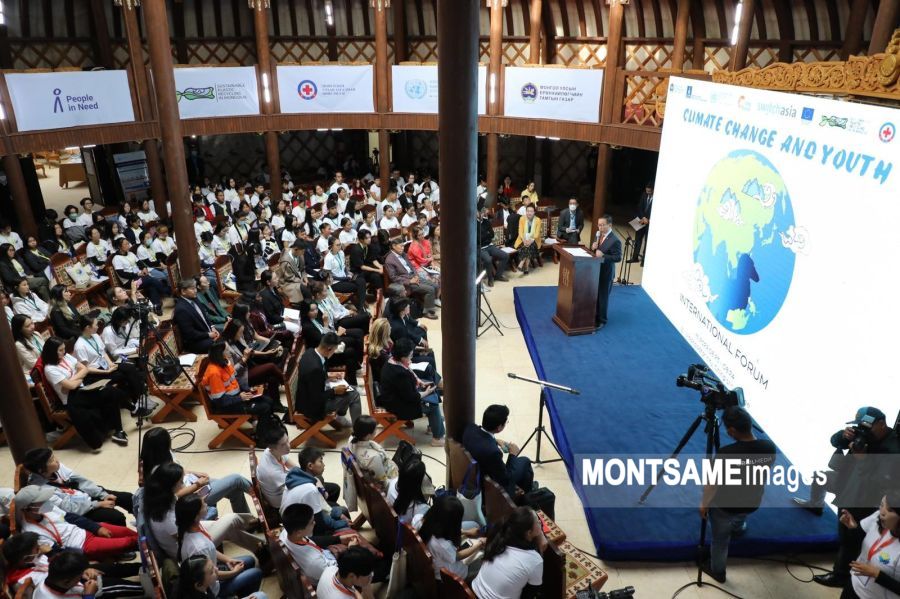 Ulaanbaatar/MONTSAME/. Climate change has become one of the most pressing challenges facing the world. It causes steep increase in temperature, melting of glaciers and ice caps, rise in the sea level, and increase in the frequency of natural disasters.

Mongolia is inevitably considered one of the most vulnerable countries to climate change due to its geographical location, climatic conditions, the structure of economic sectors, and lifestyle of the population. The consequences of climate change aggravate the risks and pressures on economic sectors, which are highly dependent on the environment and the climate, and have direct impacts on the increase in soil and pasture degradation, forest fires, pests, as well as in frequency, intensity, and coverage of natural and climate-induced disasters.
In order to increase the participation of children and youth in combating climate change and mitigating its negative impacts, the Ministry of Environment and Tourism is organizing the 'Climate Change and Youth' international forum in Ulaanbaatar on August 23-24 in collaboration with the specialized agencies of the United Nations, Mongolian Children's Council, Mongolian Red Cross Society, Oyu Tolgoi LLC, Caritas Czech, World Vision, and People in Need NGO at the initiative of the President of Mongolia.
During the forum, presentations were made on the topics of 'Climate Change in Mongolia', 'Climate Change and Youth Participation', 'Mongolia's Commitment and Contribution', and 'One Billion Trees National Movement'. The participants also organized discussions on the topics of 'Global Warming, Greenhouse Gas Emissions', 'Desertification and Drought', 'Natural Disasters', 'Water Scarcity', and 'Environmental Pollution', exchanging opinions, presenting innovative ideas and best practices.
As a result of the conference, the scope of participation and cooperation of stakeholders, children and youth in the implementation of activities to reduce climate change and greenhouse gas emissions will be defined, and the establishment of a chapter for children and youth to combat climate change under the Ministry of Education and Culture will be established. Moreover, by learning from the good experiences of international children and youth in response to climate change and creating new opportunities for cooperation, the participants will make joint initiatives to mitigate and adapt to climate change, develop recommendations and deliver them to decision-makers.
The international forum is significant for ensuring the participation of children and youth in the 17th Conference of the Parties (COP17) of the United Nations Convention to Combat Desertification (UNCCD), which will be organized in Mongolia in 2026.
280 participants from Mongolia's Khovd, Khentii, Bulgan, Tuv, Umnogobi, Uvurkhangai, Dornogobi, Orkhon, Darkhan-Uul aimags and the capital city, as well as from the United States, Germany, Russia, South Korea, China, Bangladesh, Malaysia, and the Philippines are attending the forum.