Food Revolution: Exporting lamb improves herders' breeding technique
The Mongol Messenger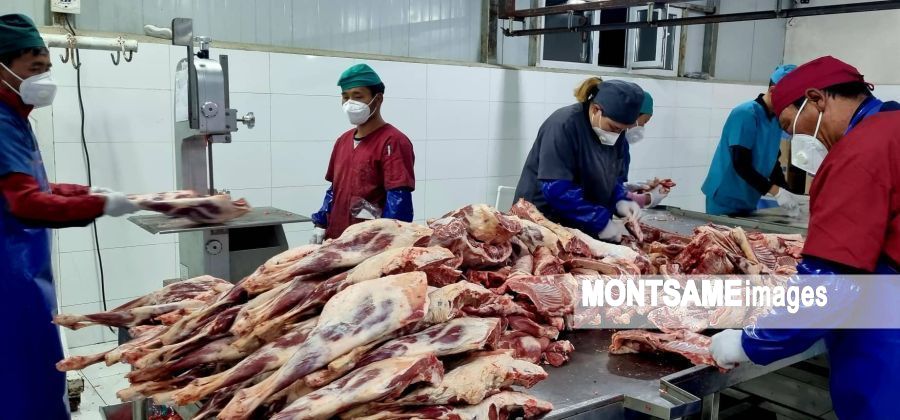 Some foreign countries prefer to use young animals' meat for food. Because such animals have not been vaccinated, the risk of getting infectious diseases is low. Therefore, Mongolia has started to export lamb recently. The 'Darit Shuteen' company of Sukhbaatar aimag has carried out this work in the eastern region by exporting lamb meat to the Islamic Republic of Iran. 'Bayan Tal' meat processing factory contracted with the 'Star Sky Muscat' company to supply lamb to Iran. In the first phase, the parties contracted to provide 500 tons of meat and currently deliver about 250 tons. The meat preparation process is very sophisticated. The supplier has high prerequisites. Therefore, representatives of the government of Iran and partner companies work in Mongolia to double the control.
We interviewed the company's director, B.Enkhtsetseg, about the meat processing factory's products, evolution, operations, and unique advantages.
-Why did you start your foreign trade with lamb export?

-Three years ago, we started exporting lamb in cooperation with a Mongolian company. We studied how to bring a lamb into economic circulation and its importance. The primary significance is to prevent pastures' overloading and protect fields. On the other hand, lambs are the most possible and first-priority animals that can be put into economic circulation. Circulating spring-born lambs in the fall can solve issues that increase the risk of winter disasters and make herders' work more accessible. Our factory started the export of lamb independently in 2021.
-Some people criticize eating the lamb as it comes from a baby animal. Have these things happened a lot before?
-There was a lot of criticism and opposition in the beginning. Our herders barely gave their lambs. When people think of a lamb, they immediately think of it as a tiny baby animal. In general, the animals of our country are raised by grazing methods, so they have good taste besides body types. When the spring calves are sold in the autumn, they have already grown in size. The average weight of lamb is 16-18 kg in our aimag. This idea started giving the correct understanding to the herders and citizens, and on the other hand, our herders also saw the benefits of delivering their lambs. It is a good result of our work. Now the herdsmen are asking to give their lamb by themselves.
-Subsequently, may it change the breeding methods of herders as a result?

-Absolutely. When herders see the results of delivering their lambs and bringing them into the economic cycle at the right time, they start to approach their herding methods from a scientific point of view. They started doing research focusing on how to increase the weight of their lambs. The first lambs weighed 11-12 kg, but now the maximum weight is 24 kg. They used a scientific approach of feeding and emasculating. It is the success of the policy behind our operations.
-In which markets does the 'Bayan Tal' meat processing factory sell its products?
-Our factory processes meats from five livestock, except for camels. Our market focuses on three main areas: internal, external, and local. We aim to provide cheap, clean, and quality products to the people through our local factory shops. Ulaanbaatar city is our domestic market. We deliver products that meet the national standard to households and organizations with a precise return address. For families, our factory-prepared and delivered meat products are accessible for consumption. When it comes to enterprises, we follow the customers' orders, not depending on whether it has high-quality bone or boneless meat. Of course, to represent and highlight the country in the foreign market, we aim to have value-added products starting from the box. Currently, we are exporting our products to China and Iran.
-How many animals and meat are processed and put into economic circulation per year?
-It is relatively different eve­ry year. Few factories work continually throughout the year. It is difficult for a country with 3 million people and 80 million animals to do business only in the domestic market. Along with the lifestyle of Mongolians and the needs of herders, the peak period of meat factories is August through October. During this time, we put 400- 500 sheep, goats, and about 100 cows and houses into the factory.
-What other opportunities are there to expand the foreign market?
-For manufacturers in any field, it is essential to release their products abroad, including meat. Bringing livestock and meat into economic circulation will benefit the country, industries, and herders. Therefore, expanding the foreign market is extremely important. It is not easy and depends on law and government policy. But it seems that all works out positively.
The government has recently launched an excellent initiative If our products meet the standards and requirements of the client country, it is being discussed that the Mongolian side will not impose many requirements. It is an advanced and correct decision. It means that if a citizen of a foreign country visits the factory and determines that our product meets the prerequisites of that country, we will be able to supply it directly to that country. If this is implemented in reality, many manufacturers will have the opportunity to sell their products to foreign markets.
For our industry, animal health is crucial in foreign markets. If they prevent their healthy herds, there are more opportunities and significant needs for livestock farmers and meat processors. Recently, meat has been called red gold all over the world. Therefore, exporting livestock meat products and raw materials with added value is an opportunity to improve the livelihood of herders it is essential too. The goal of 'Bayan Tal' meat processing factory is to become the leading food industry competitive in the local and Mongolian markets to produce pure and organic products that meet the hygiene requirements using Mongolian raw materials. Even though our company started its operations in 2017, it is only now becoming a well-known factory in this country. This factory's lamb was selected as Mongolia's best export product in 2022.
Boiled rumen, scalped head, seasoned Mongolian traditional meat ham, and five purtenance meat soups. These are all foods that have been Mongolians' national cuisine since ancient times. But these days, it is often depreciated and thrown away. In fact, these foods are the most beneficial for human health. Unfortunately, free vitamins are often wasted. So, we wanted to highlight the "Bayan Tal" meat processing factory to reconfirm that these devalued purtenance meats are a luxury food. It is one of the five companies for meat processing in Sukhbaatar aimag, and the uniqueness of this factory is not wasting anything from animals.
-What is unique about processing and selling purtenance meat products of your factory?
-As society changes and grows, I see Mongolians moving back to their traditional mindset. People started to understand that purtenance products are more beneficial than meat for human health. Based on this need, we process all the purtenance meats of our animals, sort them, and pack them separately because people like one purtenance product more than the other. We try to make our products easier to use by cutting and chopping. We see purtenance products moving beyond healthy organic products to luxury cuisine.
-It is interesting to know how citizens and customers accept your products.

-People pay more attention to their health than before. They learned that getting minerals and vitamins through food is more valuable. Therefore, our products are often praised for being easy to use and having good taste. On the other hand, this type of product costs cheaper.
-What guarantees can be given for the quality of meat and meat products? Because after the incident last June, people's trust in meat producers has been lowered to a certain extent.
-Precisely. A Mongolian proverb says if one cow's horn shakes, the horns of a thousand cows will shake.
That incident negatively impacted the lives of herders in our country and citizens and enterprises that provide services in this field. However, places that are well-known to consumers and prepare good quality products overcame this difficulty. As for our factory, we purchase the animals directly from the herders. But the herdsman must register his animals to the Veterinary Platform.
-Most of your customers purchase the products from hand to hand at your local shops. Does it mean they can only learn about the origin of meat and meat products when they make a purchase?
-Certainly. We have opened a warehouse and factory shop in Ulaanbaatar to supply our products to our customers directly. Customers can come and make their selections and have us deliver to their desired location.