15 highlights from President of Mongolia's national statement delivered at COP27
Environment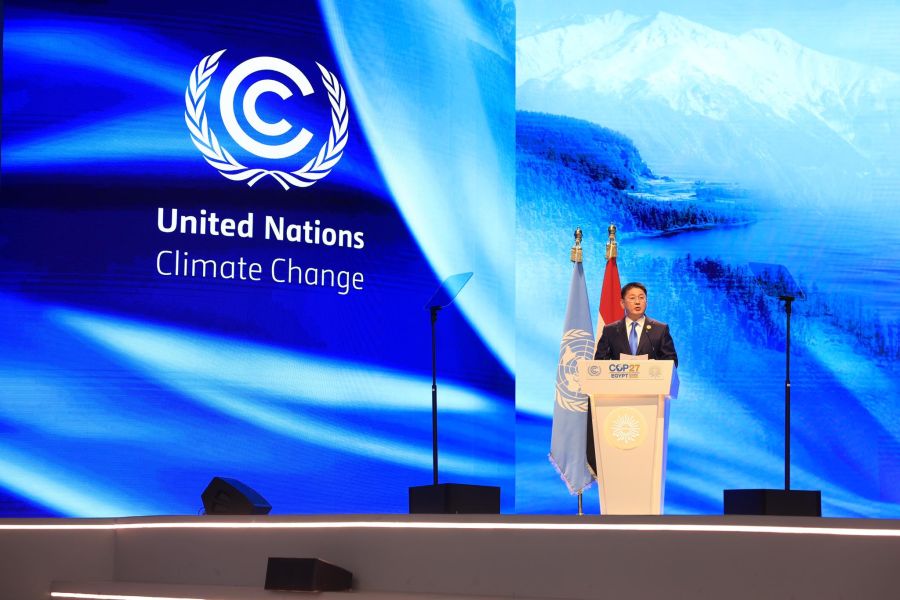 Ulaanbaatar /MONTSAME/. President of Mongolia U. Khurelsukh yesterday delivered a national statement at COP27. The following are some of the highlights of his statement that expressed Mongolia's stance on climate change.
In these difficult times when the world is faced with significant challenges such as the global food and energy crisis, rising prices, and geopolitical tensions. It is imperative that all countries remain committed to achieving the Sustainable Development Goals and intensify their actions, especially towards combating climate change without losing momentum.

Soil, food, and human beings are inextricably linked. Healthy soil produces healthy food and healthy food nurtures healthy people. Therefore, combating climate change is important to protecting soil, our food, and humankind.

Every country needs to comprehensively address the pillars of food supply, food security, and climate change as part of SDGs.

Mongolia, in its efforts to achieve SDGs, is successfully implementing the "Food Supply and Security", "Healthy Mongolians" and "One Billion Trees" national movements.

We believe that the successful implementation of the "One Billion Trees" national movement will not only provide opportunities to increase Mongolia's forest cover and contribute to the reduction of the greenhouse in the atmosphere but will also positively affect the number of socioeconomic issues by improving soil protection, agricultural production, food supply, and safety and employment opportunities. I am pleased to underscore that UN Secretary-General Antonio Guterres personally supported the movement during his visit to Mongolia.

I would like to express my sincere appreciation to the countries, development partners, and international organizations' collaboration on the "One Billion Trees" movement. It is my pleasure to announce that Mongolia has become the first country in Asia to cooperate with the European Union within the framework of the Forest Partnership Program.

Mongolia is one of the countries most affected by climate change. Although it emits only 0.1 percent of the world's total greenhouse gas emissions, its per capita and per GDP unit emissions are relatively higher than the world average.

In this regard, our country has set an ambitiously raised target to reduce greenhouse gas emissions by 27.2 percent, which is a high indicator for Mongolia.

Mongolia has huge renewable energy resources estimated at 2,600 gigawatts thanks to its geographical location and climatic conditions. This indicates that Mongolia has the potential to increase its renewable energy production further contributing to the energy supply of the region.

Currently, the portion of renewable energy reached 18.2 percent of Mongolia's total available installed energy capacity and this is planned to increase to 30 percent by 2030. At present, 75 percent of herder households in Mongolia use renewable energy. We are actively cooperating with international organizations and countries in the region to increase the use of renewable energy sources.

Mongolia has recently joined the Global Methane Pledge, paying particular attention to methane emissions as part of greenhouse gas emission reduction measures.

Mongolia is endeavoring to achieve carbon neutrality around by the mid of the century by enhancing the reduction of greenhouse gas emissions and carbon sequestration.

It is my pleasure to inform you that Mongolia is preparing to host the 17th Conference of the Parties to the Convention to Combat Desertification in 2026.

Bilateral and multilateral cooperation mechanisms of the three Rio conventions and, in particular, the global carbon market regulated by article 6 of the Paris Agreement should be effectively used as instruments for climate change mitigation. Accordingly, developing countries will have more opportunities to spur innovation through technology transfer and increase their access to green financing, successfully overcome the challenges and achieve their goals.

From this honorable podium, I would like to reiterate Mongolia's willingness to foster open, effective, and mutually beneficial cooperation with every country in the world, international organizations, and development partners.