Guide to events from November 25 to December 6
Events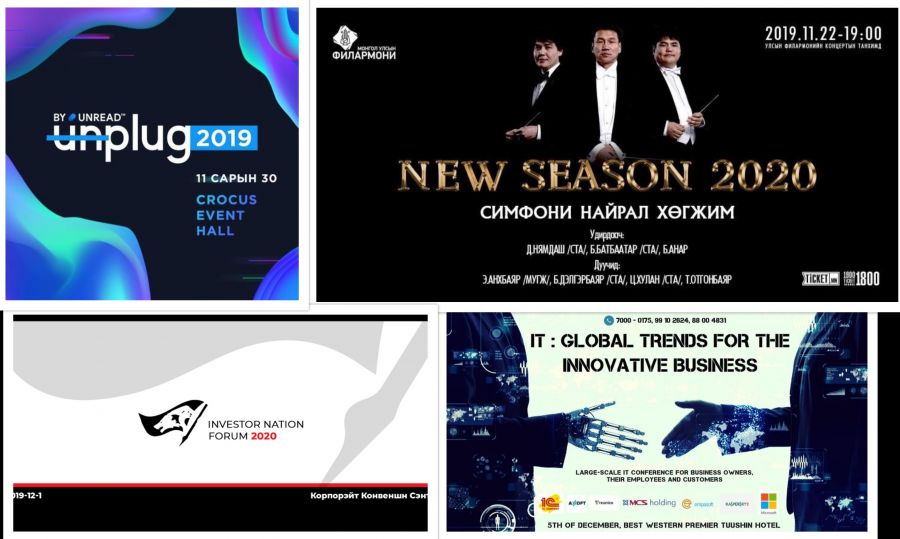 Ulaanbaatar /MONTSAME/. Mongolia will celebrate the Proclamation Day on November 26 and the Day of National Pride of the 857th birth anniversary of Chinggis Khaan. Commemorating the Day of National Pride and the Proclamation Day:
• November 25: Joint exhibition by realist painters at the State House
• November 25: Ceremony to hand over 'Golden Vinyl' by late music composer, Laureate of the Order of Chinggis Khaan B.Sharav to the History Museum of the State House
• November 25: Annual calligraphy exhibition of traditional Mongolian script by children 'Script of Eternal Sky' at the Children's Creative Centre in Ulaanbaatar
• November 27: Traditional wrestling competition of best 128 wrestlers at the Buyant-Ukhaa Sports Complex
• November 27: Award ceremony of the Order of Chinggis Khaan at the State House
Every day until December 20 /except Sundays and Mondays/: Archeological exhibition 'Saridag Monastery' at the National Museum of Mongolia
Every day until November 30 /except Tuesdays and Wednesdays/: 'Weirdness of the Khaan' exhibition in honor of the 150th birthday of Bogd Khan, the 8th Javzandamba Khutagt at the Bogd Khan Palace Museum
November 29: Nationwide academic conference of students of educational institutions and universities in Mongolia under the theme 'Marketing, international trade development: Today and Future' hosted by Business School of the National University of Mongolia at the University's Library
November 30: Unplug 2019, the largest gathering of new generation leaders hosted by 'Unread website, a daily read of inspiration for young people in Mongolia at Crocus Event Hall
December 1: Fifth annual 'Investor Nation Forum-2020' under the motto "Take Hold of Your Future!" hosted by Ard Financial Group committed to developing Mongolia's capital markets at the Corporate Hotel and Convention Centre. The Forum will highlight the necessity of pension reform in Mongolia.
December 5: 'IT: Global Trends for the Innovative Business' large scale IT conference for business owners, their employees and customers, at the Best Western Premier Tuushin Hotel