Minister A.Ariunzaya: Step-by-step measures will be taken on the transition from welfare to labor
Society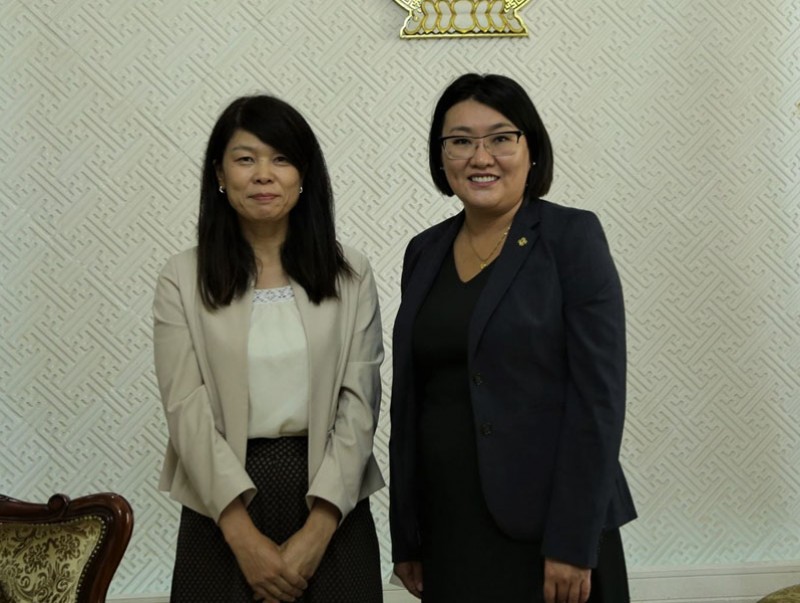 Ulaanbaatar /MONTSAME/. On August 2, Minister of Labor and Social Protection A.Ariunzaya received Chief Representative at Japan International Cooperation Agency (JICA) Mongolia Office Tamura Eriko to discuss partnership in social welfare and insurance.

Ms. Tamura Eriko said, "The first phase of the project on supporting the social welfare of persons with disabilities have recently completed. Preparations for the second phase are currently underway, with the two sides' suggestion on measures to be taken to support the employment of persons with disabilities. Furthermore, a long-term training course on social insurance is planned to be organized during the phase, of which content will be determined in September." She then expressed her wish for the agency to partner with the Ministry in basic social research in the framework of the project.
Minister A.Ariunzaya said, "At the moment, our country is in a stage of renewing the social insurance system. Numerous bills have been developed on this particular matter throughout the years. The ministry is currently working on actuarial calculations. Thus, the first works to be done will be those relating to renewing the social insurance system.
Regarding the labor market, 65 percent of the total population of Mongolia consists of youth below the age of 35. Moreover, the labor market has an imbalance of demand and supply. One of the main objectives of the ministry - to have the appropriate amount of workforce for the market demands is closely related to the operations of your agency.
As of 2018, the national poverty rate stood at 28.4 percent, which means that one in every 3 people were living in poverty. Another study showed that over 50 percent of the social welfare being provided was received by those that did not live in poverty. To resolve this issue, the data system at the welfare offices will first be digitized and connected to the database of other government organizations. This will make it possible for citizens to be involved in welfare services to acquire the required forms online. And as all the information about the citizen will be accessible, it will become possible to determine whether they are the target group. Step-by-step measures will be taken on giving more significance to transitioning citizens that receive social welfare into becoming employed."