Prime Minister addresses parliament's discussion on state budget bills
Politics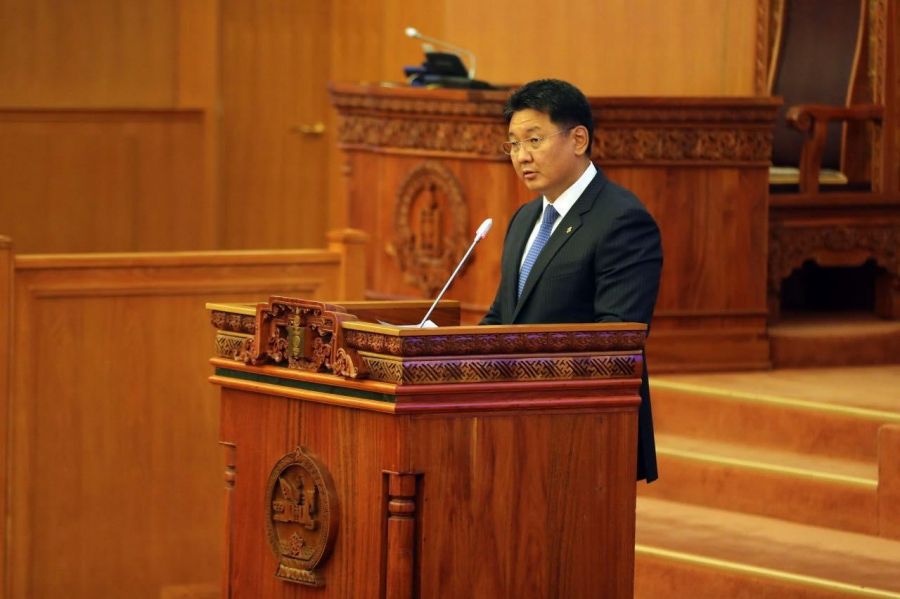 Ulaanbaatar /MONTSAME/. Today, October 16, the State Great Khural – the Mongolian Parliament is convening for a plenary meeting. Bills of State Budget for 2021, budget for 2021 Social Insurance Fund, budget for 2021 Health Insurance Fund, budget framework statement for 2021, budget assumption for 2022-2023 are placed on the agenda.
At today's meeting, Prime Minister U.Khurelsukh delivered an address concerning the draft documents on the government budget for the next year. The Premier noted that the package of measures to prevent from the COVID-19 pandemic, which is under implementation, has been instrumental for reducing the increasing budget deficit, carrying out online, transparent and profitable budgetary policy, proper debt management and economic growth.
"In the bills submitted to the parliament discussion, the equilibrated budget revenue has grown by MNT 2.1 trillion compared to the 2020 budget amendments to reach MNT 11.8 trillion and total expenditure reduced by MNT 325 billion to be MNT 13.9 trillion and the equilibrated budget deficit is proposed at MNT 2.2 trillion, equal to 5.1 percent of the total GDP. The government has been pursuing a policy to improve budget discipline, and counter-cyclical fiscal policy to restore the economy. Moreover, improvement of tax and customs system and reforms underway in budget spending and debt management are contributing to the economy to grow further."
In his address, PM Khurelsukh also stressed that since he was appointed as the Prime Minister of the country, the government has paid off debts totaling MNT 3.9 trillion, as of September 2020. Thanks to the alleviated debt burden, there have been annual increases in the wages and state pensions, which had not grown since 2014.
He highlighted that the current government will be working to execute the debt management strategy approved by the parliament to repay public debts without imposing burden on the economy and government budget and aims to bring the average economic growth to 6 percent between 2021 and 2023.
For the budget bill for 2021, the government has planned following seven principal policy measures;
1. To support the economy without raising taxes, to expand tax base with the help of advance digital technology, to increase efficiency of state-owned companies, collect taxes fully from natural resources to increase budget revenues
2. Each and every Mongolian person will benefit from the educational and health sectors' reform and changes.
3. Measures targeting to protect the citizens' incomes and support business entities in response to the COVID-19 pandemic will continue in the first half of 2021.
4. The achievements made within the goal of air pollution reduction will be advanced. Government spending of payment imposed for raw coal consumption and oil royalty fees will be optimized, and gradual introduction and production of refined coal briquette will continue. The government is seeking to reduce air pollution in Ulaanbaatar city by up to 80 percent, advancing its past achievement of 50 percent as well as air pollution of centers of rural aimags.
5. Government services to become online to save public spending. Red tape and bureaucracy of government services will be reduced and become more transparent and faster. A good example of this goal is the recently-launched E-Mongolia digital platform of government services.
6. The increasing number of livestock animals will be coordinated with the sufficiency of grazing land. The budgets allocated to rural aimags will be increased, and rural aimags will be granted to exercise powers to tackle their own most-pressing issues on pasture management, desertification and supply of water and wells, etc depending on their own conditions, etc.
7. Capital investment to resolve critical problems faced by the society and local regions will be kept, including budget investment for construction and maintenance of schools, kindergartens, hospitals, auto roads, infrastructure facilities and cultural palaces in rural areas. In the 2021 budget, 1,030 projects and measures are planned with total investment of MNT 1,388.9 trillion from the state budget.