State Bank issues IPO
Economy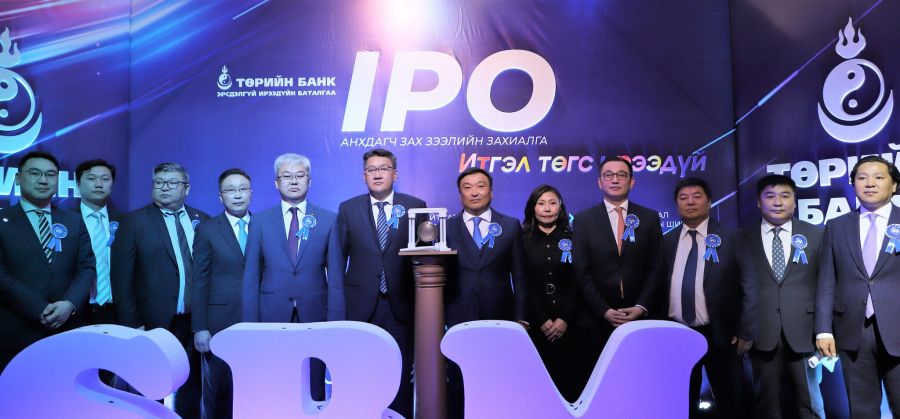 Ulaanbaatar/MONTSAME/. The trading ceremony of securities - issued as a public on the offering primary market by State Bank LLC – took place today. The event was attended by D. Bayarsaikhan (Chair, Financial Regulatory Commission), T. Tserenbadral (Vice-Chair, FRC), B. Javkhlan (Minister of Finance), H. Altai (CEO, Mongolian Stock Exchange), B. Tsengel (Head, Department of State Property Policy and Regulation), O. Gantor (Executive Director, State Bank LLC) and other officials.
In his opening speech, D. Bayarsaikhan highlighted that the FRC had updated the regulatory environment of the capital market, in line with international standards. The Commission had also implemented comprehensive policy measures to increase the variety of products and services in stages and on a timely basis. All this was accomplished within the framework of 'Developing the capital market and reducing financing costs by promoting competition' as reflected in Parliament's 'Strategy to Reduce Loan Interest Rate'.
As a result of taking measures to reduce financing costs (by creating a regulatory environment and creating fair competition in the financial market) the capital market has progressed significantly. Parliament's approval of the Law on Amendments to the Banking Law (in 2021) will provide impetus for the establishment of proper governance of commercial banks, and the creation of an open and transparent banking sector under public control. The Law will also ensure stability of the entire financial sector; and not just the banking sector.
Implementation of the Law was important for the development of the stock market. Banking reform will mean the following:
operations will become transparent and open,

the control system will be more sophisticated,

the capital market value will increase,

the number of new products and services (with high liquidity) will increase,

the activity and participation of foreign and domestic investors will improve, and

long-term financing will be provided to banks.
In addition to creating resources, it will be an important step in creating a multi-pillar financial system. Accordingly, the FRC has devoted increased attention to:
reorganization of banks in the form of joint-stock companies,

directions, advice and information to implement the process of offering shares to the public, and

creation of conditions required for successful organizations.
As a result, today State Bank LLC is leading the work of becoming an open joint-stock company; among influential banks in the banking system within the framework of the reform of the banking sector. It is important to remember that duties and responsibilities are greatly increased, starting with the expectations of the public.
Finally, D. Bayarsaikhan congratulated State Bank LLC and wish them success in the primary market trading.
State Bank LLC plans to raise a total of MNT22.1 billion, by offering 37,475,000 (5%) of its total shares at MNT 590 each; of which 70% will be sold to strategic investors and 30% to the general public.
Source: Financial Regulatory Commission