Minister N.Tserenbat: The direct flight of Turkish Airlines will become a bridge that connects Mongolia to Europe
Society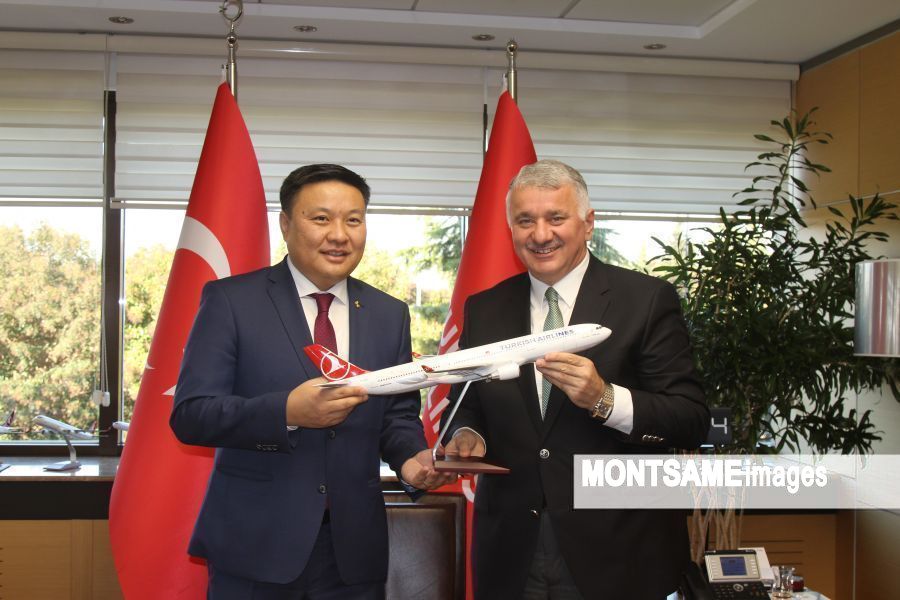 Istanbul /MONTSAME/. In the framework of the working visit to the Republic of Turkey, Minister of Environment and Tourism N.Tserenbat held a meeting with CEO of Turkish Airlines Bilal Ekşi in Istanbul, Turkey on December 6.

At the meeting, the sides noted how the bilateral trade and economic partnership is expected to accelerate alongside bringing tourism to a new level with the launch of the direct flight en route Ulaanbaatar-Istanbul from January 1, 2020.

Turkish Airlines CEO Bilal Ekşi highlighted that aside from prioritizing passenger comfort, it will become possible to transport 10 tons of cargo on each flight. Furthermore, as the airline promotes the destination country in-flight, he expressed that the company is ready to contribute to the tourism sector of Mongolia. Expressing his gratitude to the Minister for solving the matter of conducting the direct flight that had remained unsolved for 7 years, he underlined his confidence in the development of partnership in the tourism sector reaching a high level.
Minister of Environment and Tourism N.Tserenbat noted that the number of tourists coming to Mongolia has increased each year in correlation with the development of relations and cooperation between the two countries, increase of flight frequency and mutual visa-free travel and expressed his confidence in the direct flight becoming a bridge that connects Mongolia to Europe.
Noting that it is fully possible to transform Kharkhorin Airport into an international airport with the support of the Governments of the two countries, private entities, and airline companies, the Minister then requested assistance in designing one of the airline's planes to depict Mongolian heritage and tradition, and place a promotional advertisement about Mongolia in the company's inflight magazine.
The number of tourists that arrived in Mongolia from Turkey was 2,699 in 2018, while it reached 1,609 as of the first 10 months of 2019, which is 23.5 percent higher than the previous year. As for the Mongolian tourists traveling to Turkey, there has been 5,890 in 2018, and 5,403 as of the first 10 months of 2019.