Tapan Mishra: It is important for Mongolia to diversify its economy
Politics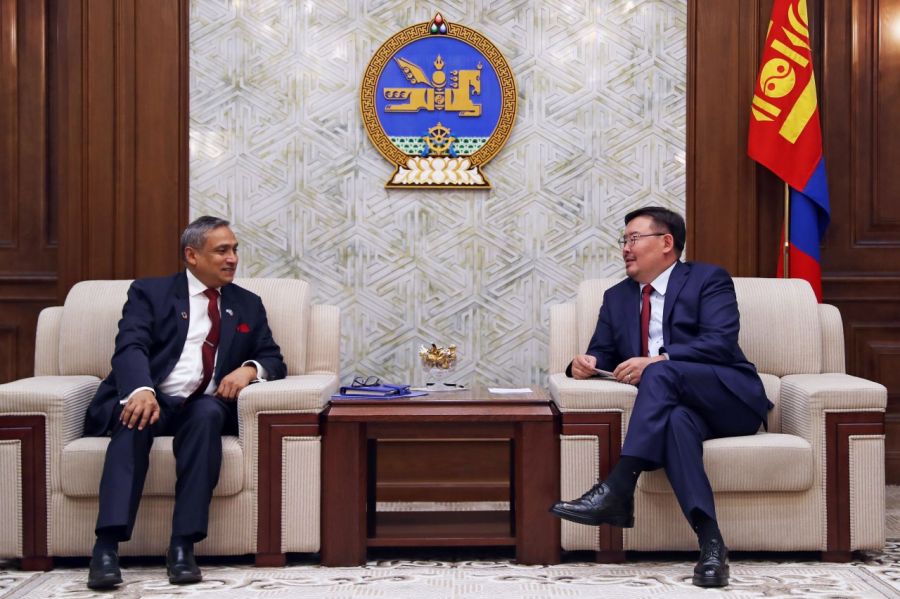 Ulaanbaatar /MONTSAME/. Speaker of the Parliament G.Zandanshatar received yesterday UN Resident Coordinator Tapan Mishra.
At the beginning of the meeting, Speaker G.Zandanshatar thanked UN Resident Coordinator Tapan Mishra and the UN for consistently supporting and cooperating with the measures being taken by the Parliament and the Government of Mongolia on tackling the COVID-19 pandemic. Congratulating the Speaker on his re-election, Mr. Tapan Mishra briefed on the works being carried out by the UN.
He said, "the UN plans to implement a comprehensive response plan in response to the global outbreak of COVID-19 in three main areas, including health, socio-economic and humanitarian."
"Although Mongolia is taking effective action against the COVID-19, it is important to note that, in this difficult situation, we must not back down from our steps towards achieving the Sustainable Development Goals. The UN is working together with the Government of Mongolia to define the scope of its work over the next five years.
In May, "Vision-2050" long-term development policy document submitted by the Government of Mongolia was approved by the Parliament. In correspond to this, we are working to make long-, medium- and short-term plans for bilateral cooperation." he added.
Furthermore, Mr. Tapan Mishra emphasized the importance of diversifying the economy in order to achieve the UN's Sustainable Development Goals for developing countries, noting that it is essential to pay special attention on developing traditional agricultural sectors, exporting value-added products and increasing the use of renewable energy. Moreover, he expressed the UN's full support and cooperation in this direction.
Speaker G.Zandanshatar unanimously emphasized the importance of diversifying the economy and called on the Parliament and the Government to implement a comprehensive policy that ensures the coherence of development in each sector. He noted that a special session of the Parliament is scheduled to begin next week to discuss the government's action plan.
Present at the meeting were Head of the Foreign Relations Department of the Office of the Parliament Ts.Narantungalag, Director of the Multilateral Cooperation Department of the Ministry of Foreign Affairs D.Gerelmaa, UNDP Deputy Resident Representative Nashida Satarr and other relevant officials, reports the Media and Public Relations Department of the Parliament.