Public sector representatives convene to share lessons, opportunities for innovative policy approaches
Society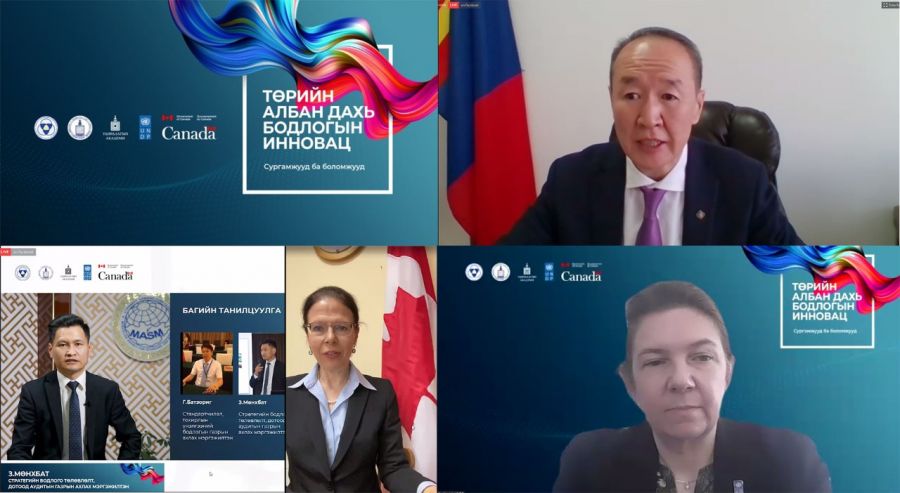 Ulaanbaatar /MONTSAME/. Public sector organizations around the world have been piloting innovative solutions to address increasingly complex public policy issues, using different and new techniques as well as methodologies including design thinking and behavioral insights focused on human-centered approach.

Innovative solutions for improving public organizations' service and performance have multiple benefits to both the citizens and the organizations including increased participation and engagement from the public in development related planning, increased satisfaction of the citizens on the services received, and more efficient and faster public services.
As one of the priorities of the Government of Mongolia, policy innovation at the grassroot level is critical for the public sector and civil service in Mongolia. Consequently, "Policy Innovation" micro-project, funded under the "Towards a Professional and Citizen-Centered Civil Service in Mongolia" project jointly implemented by UNDP and the Civil Service Council of Mongolia with the funding from the Government of Canada, is being implemented for the second consecutive year.
In 2020, eight projects, selected from the 54 proposals, produced significant positive results including the reduction of residents' complaint processing time by half in Gobi-Altai aimag and establishment of psychological counseling and service for police officers at the General Police Department.
On April 2, representatives from the projects who had successfully implemented their innovative solutions in 2020 presented their lessons learned and opportunities for further improvement during a webinar event. Also, the ten shortlisted projects for the "Policy Innovation 2021" micro-project were announced which were selected from the 38 proposals from 21 organizations.
"Innovative policy solutions that place the citizens at the center of civil service and public sector have great transformational potential for improving the way the public sector works. UNDP remains committed to supporting the Government of Mongolia to achieve its objectives of building professional and modern civil service, serving its citizens from cities to soums and baghs" said UNDP Resident Representative Elaine Conkievich in her remarks.
The selected projects will be implemented with the support from the "Towards a Professional and Citizen-Centered Civil Service in Mongolia" within four months.
Source: UNDP Mongolia