Deputy PM Ya.Sodbaatar checks readiness of health sector
Society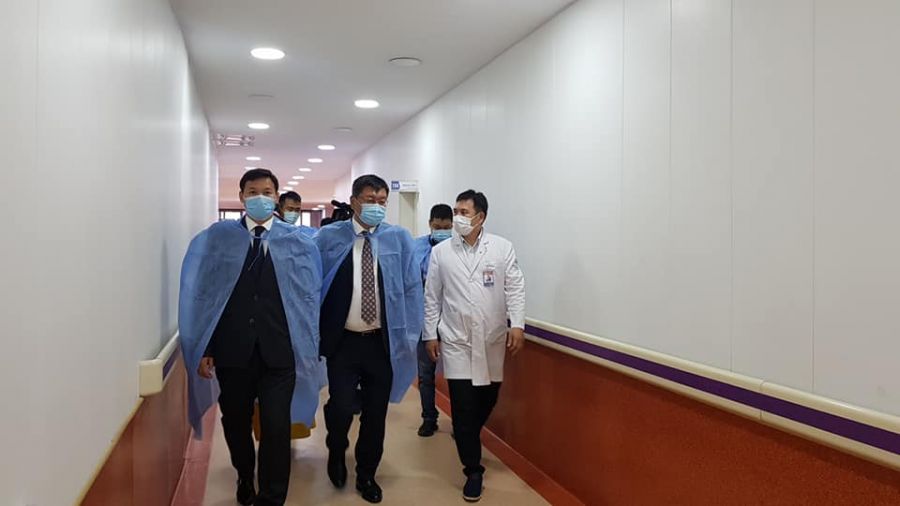 Ulaanbaatar /MONTSAME/ Delegates of police and emergency management offices and the Ministry of Finance headed by Deputy Prime Minister Ya.Sodbaatar got acquainted with operations of healthcare organizations including the State Central First Hospital, the State Central Second Hospital, the Military Central Hospital, the National Center for Communicable Diseases and the National Center for Maternal and Child Health on July 15.
According to the methodology of the World Health Organization, three-time estimation on infection and nine-time risk assessments have been conducted in Mongolia. Lastly, it was estimated that one percent of total population or 32.760 people could be infected with the virus at the national level if the outbreak occurs in Mongolia. And based on this estimation, authorities of the health sector are ensuring preparedness of equipment and devices, human resource, isolation facilities, medicinal supply, treatment and service resource and their readiness, Head of Hospital Aid Department of the Ministry of Health Ya.Buyanjargal presented to the Deputy PM.
"All hospitals have one-month reserves of medicine and hospital supplies for COVID-19 treatment and service and two-month reserves enough for ordinary period at the national level. It was also resolved to use the National Center for Maternal and Child Health, which has 880 beds, and state hospitals as isolation facilities in the first place in cases of the widespread of the infectious disease among the population. Furthermore, it is available to mobilize private hospitals," he added.
During this, Director of the National Center for Communicable Diseases D.Nyamkhuu emphasized that the highest risk period is expected to be in October. This is seasonal flu season as well. Therefore, it is necessary to focus special attention on prevention of flu alongside COVID-19 and have risk groups involved in vaccine. The country has ordered over 200 thousand doses of flu vaccine in advance. However, it has a necessity to get 500 thousand doses of flu vaccine.
Deputy PM Ch.Sodbaatar said that the Mongolian Government and the State Emergency Commission are striving for protecting the lives of its people in priority. Mongolia is still among countries with high risk by an assessment conducted in June. The 10th assessment will be made at the beginning of August and further measures will be defined. And it is required to improve coherence between the sectors.