Burentugs from Uvs aimag wins 2020 Naadam wrestling tournament
Sports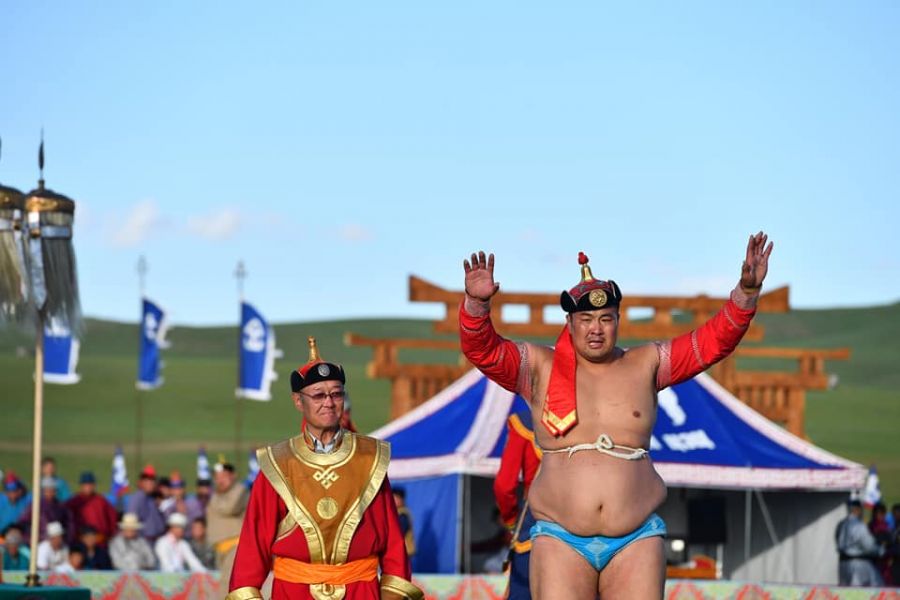 Ulaanbaatar /MONTSAME/. Annual wrestling tournament dedicated to the celebration of National Naadam Festival took place for the last two days at the 13th Century Complex – this year's main field of Naadam on the occasion of the 2229th anniversary of Foundation of the first Mongolian Statehood, 814th anniversary of the Great Mongol Empire, 99th anniversary of People's Revolution of Mongolia.

A total of 512 wrestlers from each and every corner of the country competed in the wrestling tournament, including the nation's prominent and experienced 93 wrestlers with high-ranking titles, such as one wrestler with state title Darkhan Champion or Avarga, three wrestlers with state title Champion or Avarga in addition to 419 young wrestlers and wrestlers with military and aimag titles, who challenged their power.
Lion of State P.Burentugs from Davst soum, Uvs aimag won the wrestling tournament with nine rounds after defeating State Champion N.Batsuuri from Uvs aimag in the last 9th round of the wrestling tournament held on July 12. Right after the victory, President of Mongolia Kh.Battulga issued a decree to give a State Title of Champion to Burentugs. The victory was Burentugs's second win in the national wrestling tournament as, previously, he overcame all of his opponents in the 9 rounds of the national wrestling tournament of Naadam in 2012 and gained State Title of Lion.
His opponent State Champion N.Batsuuri won the national wrestling tournament in 2014 and 2018 respectively.
Earlier today, President of Mongolia Kh.Battulga presented awards to 7 wrestlers who gained the title of State Nachin or Falcon in this year's tournament after being promoted from their previous wrestling title of Arslan or Lion with their wins, and another 3 wrestlers the State title of Hartsaga or Hawk and one wrestler the State Title of Zaan or Elephant.