President Extends New Year Greetings
Society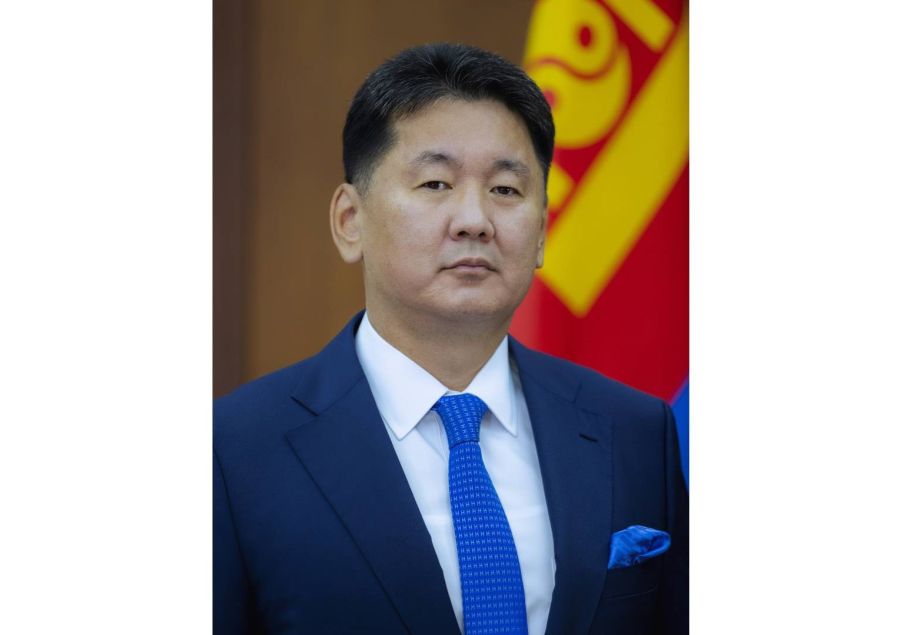 Ulaanbaatar /MONTSAME/. On the New Year's Eve, H.E. Ukhnaagiin Khurelsukh, President of Mongolia, extended greetings to the citizens of Mongolia in a televised message.
​
"Dear citizens of free and independent Mongolia,
My fellow Mongol brothers and sisters,
I extend to you my heartfelt greetings for the coming New Year.
The humankind is bidding farewell to yet another year, which saw numerous difficulties and challenges caused by continued incidences of the global pandemic, war, ensuing geopolitical issues, food shortages, price hikes, border trade complications and others.
For us, the Mongolians, this was also a year of both success and failures, achievements and mistakes, hopes and doubts, and joy and exasperation.
On behalf of the Mongolian State, I express my profound gratitude to the entire people of Mongolia, our companies, the wealth creators, for your tireless efforts to overcome the challenges of these trying times with minimum losses, for your shouldering and carrying the heaviest part of the burden by preserving jobs and making every endeavor to contribute to the development and prosperity of our motherland.
Despite the exigent geopolitical and geostrategic circumstances and situations, Mongolia's foreign relations and economic cooperation have expanded. We successfully hosted and reciprocated a number of high and the highest level visits, which consolidated Mongolia's international reputation and standing. In that respect, this passing year was of historical importance.
One of the clearest manifestations of this was the visit of H.E. Antonio Guterres, Secretary General of the United Nations, to Mongolia and his encouraging remark that "Mongolia was a symbol of peace in a troubled world".
My dear countrymen Mongolians,
The passing year of 2022 was a year of legitimate demand of the young Mongolians that the people of Mongolia must be the owners of Mongolia's natural assets, that accountability and justice must be established and consolidated in the society.
It is a fundamental value of a democratic society to listen to, sense and translate into reality the voice, desires and demands of its people.
Mongolians are a glorious people who implemented democratic changes and reforms in a peaceful way thirty years ago.
Consolidation of democratic achievements and success is a development process of constant prudence to rectify our mistakes, and reform and improve the way we work and live.
The Parliamentary democracy we chose is the guarantee and assurance of Mongolia's independence, national security, development and prosperity.
Therefore, we must further strengthen the parliamentary governance to be able to resolve many issues and challenges that our country is facing.
We must never forget that justice restores people's confidence, and citizen participation strengthens democratic values.
Over the past few years, the State and Government of Mongolia have undertaken a series of actions and fought a host of battles together with the Mongolian people to install social justice and ensure that Mongolia becomes a true owner of its assets.
Thus, we were able to reclaim plants, mines and deposits such as "Erdenet", "MonRosTsvetMet", "Baganuur", "Bor-Undor", "Khutul Cement", "Asgat", "Salkhit", "Tost, Toson Bumba", "Gutain Davaa", "Kharmagtai", "Noyon Uul" which were illegally appropriated, back for the ownership of the Mongolian state and people, thus eradicating theft and fraud. We revoked 938 illegally issued licenses, took 33 areas under state special protection, some of which were made into national parks under constant state protection.
We also were able to increase, in real terms, the dividends and returns the Mongolian people would earn from its asset Oyu Tolgoi.
In the same way, these days, the Mongolian state and government, our law enforcement organizations together with our people, are fighting to eliminate unlawful and illegal actions surrounding the Tavantolgoi coal mine, to bring about accountability, discipline, order and law.
We must continue our determined work to call forth people's oversight over strategic deposits and state-owned enterprises, establish transparency, openness and accountability to enable the people to be the true owners of their legitimate assets.
I also consider it imperative for the State Great Khural and the Government to expeditiously create the necessary legal and regulatory environment for the Mongolian people to own a certain share and receive direct benefits from its natural resources.
To be the true owner of your motherland, in fact, means to be the true owner of its natural resources.
Dear citizens of Mongolia,
These days, the humankind is going through the toughest times since the end of the cold war. And at this turbulent time, the vitally important value that we, the Mongolians, must tightly embrace and honor is our national solidarity.
As our forefathers said, "a peace broken at a household makes the enemies rejoice". Therefore, it is of utmost importance for us to foster peace and honor the right.
We, the Mongols, so few on earth, will prosper and develop all together, if we care for, love, support, protect and help each other.
The Great Chinggis Khaan taught that "two men with accord are strong as an iron fortress, twenty men with discord are weak as ashy ruins".
Therefore, as we navigate ahead along our path toward prosperity and development, we must honor and uphold the wise teachings of our Great Khaan, preserve, safeguard and consolidate our freedom, independence and solidarity, rule out discord and confrontations and nourish accord and agreement.
At this auspicious moment of the turn of a New Year, I wish every family is filled with joy, with the laughter of children, with love and warmth of your beloved ones. I wish you a Happy New Year.
May the coming year of 2023 bring peace to our one blue planet, bring confidence, peace of mind, success, vigor and happiness to my fellow Mongolian people.
May Mongolia prosper and flourish under the Eternal Blue Sky!"