Nobel Peace Prize certificate presented posthumously
Society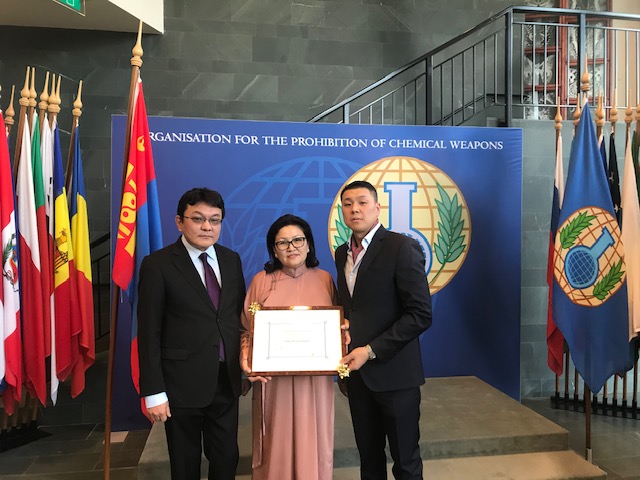 Ulaanbaatar /MONTSAME/ On October 18, Organization for the Prohibition of Chemical Weapons (OPCW) in Hague city of the Netherlands held a ceremony to present the Nobel Peace Prize certificate to late Mongolian diplomat D.Ganbaatar.
Non-Resident Ambassador of Mongolia to the Kingdom of the Netherlands O.Och, wife of late D.Ganbaatar S.Baljin, his son G.Bekhbold, daughter G.Bilguun and their families and OPCW's Head of Human Resources Paolo Bernasconi were present at the ceremony.
Late D.Ganbaatar effectively worked in OPCW senior position from the time of its establishment till 2007. The OPCW started its operation and became an international mechanism for world free of chemical weapons as the Chemical Weapons Convention officially entered into force on April 29, 1997. The OPCW could destroy 97 percent of world's chemical weapons stockpile.
The 2013 Nobel Prize for Peace was awarded to the OPCW on December 10, 2013 for its extensive efforts to eliminate chemical weapons. The Nobel Peace Prize certificates were presented to small number of people who made valuable contribution to the activities of the OPCW and late D.Ganbaatar was among them.
As of 2019, 193 states committed to the Chemical Weapons Convention and became the OPCW members.