Commitment expressed for intensification of public and private cooperation
Politics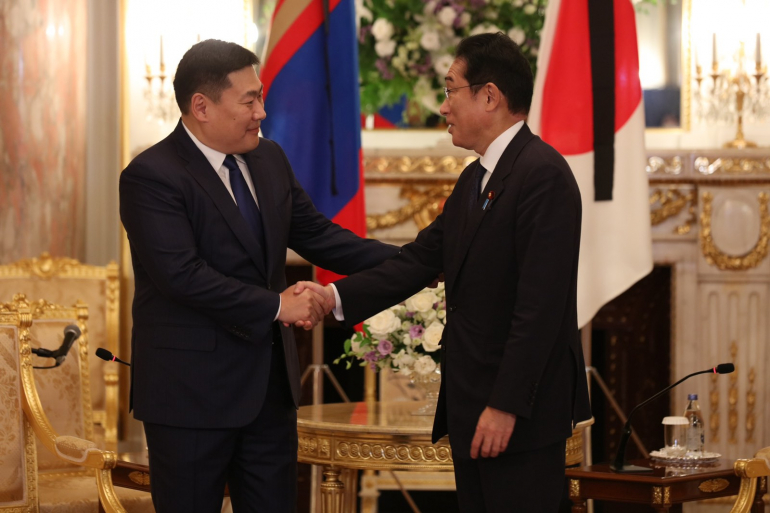 Ulaanbaatar /MONTSAME/ Prime Minister L. Oyun-Erdene held an official meeting with Prime Minister of Japan Fumio Kishida.

The parties exchanged views on the current state of relations between Mongolia and Japan, future goals, as well as on a wide range of international and regional issues.
Prime Minister L. Oyun-Erdene thanked the Japanese government for its continued support and reiterated its commitment to expanding strategic partnership and cooperation with Japan, the "third neighbor" with common democratic values.
Japanese Prime Minister Fumio Kishida expressed his gratitude for the participation of the Prime Minister of Mongolia in the state funeral for former Prime Minister Shinzo Abe. He also expressed satisfaction with the progress made in strengthening political relations between the two countries, deepening mutual understanding, strengthening cooperation in the regional and international spheres.
During the meeting, the parties stressed the importance of building strong political relations between Mongolia and Japan, advancing cooperation in the economic, trade and investment fields to a new level, and intensifying public-private partnership.
"Mongolia is working to develop new environmentally friendly energy sources using advanced technologies and to get out of energy dependence, at a time when countries around the world are pursuing a policy to reduce or eliminate carbon dioxide emissions," said L. Oyun-Erdene, expressing Mongolia's desire to participate in a pilot project for the extraction and use of hydrogen from brown coal, which is jointly being implemented by the governments of Japan and Australia.
In addition, the parties discussed issues such as the development of tourism, regular flights of Japanese airlines to Mongolia, and visa facilitation for Mongolian citizens traveling to Japan.
This year marks the 50th anniversary of the establishment of diplomatic relations between Mongolia and Japan. During the meeting, the prime ministers exchanged views on high-level visits to be carried out in this context. They also commended the successful accomplishment of the 2017-2021 Mongolia-Japan Mid-term Action Plan for a Strategic Partnership and expressed that the next Mid-term action plan will be a document that will enrich bilateral relations and cooperation of the next 50 years with new contents, and strengthens the partnership which will be mutually beneficial in many fields, especially in terms of economy and business.
The parties also reiterated that they would actively cooperate within the UN and other international cooperation organizations.